There's been some media attention in recent days about the fact that beef prices have risen to multi-year highs - articles discussing how the price of a good steak is rising dramatically, for example.
But there is additional food inflation going on currently in a wide variety of areas - and this is the kind of inflation that affects the majority of people directly, and one which the Fed seems a bit oblivious about in their reported price inflation data. Also affected are the restaurant and packaged goods industries - some more than others.
Just for example, see the following 5 charts: (the first 4 are from zerohedge.com, the 5th from wsj.comand is only a projection of price increases)
Beef Prices Chart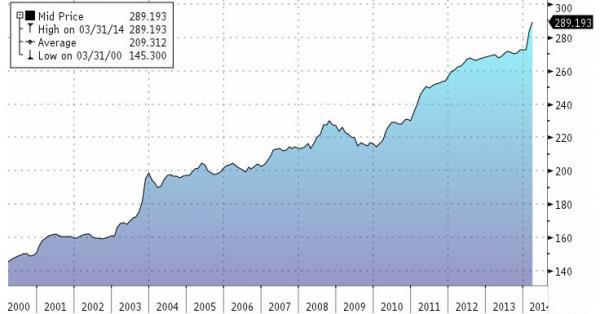 Pork Prices Chart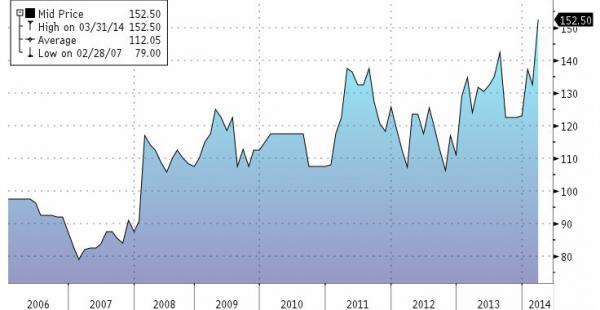 Shrimp Prices Chart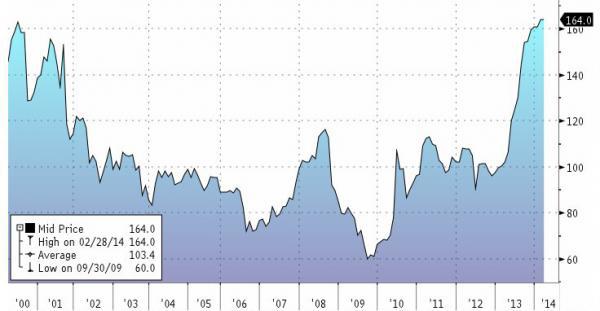 Egg Prices Chart

Produce Price Rise Projections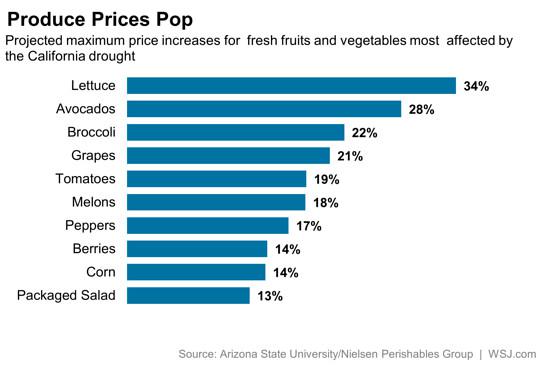 There are different factors/explanations involved in why each of these different markets are rising - drought, disease, etc. It's not just the above mentioned commodities, for example, the Coffee ETF (NYSEARCA:JO) is up huge this year.
As far as ETFs that directly move with these types of food-related agricultural commodities, investors and traders can look at UBS CMCI Food Total Return Index ETF (NYSEARCA:FUD), (but keep in mind that it is lightly traded). The more widely known PowerShares DB Agriculture ETF (NYSEARCA:DBA) is also up big in 2014 so far. Ditto for iPath Grains ETF (NYSEARCA:JJG).
And that is not even mentioning other non-food commodities that have rallied in 2014, such as Crude Oil (NYSEARCA:USO) and Natural Gas (NYSEARCA:UNG). Even Gold (NYSEARCA:GLD) is higher this year.
While there's a variety of things we could write and comment about all of this - for the active investor and option trader, the most relevant point is: there's always a bull (and bear) market somewhere.

Disclosure: I have no positions in any stocks mentioned, and no plans to initiate any positions within the next 72 hours. I wrote this article myself, and it expresses my own opinions. I am not receiving compensation for it. I have no business relationship with any company whose stock is mentioned in this article.