By Sumit Roy
Precious metals dropped, but most other commodities rallied. Energy, in particular, continued to fare well. Meanwhile, stock markets staged a strong comeback from the losses of last week, as strong earnings reports from the likes of Intel (NASDAQ:INTC), Yahoo (YHOO), Goldman Sachs (NYSE:GS) and others lifted sentiment. The S&P 500 gained 2.8 percent in the week; the index is now up 1 percent since the start of the year.
Macroeconomic Highlights
The biggest economic story of the week was China's first-quarter gross domestic product. China reported that its GDP in the first quarter grew by 7.4 percent annualized, the slowest pace since the third quarter of 2012, but slightly above the 7.3 percent economists were expecting.
In the U.S., the Bureau of Labor Statistics reported that the Consumer Price Index grew by 0.2 percent in March, faster than the 0.1 percent increase that was expected. Likewise, the core CPI (which excludes food and energy) grew by a faster-than-expected 0.2 percent. On a year-over-year basis, the headline and core CPI were up by 1.5 and 1.7 percent, respectively.
Finally, the Commerce Department said that retail sales in the U.S. climbed 1.1 percent in March, better than the 0.9 percent increase that was anticipated. Excluding autos, sales rose by 0.7 percent, also better than anticipated.
Commodity Wrap
| | | |
| --- | --- | --- |
| Commodity | Weekly Return | YTD Return |
| Wheat | 5.00% | 14.55% |
| Soybeans | 3.42% | 15.23% |
| Natural Gas | 2.16% | 11.58% |
| Brent | 1.97% | -1.23% |
| Copper | 0.33% | -10.29% |
| WTI | 0.31% | 5.73% |
| Corn | -0.80% | 17.30% |
| Palladium | -0.91% | 11.40% |
| Gold | -1.84% | 7.34% |
| Silver | -1.95% | 0.72% |
| Platinum | -2.71% | 3.58% |
Precious metals prices retreated across the board, mirroring the move in stock markets. In the short term, gold must hold the recent low near $1,275 to prevent a steeper slide. In a recent interview, Van Eck's Joe Foster told us that 2014 is likely to be a year of consolidation of the yellow metal, and that prices will trade in a range. If that's the case, traders should adopt a "buy the dips, sell the rips" mentality. Meanwhile, palladium was the best-performing precious metal this week. As we wrote in a recent article, we see significant upside in prices for this somewhat-under-the-radar commodity. Tight supplies and robust demand will keep palladium supported for some time to come.
GOLD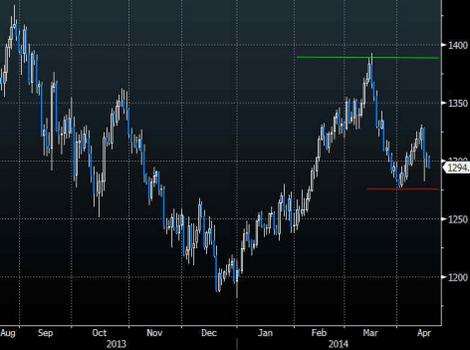 SILVER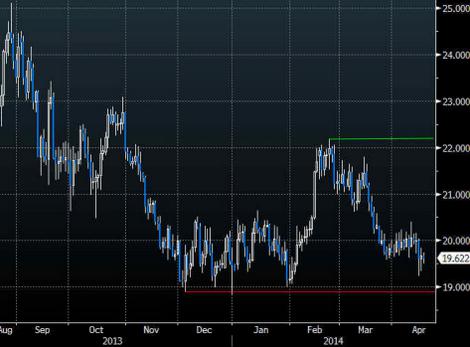 PLATINUM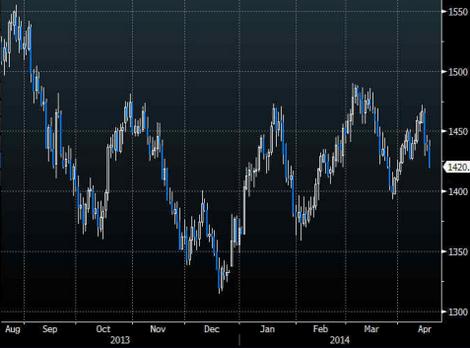 PALLADIUM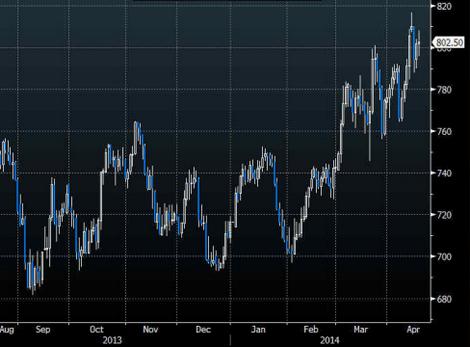 Oil prices rallied this week, with Brent outperforming for a change. Concerns about tensions between Russia and Ukraine, and the potential loss of Russian supplies if the crisis escalates further, supported the European benchmark. Oil's performance this week was particularly impressive considering the massive 10 million barrel increase in U.S. oil inventories last week, the largest since 2011. From a technical perspective, WTI faces resistance at $105, while Brent remains locked in its well-established range between $106 and $112.
BRENT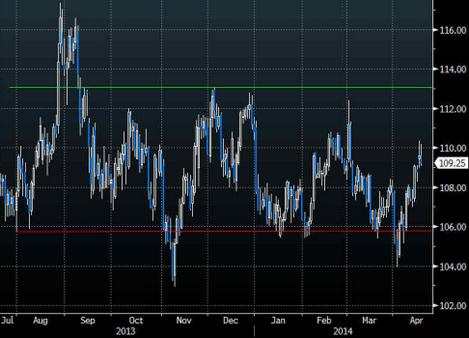 WTI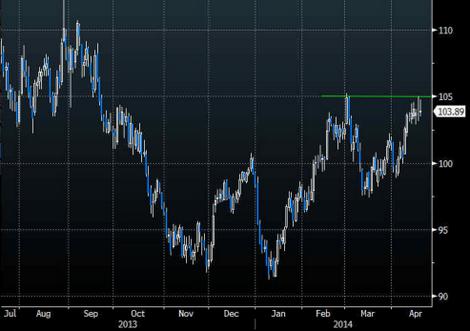 Corn edged lower but soybeans surged to 10-month highs today in a mixed week for the grain complex. Said Vanessa Tan, investment analyst at Phillip Futures:

Soybeans continue to be supported by the U.S. crushing data that came out a few days ago, while the continuing strong export demand is also contributing.

CORN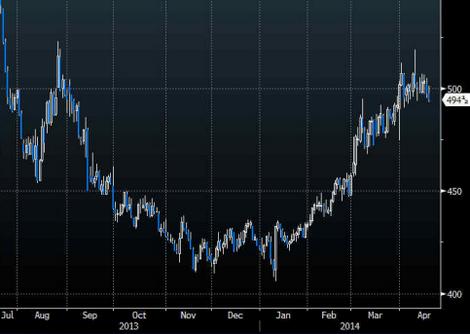 SOYBEANS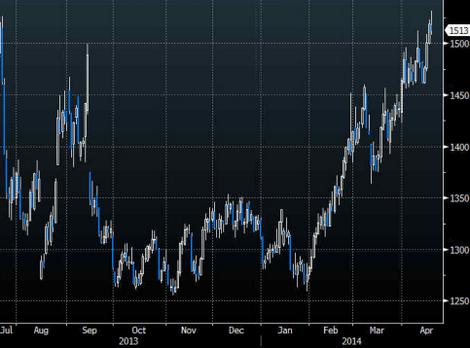 WHEAT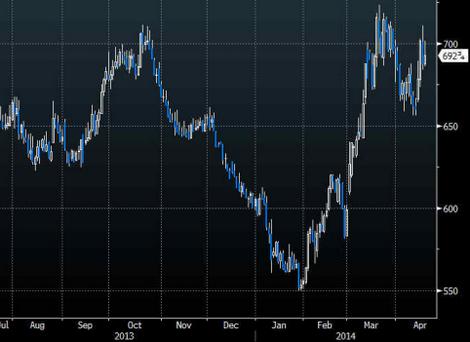 Copper continued to gyrate in its narrow band just above and below $3/lb. Prices may rally or fall significantly once they break out of the range.
COPPER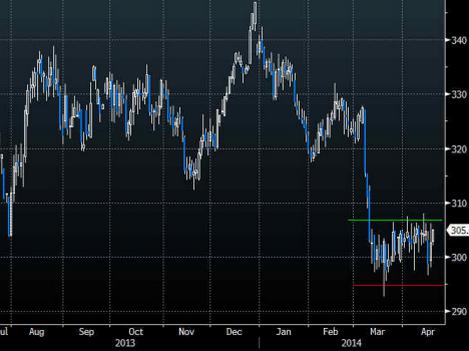 Natural gas hit a two-month high after the EIA reported that operators injected only 24 billion cubic feet into storage last week, below the 34 bcf that analysts were expecting.
NATURAL GAS