IBM (NYSE:IBM) fell about 3% after the market's disappointment with the company's revenue figures. And for good reason - the company reported its lowest quarterly revenue in five years. And to give you a feeling of what IBM's revenue picture looks like, the chart below is indicative.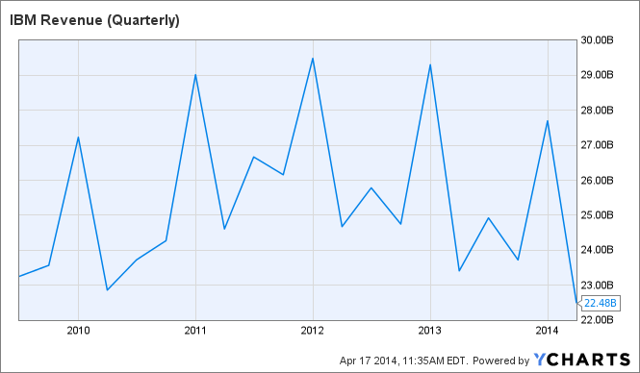 IBM Revenue (Quarterly) data by YCharts
That was also followed by a drop in total net income and EPS for the quarter.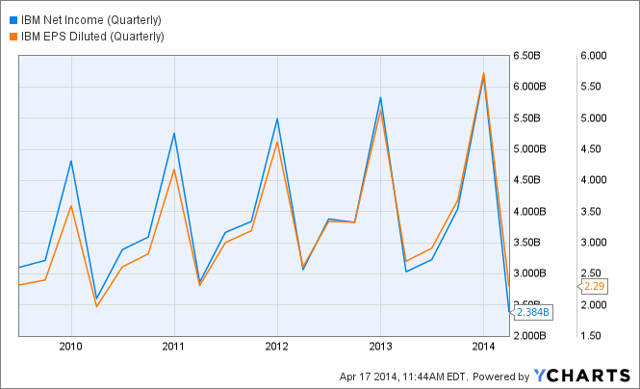 IBM Net Income (Quarterly) data by YCharts
IBM's first-quarter net profit fell to $2.38 billion, or $2.29 per share, from $3.03 billion, or $2.70 per share, a year earlier. On an adjusted basis, the company earned $2.54 per share. Analysts on average were expecting earnings of $2.54 per share, according to Thomson Reuters.
Please keep in mind that these results are even worse than they seem. First of all IBM's float has been on a steady decline, and one would have hoped that on an EPS basis at least things would have been better.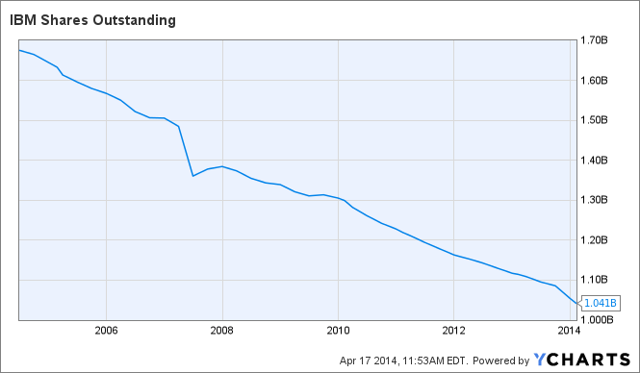 IBM Shares Outstanding data by YCharts
Second, IBM acquired 13 companies in 2013, but even that was not enough to stop revenue falling. So we have a case of "problematic internal growth," and if it was not for the acquired businesses, revenue would probably have been even lower.
However, there were some bright spots. For example, it registered strength in areas it has been targeting for a while now like analytics, cloud and security.
In the cloud space for the year, IBM said it delivered $4.4 billion in revenue across all its cloud portfolio including public clouds, hybrid clouds as well as platform and SaaS-based solutions. That was a 69% increase compared to last year.
Furthermore, the company said that it intends to significantly expand its global cloud footprint and has committed $1.2 billion to double its SoftLayer division to 40 cloud data-centers in 15 countries. One cannot help but wonder what this might mean for companies in the space like Workday (NYSE:WDAY), NetSuite (NYSE:N) and Salesforce.com (NYSE:CRM).
IBM is basically suffering the same fate as Intel (NASDAQ:INTC) and many other companies, but with a twist. While Intel's revenue has been stable to slightly lower because of the migration from the desktop to devices (mobile and other), in IBM's case, the transition to the cloud and other services make investment in large hardware infrastructure less important.
Having said that however, IBM is in transition mode and in several years from now, chances are that cloud services will be a much bigger part of its offering mix. So it is transitioning, but it is such a big company that this transition is very slow.
At the same time IBM is not an expensive stock. Even with this miss, management still forecasts about $18 EPS for 2014 and at least $20 EPS for 2015. So even if investors aren't very excited about the stock at the current time, this is not a stock you can just sell, hoping to buy it at much lower levels. So IBM is in no way a short recommendation.
So what do you do with IBM?
Well IBM is a very low risk stock and you will not get rich holding it at the current time. My recommendation is to do the same I have recommended doing with Intel. That is, to swing trade it on a weekly time frame hoping to get something more than a dividend.
Disclosure: I have no positions in any stocks mentioned, and no plans to initiate any positions within the next 72 hours. I wrote this article myself, and it expresses my own opinions. I am not receiving compensation for it (other than from Seeking Alpha). I have no business relationship with any company whose stock is mentioned in this article.