I just went through General Electric's (NYSE:GE) earnings report and liked what I saw. I did a post on General Electric highlighting the potential for alpha through a contraction in beta, which I expect because the operational mix and leverage ratios for the company are improving. But what I liked about General Electric results was the fact that the gas turbines and oil and gas segments outperformed the healthcare segment. It pleases me when cyclical components of a business outperform because it suggests that the global economic expansion is not threatened.
With that in mind, I decided to run a screen for the diversified machinery industry, because it is possible that the industry strength will spread. I ran the screen for dividend payers with average and above value scores, but with strong growth scores. Here is what I got.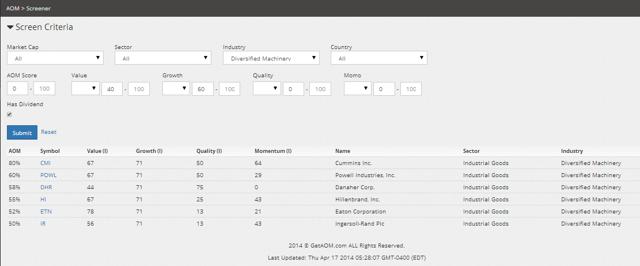 Source: Table 1: Alpha Omega Mathematica (Screener Coming Soon)
I think this is a decent selection of stocks operating in the diversified machinery industry.
Cummins (NYSE:CMI) has a market cap of $26.7 billion and a dividend yield of 1.72%, Powell (NASDAQ:POWL) comes with a market cap of $0.8 billion and a dividend yield of 1.58%, Danaher (NYSE:DHR) comes with a market cap of $51.5 billion and a dividend yield of 0.54%, Hillenbrand (NYSE:HI) with a market cap of $1.95 billion and a dividend yield of 2.56%, Eaton (NYSE:ETN) comes with a market cap of $34.7 billion and a yield of 2.69%, and Ingersoll-Rand (NYSE:IR) has a market cap of $16.1 billion with a yield of 1.72%.
Everyone knows how to calculate the P/E Ratio: simply divide the price by trailing-twelve-month earnings. And if we are looking at the forward P/E ratio, simply divide the price by forward-year earnings.
Powell provides the best P/E ratio opportunity, followed by Cummins: this would be a nice combination for someone fairly risk averse, who is happy to accept the small-size risk of Powell, but unhappy to rely on analyst estimates for 2014 or 2015.
The best forward P/E ratio opportunity comes from Eaton, followed by Hillenbrand. This would be a suitable combination for a person with a higher tolerance for risk: someone who is willing to accept the mid-size risk associated with Hillenbrand, and willing to accept the risk that analyst estimates for 2015 might change.
In the 1960s, a smart gentleman named Jim Slater realized that there is more to the math of the multiple. And he came up with the Price Earnings Growth Ratio [PEG]. This is a lovely ratio to use because it brings the growth differential in as an investment consideration. It is simply the PE Ratio divided by the long-term growth rate expectation.
The best PEG ratio opportunity is provided by Powell, followed by Cummins. Here an even higher level of investor risk tolerance would be required, because there is the small-size risk associated with Powell, and there is higher analyst risk: the risk that long-term (five-year) growth estimates will change is high.
But there is so much more to the math of the multiple that I wrote a post on it, which you can read here. Now this is an awfully convoluted process, and people like simple: and simple works. What is missing in the PEG ratio is risk adjustment. I thought it might be worth multiplying the PEG Ratio by Beta to develop a P-RAGE ratio: that would be Price/Risk Adjusted Growth & Earnings Ratio. This ratio would simply multiply the PEG ratio by Beta to introduce an element of risk adjustment. I accept that beta and volatility may not be seen by many as a measure of risk. However, for better or for worse, beta pays an important role in investor-return expectations: and investor-return expectations are what I seek to measure.
Finviz reports the beta for Cummins, Powell, Danaher, Hillenbrand, Eaton and Ingersoll-Rand as 1.67, 0.83, 1.06, 1.05, 1.60 and 1.49, respectively. The P-RAGE ratio for Cummins, Powell, Danaher, Hillenbrand, Eaton and Ingersoll-Rand are 2.34, 1.02, 1.57, 2.14, 2.58 and 3.96, respectively. Based on this, Powell offers the best growth and risk adjusted return, followed by Danaher. Because Danaher is going through a CEO transition, risks are somewhat elevated. In addition, I do not like Danaher's low dividend yield, and so I would prefer to look at Hillenbrand as the number two P-RAGE winner. The combination of Powell and Hillenbrand is most suitable for a person wishing to accept small-size and mid-size risk: the good news is that the beta on Powell is quite low, and so this might be seen as lowering the risk somewhat.
For the dividend investor, Eaton provides the best answer, followed by Hillenbrand in second place. And for the more aggressive dividend-growth investor, Hillenbrand followed by Powell are the best two options.
For me personally, Cummins would be my favorite large-cap pick, while Hillenbrand would be my favorite smaller-sized company. This provides a decent mix of size risk, growth, dividend and dividend growth. I would consider replacing Hillenbrand with Powell, if I was willing to compromise on the total dividend, in exchange for the lower combined beta associated with ownership of the Cummins and Powell pair, but Hillenbrand's beta of 1.05 gets me to around where I'd like to be on embracing beta/market risk for the diversified machinery industry.

Source: Table 2: Alpha Omega Mathematica
Disclosure: I have no positions in any stocks mentioned, and no plans to initiate any positions within the next 72 hours. I wrote this article myself, and it expresses my own opinions. I am not receiving compensation for it (other than from Seeking Alpha). I have no business relationship with any company whose stock is mentioned in this article.