By Rafael Garcia
Enterprise adoption of cloud computing is an inevitable and growing paradigm in the IT industry. We believe that cloud computing, which is a broad and polymorphous trend, will experience varying rates and paths of adoption depending on different segments of the market.
In general, public clouds offer the best economic benefits to clients. However, we see the deployment of private clouds, primarily enabled by server virtualization and driven by regulatory compliance and security concerns, as an initial step toward the long-term adoption of public clouds.
While cloud computing threatens to disrupt some segments of traditional software companies, we believe Oracle (NYSE:ORCL), BMC (NASDAQ:BMC), and Informatica (NASDAQ:INFA) are three software firms well-positioned to capitalize of the adoption of private clouds in the near term.
What Is Cloud Computing?
While there are multiple definitions of the term, we view cloud computing as an evolving IT model that enables the rapid access to a shared set of computing resources with minimal manual steps or overhead involved.
Furthermore, cloud computing is a multifaceted computing architecture that incorporates several elements. According to the latest definition from the U.S. National Institute of Standards and Technology, cloud computing incorporates five essential elements: on-demand self-service, broad network access, resource pooling, pay-for-use service, and elastic scale. Investors should also notice that the cloud can be delivered under three different service models: software-as-a-service, platform-as-a-service, and infrastructure-as-a-service.
In addition, cloud infrastructure can be broadly divided into public and private clouds. Public clouds provide IT resources that are shared by multiple users. On the other hand, private clouds are generally behind a company's firewall and are only available to internal enterprise users. For a detailed discussion of each model, please refer to our previous article, "Investment Implications of Cloud Computing."
The Case for the Private Cloud
Public clouds offer compelling economic and technological value to users by leveraging hardware and software infrastructure and spreading their operating costs over a large client base. Nonetheless, large organizations concerned about the maturity of public cloud services, but interested in reaping the benefits of the cloud model, are likely to utilize their existing data center infrastructure to implement private clouds. Although private clouds do not offer equivalent economic benefits, they can incorporate several features of public clouds such as automatic resource provisioning, metered use, and improved quality of service. Achieving such public cloud-type performance does entail large up-front capital investments in transforming existing enterprise data centers, but the resulting improvements in operational efficiency and reliability make private cloud economics significantly superior to that of traditional data centers. Additionally, costs represent only one part of the equation, particularly for large enterprises. Large businesses attach real value to some of the noneconomic aspects of private clouds, including perceived higher reliability, data security, and adherence to regulatory requirements and corporate governance standards. These attributes, combined with compelling economic benefits, make private clouds a natural next step for large organizations that have the necessary technological and financial resources. We expect large enterprises to make significant investments in private cloud infrastructure over the next three to five years.
The benefits of private clouds combined with the financial advantages of public clouds will cause large organizations to adopt a varying combination of both models, which is commonly referred to as hybrid cloud. Companies can use the public cloud for mature, best-practices-based applications while keeping mission-critical business applications behind the corporate firewall. Hybrid cloud environments also give organizations greater operating flexibility. For instance, companies running applications on private clouds can offload unexpected or seasonal peaks in IT demand to public clouds (i.e., cloud bursting), thereby lowering capital investment in underutilized IT equipment.
Different Adoption Paths
We believe cloud computing, like other past IT trends, will follow a fairly predictable technology adoption life cycle (Fig. 1). In general, we believe that current adoption levels of cloud computing remain in between the early adopters and early majority stages. While it is difficult to measure current adoption levels of cloud computing, Gartner (an IT research firm) estimated that in October 2009, roughly 16% of enterprise workloads ran on virtualized environments. (Click to enlarge)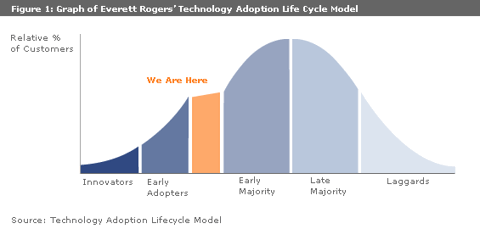 At a more granular level, we expect a different path and pace of cloud computing adoption among large enterprises and small and medium-size businesses, or SMBs.
We believe large organizations, which remain concerned about regulatory compliance, security risks, and reliability levels, are more interested in adopting private clouds in the near term. Being in full control of their own IT environment still gives large companies a greater sense of security. In fact, a recent survey from IDC, an IT research provider, showed that companies are currently more interested in private cloud deployments (Fig. 2).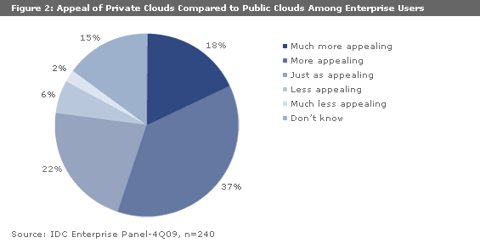 Meanwhile, setting up private clouds makes little economic sense for SMBs because of the required new investments in IT. In addition, the security and reliability levels of public clouds, which are likely superior to those found in the IT infrastructure of SMBs, offer additional incentives for the adoption of public cloud services. Therefore, we believe this segment of the market will bypass the adoption of private clouds and will instead embrace public cloud services.
Three Firms That Stand to Benefit From Adoption of Private Clouds
Private clouds require additional IT investment in several areas, including virtualization as an enabling technology, hardware that can be used to provision elastic and shared resources, application software that can take advantage of virtualized resources, and management tools that enable IT personnel to administer the private cloud infrastructure. A hybrid cloud model further requires software that connects and enables business applications hosted in a public cloud with those running in the organization's private cloud. For instance, customer data stored in a salesforce automation public cloud service might need to be synchronized with an enterprise resource planning application hosted in the organization's private cloud.
Three software firms are well-positioned to benefit from the emerging hybrid cloud model: Oracle, BMC and Informatica.
Oracle
Oracle's software stack (database, middleware, and development tools), combined with the company's virtualization and clustering technologies, leaves the firm well-positioned to benefit from the deployment and management of private clouds. We believe Oracle's most immediate opportunity for private cloud adoption lies within its existing customer base as large enterprises--Oracle's core market--will likely keep critical workloads on-premise.
Current and potential clients looking for any proof of the company's ability to support safe and reliable private cloud deployments should look at Oracle's On Demand initiative, which currently supports about 4.5 million users and was built using the firm's own cloud solutions.
Furthermore, the recent acquisition of Sun Microsystems gives Oracle the ability to offer an even more complete set of solutions to its clients by offering hardware products that are well-integrated with the rest of the company's software stack.
BMC
While cloud computing and virtualization hold the promise to lower enterprise IT costs, these computing models are also making software-as-a-service solutions an attractive alternative to certain software applications traditionally hosted on companies' premises. Cloud computing reduces the need for some of BMC solutions (e.g., help desk) because companies can access applications hosted remotely, thereby reducing the need for having internal IT infrastructure to support such applications.
Nonetheless, organizations with hybrid cloud environments will continue to depend on BMC's information technology management systems solutions to effectively administer legacy IT environments along with newer cloud-based resources, all while ensuring enterprise-grade reliability and security levels.
Moreover, while virtualization is a critical element for the deployment of private clouds, BMC's service management and workload automation solutions are two essential components required to reap the benefits of a private cloud.
Informatica
Informatica's solutions solve a common concern about public cloud adoption, which is the organizations' ability to retain access to their data residing on public clouds.
We believe Informatica should be able to capitalize on the adoption of hybrid clouds because the firm provides software solutions that enable organizations not only to transfer information between different on-premise systems (e.g., between databases), but it also offers cloud data integration solutions that enable companies to access, synchronize, and integrate data between private and public clouds.
For instance, Informatica has created a partnership with Concur Technologies (NASDAQ:CNQR), a provider of on-demand employee spend management services, that enables joint customers to integrate data residing on Concur's cloud with their on-premise applications (e.g., HR or financials systems). Similarly, at the end of the first quarter of 2010, more than 650 Informatica clients were already using the company's solutions to integrate on-premise data with information residing remotely on Salesforce.com (NYSE:CRM).
Disclosure: Morningstar licenses its indexes to certain ETF and ETN providers, including Barclays Global Investors (BGI), First Trust, and ELEMENTS, for use in exchange-traded funds and notes. These ETFs and ETNs are not sponsored, issued, or sold by Morningstar. Morningstar does not make any representation regarding the advisability of investing in ETFs or ETNs that are based on Morningstar indexes. Tim handles their stock strategist posts (separate feed) if you need help formatting or have other Morningstar-related questions.