As many will know by now, an FDA briefing panel July 15 recommended against approval of Vivus' (NASDAQ:VVUS) obesity drug candidate Qnexa by a vote of 10 to 6. This was originally announced as a vote of 9 to 7, but a new electronic voting system was in use, and it must have been a little confusing, because one panelist later claimed that they had unintentionally voted "Yes" for approval instead of "No" against. (Insert "Jim, I'm a doctor, not an electronic voter!" joke here.)
The main concerns cited about Qnexa were:
a lack of safety data longer than one year, although patients will likely be taking Qnexa long-term, at least at maintenance levels, and
concerns about birth defects if and when women taking Qnexa become pregnant.
Trading in VVUS shares was halted for the day. I expect the price to tumble from $12.11 to around $4 or so today, which actually might be a good place to buy, if you share my view that Qnexa is not dead -- only resting.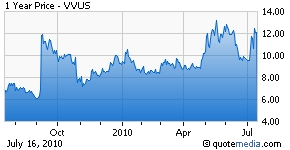 While the panel's vote is taken into consideration by the FDA, it is not binding. Moreover, VVUS has from now until its late October FDA decision date to put together a longer-term package of safety data, and cash should not be a constraint for this company for this purpose.
VVUS's pivotal Phase III Qnexa studies reach the two-year anniversary of full enrollment in mid-2010, suggesting that with all hands on deck, VVUS may be able to assemble robust two-year safety data by October.
The company may also be able to assemble some safety data from the existing available evidence on topiramate, which has been in use for over ten years, and phentermine, which has been in use over 45 years. Finally, the original data that piqued VVUS's interest in developing the topiramate/phentermine combination, the data observed in ten years of practice by Dr. Richard Najarian, although not clinical trial data, may include some safety data that could be useful in some context.
The immediate gainer from VVUS's pain is Arena Pharmaceuticals (NASDAQ:ARNA), whose lorcaserin weight-loss candidate may be less efficacious but has undergone two years of rigorous tests for cardiovascular safety, including an independent monitoring board.
Disclosure: Long VVUS, ARNA