Netflix (NASDAQ:NFLX) will report 1Q14 results on April 21st on Monday after 4pm. Investors who wish to listen in to the Q1 announcement can go to Neflix's investor relations site (Link).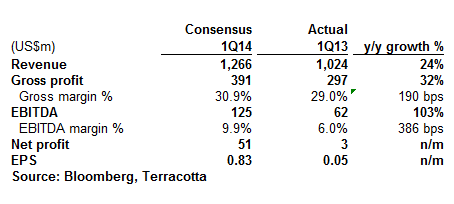 The Street expects EPS of $0.83 per share on the back of $1.3 in revenue and 31% gross margin. EBITDA is expected to double on a y/y basis and EBITDA margin is expected to expand by 380bps from the prior year.
Heading into the earnings, I will be a buyer of Netflix on continued subscriber strength and cost management. However, it is worth noting that the key driver behind the stock is the subscriber growth metric, and any disappointment in this operating metric would spark a sell-off of the shares given that margins will likely contract. Beyond this quarter, any price appreciation of the stock presents a good profit taking opportunity as its international business will likely see continued margin weakness, thereby impacting the overall margins.
Operating metrics keeping the near-term euphoria intact
The key driver of Netflix stock price is investors' focus on the subscriber growth metrics. In 4Q13, the company delivered 33.4m domestic streaming subs and 10.9m international streaming subs that exceeded the high-end of guidance. For this quarter, management expects 35.7 domestic subs (+22% y/y) and 12.5m international subs (+75% y/y).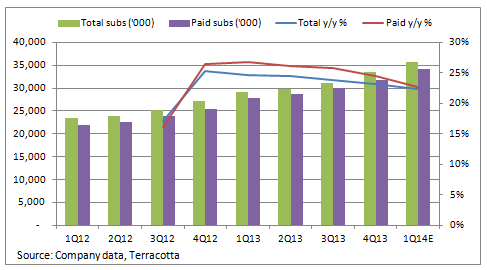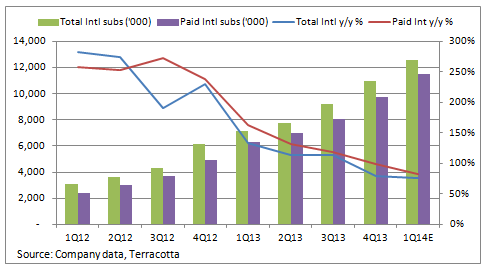 Netflix's share can go higher as long as the company maintain its subs growth given that its cost is already fixed. The company's efforts to develop a single user interface across all connected devices, and introduce a second season of its popular shows (e.g., House of Cards) will certainly allow the company to maintain subs growth in the near-term.
…but margin expansion needed to maintain long-term euphoria
While the company has executed over cost management in that both domestic streaming and DVD margins have stabilized and that international margin has improved significantly since 1Q12, margin expansion remains another key focus as international margins continue to weigh on the company's overall margins.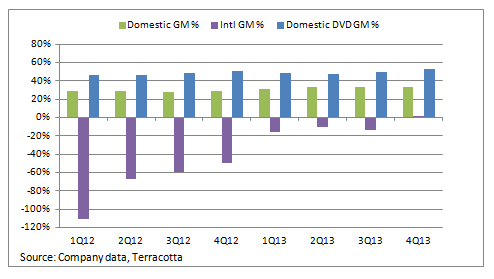 Margin expansion should be a key theme for Netflix in 2014 in that the cost of its original shows will rise sharply as Netflix begin to introduce the second seasons and news shows. To offset the rising cost, subs metrics will be a focus again. But it is important to note how long Netflix's virtuous cycle of leveraging subs to negotiate favorable content deals will last. Execution over original programming is also a concern.
At best, Netflix is a good short-term trade into the quarter. Longer-term speaking, lack of visibility and its stretched valuation (70x FY14E P/E) is keeping me on the sidelines. I note that valuation from P/S and PEG are on the high-end of its five-year historical range.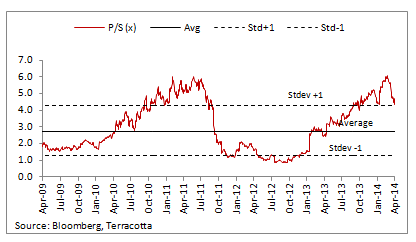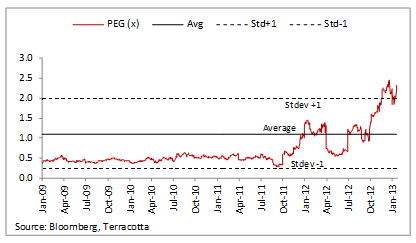 Disclosure: I have no positions in any stocks mentioned, and no plans to initiate any positions within the next 72 hours. I wrote this article myself, and it expresses my own opinions. I am not receiving compensation for it (other than from Seeking Alpha). I have no business relationship with any company whose stock is mentioned in this article.