Investment Thesis:
Ascent Capital trades at rich multiples to its peers and recent acquisitions in the security space. Ascent is also overvalued by looking at its steady state free cash flow.
While management and sell-side analysts believe that Ascent is better insulated from competition via its dealer-only business model, Ascent faces upward pressure on the multiple it pays for its dealer contracts from competitors. Additionally, its growth through its internal channels is weakening.
Home security pure players such as Ascent face increased competition from Cable/Telecom. While past entries by cable/telecom into the security market have failed to gain significant market share, there is evidence that cable/telecoms are now gaining traction.
Based on EV/RMR (Recurring Monthly Revenue) multiple of 50x, still at a significant premium to ADT's 38x, Ascent would be valued at $52 a share - implying 25%+ downside
Market Neutral Strategy: Long ADT, Short ASCMA
Brief Description and Business Model
Originally spun-off from Discovery Holding Company (i.e. Discovery Channel), Ascent Capital purchased Monitronics in December 2010. Today, other than cash and legacy real estate that the company has mostly divested, the entire business is Monitronics - an alarm monitoring company. With over 1 million subscribers (4% market share), Monitronics is the 2nd largest alarm monitoring service behind ADT Corp. (NYSE:ADT) (25% market share).
Unlike ADT, which has both an internal sales force with their own locations and third-party dealers to provide installation, Monitronics exclusively uses third-party dealers to avoid the costs of a brick and mortar operation. When a customer signs a security agreement (usually a 3-year agreement), Monitronics then purchases the future cash flow of the subscriber from the dealer. Monitronics then handles centralized functions and the ongoing monitoring from its call center. For example, Monitronics might pay a dealer $1,500 to buy a customer's alarm contract in which the customer pays $45 per month for alarm monitoring.
RMR Valuation
Because of the high initial cash outflow and subsequent predictable cash inflows (the average length of an alarm monitoring contract is 7-8 years), deferred subscriber costs are a significant part of the balance sheet. In Ascent's case, they make up more than half of the balance sheet. Because these costs are accounted for using accelerated amortization (i.e. a disproportionate amount is expensed in earlier years), a P/E ratio, especially after recent acquisitions, is not a meaningful valuation metric.
RMR or Recurring Monthly Revenue is an industry term that represents the total amount customers pay per month as per their contract. EV/RMR is a particularly useful metric in the alarm monitoring space. First, industry insiders use this metric for private valuations and alarm companies themselves base the amount they pay for a customer contract as a multiple of RMR. Second, gross margins (i.e. the marginal cost of another month of monitoring) and SG&A as a percent of RMR (about 35%) are similar across the industry so it is a reliable indicator of the ultimate cash flow. Finally, unlike EBITDA metrics which, all else being equal, show favorable bias toward a dealer-only business model (in a dealer-based model, more costs can be deferred), using a recurring revenue metric is independent of whether a dealer model or internally generated sales model is chosen.
On an EV/RMR basis, Ascent trades at 56x RMR - a 47% premium to ADT and close to recent acquisitions made in the security space. However, it is easy to argue that both Security Networks, which Ascent acquired, and Vivint warrant higher multiples than Ascent.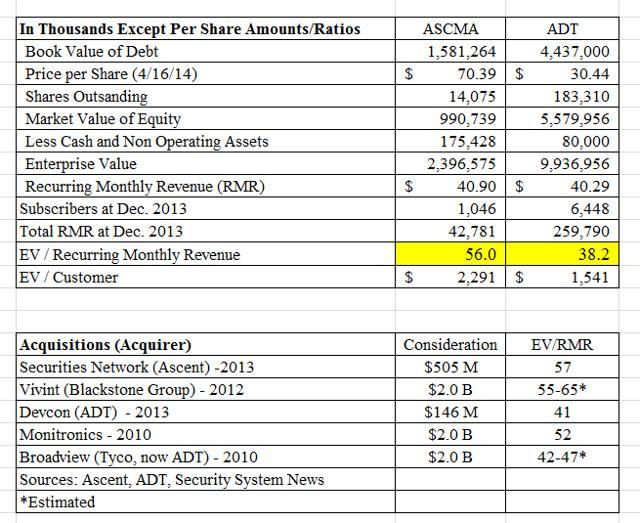 Security Networks was growing much faster than Monitronics (2009-2012 Revenue CAGR of 38% vs. 12% for Monitronics according to Ascent's 3/2014 Investor Presentation). Finally, as Security Networks had a similar dealer-focused strategy, the acquisition was a strategic one which usually commands higher multiples.
Vivint began selling subscriptions for home automation and security services in 2006 and grew revenue organically at 68% CAGR and has high growth expectations going forward. In a recent article by Security System News, Vivint CEO Todd Pedersen declared, "If we only double our enterprise value in the next five years, I hope they fire me."
Given the high leverage of Ascent, assuming an Enterprise Value at 50 times current RMR, still higher than ADT's 38x, would imply a share price of $52 - 25% lower than today's share price. At a 45 EV/RMR multiple and still at a premium to ADT, Ascent's implied share price drops to $37.

Ascent is Also Overvalued Based on Cash Flow Metrics
For Ascent, the largest capital expenditure by far is for the alarm contracts it buys. Because capital expenditures can be volatile and a growing firm will have negative free cash flow, industry analysts use a steady-state free cash flow which uses only the cost to replace cancelled accounts as capital expenditures. This is analogous to using maintenance capital expenditures rather than total capital expenditures in a free cash flow metric. To determine an appropriate cash flow metric, I use a similar approach to calculating "owner's earnings."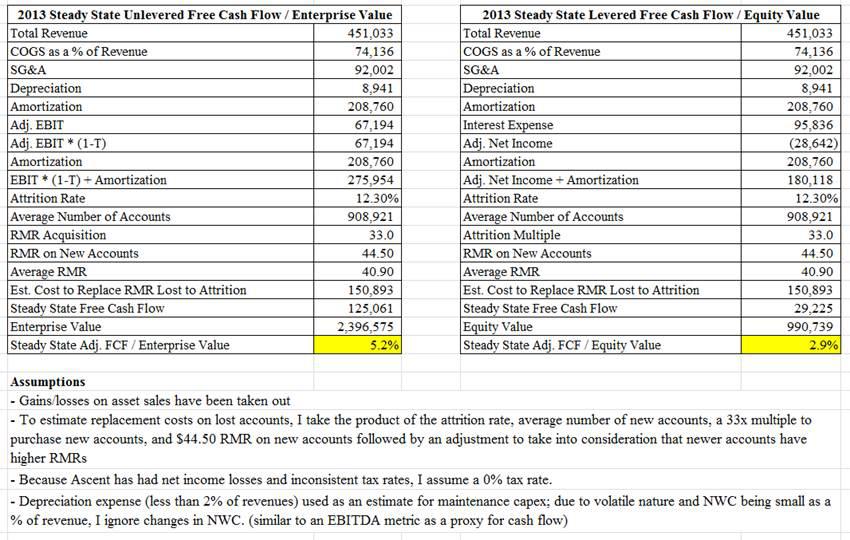 Despite using conservative assumptions from a short perspective (e.g. a 33x dealer creation multiple is lower than management is indicating it pays and a 0% tax rate used in light of net losses), the FCF yield to EV of 5.2% and the FCFE yield to Equity Value of 2.9% suggest high growth is priced in.
The Monitronics Growth Story
Monitronics has grown rapidly from when Ascent acquired it from about 670,000 accounts to over 1 million today. Monitronics grows accounts in 3 ways ((i)) organically, through its dealer network ((ii)) bulk purchases - i.e. purchasing a portfolio of accounts ((iii)) acquisitions.

Weakening Growth through Its Core Dealer Network
However, the engine of the Monitronics business model is its dealer network and growth through its core dealers is starting to show weakness, especially in its most recent quarter given that it picked up 225 dealers via the Security Networks acquisition in Q3. In order to isolate the effects of acquisitions and bulk purchases, I estimate the growth rate of accounts through its dealer channel using metrics provided in Ascent's SEC Filings. I estimate the total amount of quarterly RMR lost due to attrition as the TTM attrition multiplied by the Average RMR per account divided by 4. I then subtract the amount of RMR acquired during the quarter, divide this by the number of accounts at the beginning of the quarter and use the trailing twelve months percentages to adjust for seasonality.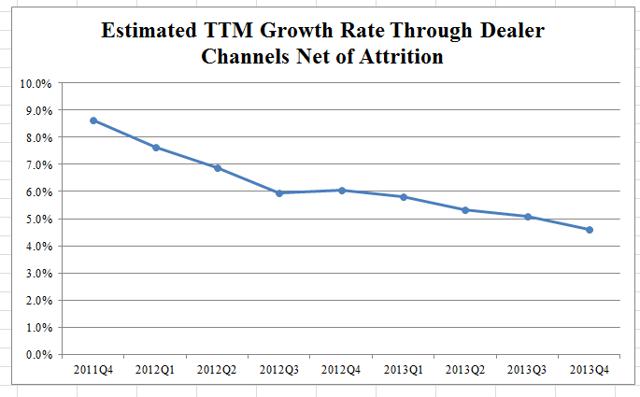 After stripping out acquisitions and bulk purchases, weakening growth through Monitronics' authorized dealers indicates Ascent's lack of willingness to pay higher multiples, light volume generation through its dealer network, or both.
Ascent and the Home Alarm Monitoring Industry Faces Upward Pressure from Both Competitors and Other Firms on the Multiple it Pays Dealers to Buy Customer Contracts.
Citing competitive reasons, Ascent does not regularly release the multiples it pays its dealers for an account. However, management has acknowledged this increased pressure on its most recent earnings call and they have increased the dealer multiple assumption in their released steady state cash flow models.
Industry observers have acknowledged this as well. In an industry trade article published in December 2013, Michael Barnes, founder partner of Barnes Associates (his firm is cited for industry data in Ascent's Investor Presentations), notes "This is an excellent time to sell [Alarm Contracts]…There are plenty of buyers seeking to do deals and they are supported by aggressive capital markets."
In that same article, the CEO of Alarm Capital Alliance, a purchaser of alarm contracts, notes:
"The acquisition market has been really 'frothy' since we exited the last recession…Mom & Pop businesses have always been between 33× and 35× RMR. Now those deals are being done between 37× and 40× RMR."
In addition, competitor ADT indicated that they are willing to pay more for alarm contracts during their recent investor day:
"Our dealer creation multiple actually came down this year and I think part of it is we may have squeezed the dealers little bit too hard. As we go forward, we're actually looking to increase that multiple" ADT CEO Naren Gursahaney - Dec. 2013 Investor Day
Competition from All Sources is Intensifying
While previous attempts by the cable/telecom industry to enter the home security market did not yield significant market share, there is reason to believe that cable companies will make significant inroads into the security market:
Cable companies are eager to replace revenue from falling cable TV subscribers.
The rise in home automation is making the industry more dynamic allowing for an attractive entry point.
From a sales perspective, they can bundle packages and customers with home automation/home security may be stickier.
Technology has lowered the barrier to entry and the price of equipment is dropping. Security is now often cellular compared to the previous hard wired systems.
New product offerings (Time Warner IntelligentHome in 2012 and Comcast Xfinity Home Security in 2010).
Acquisitions (AT&T acquired Xanboo, a home automations provider, in 2010).
To be sure, the cable/telecom industry still faces challenges such as their DMV-like image; nonetheless, both ADT and security industry observers have noted the increased competition.
ADT on the increased competition:
"Over the past few months, we've seen a significant increase in advertising by some of our new competitors as they spend to build brand awareness in this market. This put pressure on our lead-generation activities, impacting both our direct- and dealer-channel gross customer adds. In response, we've increased our advertising levels to maintain an appropriate share of voice….with some of the increased advertising and the better promotions that we're offering, we're taking a little bit of a hit on our SAC in order to drive up [gross additions]." - ADT CEO Naren Gursahaney - January 30, 2014 - Earnings Call
Industry analyst Michael Barnes speaking at an industry conference in February 2014:
"This time around, that is not the case. These [cable/telecom companies] definitely come to the market with huge success in open, competitive markets. These are not slow, behemoth, protected, deregulated companies. They are highly competitive, highly successful companies with huge success in other market segments like wireless internet. What they see this time is that your security alarm customers are very sticky - with lower attrition rates and a much higher value-added service…We've seen some success from these guys and the more we think about it, I think they are going to be serious competitors in this space…Time will tell."
In addition to the pricing pressure from the cable/telecom entrants, consumers may switch to cheaper do-it-yourself options (e.g. Lowe's Iris) that cost $10-20 per month rather than the $30-60 per month.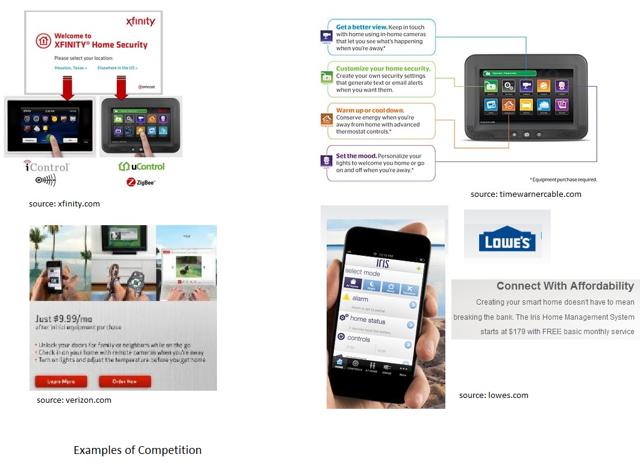 Catalysts
ADT reports earnings on April 30th - weakness in ADT either by low additions or the impact of competition from cable/telecoms could drag down home security pure-play Ascent.
Ascent is expected to report earnings on May 5th. Given that Monitronics is focusing on integration Security Networks, weak gross additions could highlight underlying weakness from its core dealers.
Risks to Investment Thesis
Entrances of Cable/Telecoms fail to have any material effect on the current security pure-plays. The Cable/Telecoms either decide to exit the security business or the advertising by the new entrants generates awareness and expands awareness in a way that ultimately benefits security pure-plays.
Multiples on the dealer originated contracts reverse their upward trend.
Monitronics makes a bulk-buy or acquisition. This is unlikely in the near-team as Monitronics has indicated it will be focused on the Security Networks Integration during the first half of 2014.
Acquisition of Monitronics (see below).
Market Neutral Strategy: Long ADT, Short ASCMA
In order to mitigate the acquisition risk by a cable/telecom provider entering the home security market, I would recommend a long ADT and short ASCMA strategy. First, ADT is considerably cheaper on a multiples basis. Second, ADT offers a 2.6% dividend which offer some cushion. In contrast, Ascent does not pay a dividend, has $1.5 billion in net debt, and its 10-K states that it has no intention of paying a dividend in the near future. Third, ADT has about 6x the customers as Monitronics; the cable/telecoms are mega-caps that would probably prefer a larger acquisition, and ADT lacks Ascent's dual-class share structure which may thwart an acquisition attempt. Finally, ADT has catalysts such as actions of activist shareholders and non-compete provisions with Tyco (TYC) expiring in September 2014.
Conclusion
Whether by RMR multiples or looking at the underlying cash flow, Ascent is overvalued given its declining growth rate in its dealer channel and increasing competition. In addition, Ascent's business model is solely based on acquiring dealer contracts. Competitive pressures are forcing Monitronics to purchase these contracts at higher multiples; this shrinks the ultimate ROI. Finally, there are strong indicators that suggest the cable/telecom companies have made significant inroads in the home security space; this will put significant pressure on pure-play security firms. At 56x RMR, high growth is more than priced into Ascent's shares.
Sources:
SEC Filings, Ascent, ADT investor presentations
Pressure on Multiples: http://www.sdmmag.com/articles/89867-frothy-market-offers-host-of-financing-options
Barnes on the Cable/Telco entry: http://www.sdmmag.com/articles/90037-barnes-market-industry-overview-competitive-landscape
ADT CEO comments courtesy of Seeking Alpha transcripts.
Disclosure: I have no positions in any stocks mentioned, and no plans to initiate any positions within the next 72 hours. I wrote this article myself, and it expresses my own opinions. I am not receiving compensation for it (other than from Seeking Alpha). I have no business relationship with any company whose stock is mentioned in this article.