The market has not been kind to Citigroup (NYSE:C) since the housing bubble burst in 2007: It took the worst beating during the market slump, and yet when the economy recovers with the S&P 500 index hitting record highs, it is still dead in the water. Although the stock jumped 4.36% on good 1Q14 earnings last Tuesday, it is still inexpensively priced. At $47.67 (as of Tuesday's close), the stock is near the bottom of its 1-year trading range, and very far off its pre-crisis highs (chart 1).
And neither was the Federal Reserve (the Fed) kind to the bank. Last month, it rejected the bank's capital return plan on "qualitative" grounds. Since Citigroup's capital position is very strong on a quantitative basis, the rejection was a surprise to Citi shareholders and a bit of opprobrium to CEO Michael Corbat, who had put "quality earnings" as a top goal for the bank (see Letter to shareholders 2013). But whatever the reason, shares of the company plunged following the Fed's decision, and it was only until Tuesday that they bounced back. If the last 5 years or so are any guide, the upside should be very limited. It is likely that sentiment will remain bearish and the share price will stagger along continuously.
That may seem negative, but for those who can see past the current pessimism, the stock offers excellent value for patient investors.
Admittedly, there is every reason for the Fed to bar Citigroup from returning capital to shareholders. Most of all, it received more rescue assistance than any other U.S. lender in the 2008 crisis. The Fed therefore must be highly cautious (and would rather err on the side of caution) to make sure it is fully capitalized to avoid any future bailouts. Whether or not investors, for their parts, are rewarded with higher dividends and stock buybacks is never a concern for the regulator- and never should be.
In fact, after witnessing the near collapse of the U.S. economy, the Fed is turning very prudent. The central bank's utmost concern is that the economy in general and the financial sector in particular have healed from their crisis time wounds. It does not want to risk anything that may smother the recovery. That is why it switched to a more qualitative form of guidance when, quantitatively, the economy has rebounded substantially to justify an imminent rate hike. And it is why it rejected Citigroup's capital plan in the name of "qualitative weakness".
So unless there is something the Fed knows that we do not, the capital-return setback was all much ado about nothing. After all, even if the dividend proposal gets approved, an increase of quarterly dividend from $0.01 to $0.05 amounts to only $0.16 per annum, representing only 0.34% of stock value. So, too, is the buyback proposal: because Citigroup is trading below book value, the $6.4 billion common stock repurchase program could help stock price somewhat, but still is insignificant compared to the bank's market size.
To be sure, skeptics have long believed that American banks are using shady accounting practices to conceal mortgage losses with the Fed's knowledge or even consent. Many say banks are still overloaded with distressed debt and worthless mortgage-related securities, the so-called toxic assets, on or off their balance sheets.
That may be true, but as more than six years have passed since the crisis, many homeowners who bought at the peak have paid down a good chunk of their mortgages. Even more telling is that unemployment and property price, the two factors that affect delinquency rates, have shown meaningful improvement in recent years. All this suggests that much, if not most, of the "toxic assets" are not that toxic nowadays. (For evidence of this, note that big drop in net credit losses was a factor behind Citigroup's positive 1Q14 earnings announcement.)
Furthermore, as reported in the 2013 Annual report (page 82), "Citi does not offer option-adjustable rate mortgages/negative-amortizing mortgage products to its customers. As a result, option-adjustable rate mortgages/negative-amortizing mortgages represent an insignificant portion of total loan balances ..." This, coupled with the fact that Citigroup has done an excellent job of winding down its bad assets held in its Citi Holdings division, and that it has made large loan-loss provisions over the last six years, adds to the reasons for optimism.
At the price of $47.67, Citigroup has a market cap of $144.81 billion with tangible price to book ratio (P/B) equals 0.85x. This literally means that investors have discounted $26.54 billion out of the $171.35 billion tangible common equity. This is a conservative figure because if we include intangible assets like goodwill and compare the ratio with peer banks, then the P/B of Citigroup will fall to 0.72x versus the industry average of 1.30x. In this light, investors have marked down a whopping $116.81 billion, roughly equal to the $114 billion total assets of Citi Holdings.
Let us look at the liability side then. Unless there is material accounting fraud- which is unlikely because banks are subject to heavy external and internal oversight after the 2008 meltdown- it is easy to argue that the balance sheet of Citigroup has improved considerably with a relatively conservative liability structure and strong liquidity position. As at 31-March 2014, the bank had a cash and cash equivalent balance of $34.0 billion. And as can be seen in chart 2, Citigroup has increased customer deposits while reducing its reliance on short-term capital markets and shrinking its balance sheet.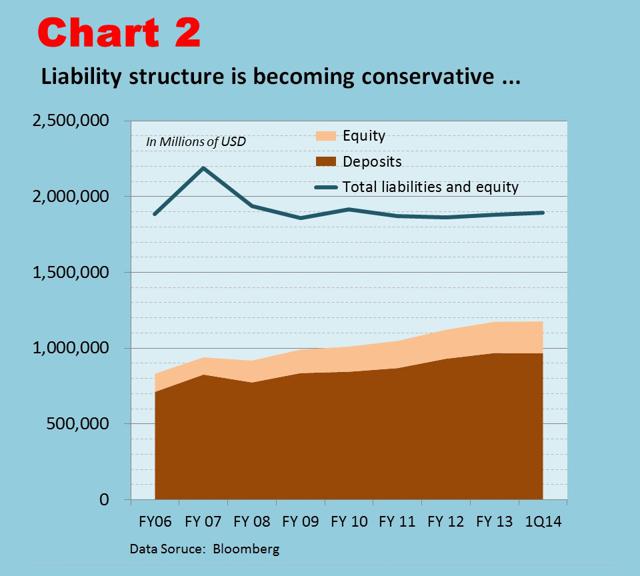 From a profitability angle, Citigroup is one of the cheapest U.S. major banks on a forward price-to-earnings (P/E) basis. With a current P/E ratio of 10.04x, the stock looks very cheap too. It is worth remembering that in FY 2013 the financial giant made $13.7 billion in net income. This, alas, was despite the management's all-out effort to clean up the balance sheet and materially reduce risk. It should be understood that high risk assets bring high returns. Going forward, a return to normalcy would mean a return to higher risk appetite- and in turn, higher earnings for the bank.
Hence, the question is when the nation's once largest bank will kick things back into gear. The right graph (chart 3) below shows the net income and retained earnings- which more or less are the sum of the former- of Citigroup since the onset of financial turmoil. It is fascinating to note that the "profits of recent years" have largely made up for the "losses of crisis years." It is also interesting to note (from the right graph) that book value of the company has been consistently improving in recent years, and is now well above the levels seen in 2006-07. In this respect, Citigroup as a company has returned to the pre-crisis status quo, although as a stock that is yet the case because shareholder interests have been diluted by government bailouts. (And yes, it could be decades before the stock price returns to its pre-crisis levels, but by then it would be some $500 per share rather than the $48 today.)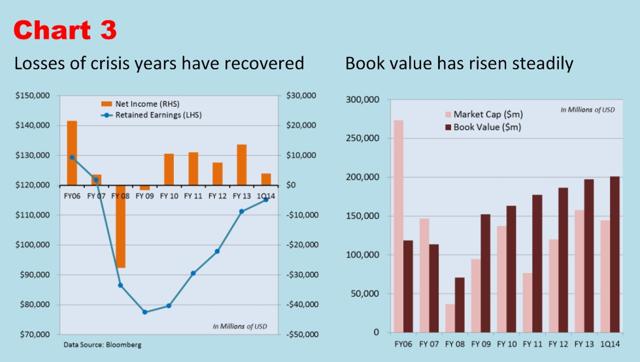 Just as the glass can be viewed as half full or half empty, for a company of Citigroup's size and complexity, it is pretty easy to find reasons to be negative: that the bank is still holding plenty of troubled assets; that the bank may need to write down some of its $55.8 billion deferred tax assets if it cannot earn enough taxable income in the future; that the bank's exposure to emerging markets is inherently risky; that mortgage-related lawsuits are a drag on the bank; that the recent fraud at its Mexican subsidiary signals inadequate controls; and that regulatory environment is not favourable for the bank. All this has the stock trading ridiculously cheap today- and no wonder.
It is worth it to recall that Citigroup's share peaked at $570 in December 2006, and since then the stock has been found wanting. It looks as though the market has put a negative interpretation on everything and found any reason to sell the stock- just to punish the company for its role in the subprime bubble. It is hard to make an optimistic case for the bank.
However, investors should look through the legacy issues and focus on the hard fact that Citi management is striving to restructure the bank by cutting costs and shedding unwanted businesses. With the U.S. economic recovery continuing, the likeliest bet is that Citigroup could regain its lustre one day- perhaps, after a decade of retribution.
So think of it this way: Suppose you are presented with a venture capital opportunity that seeks to invest in a truly global bank. This project offers no capital return and pays hardly any dividend-like income in a 3-year investment horizon. Yet the flip side is that you need to pay only $0.85 for every $1.00 equity stake of the company, and that the business is guaranteed to go public in the end. Is the deal attractive?
That is Citigroup- the bank that is going to take on a new life in the coming years. Will you buy into it?
Disclosure: I am long C. I wrote this article myself, and it expresses my own opinions. I am not receiving compensation for it (other than from Seeking Alpha). I have no business relationship with any company whose stock is mentioned in this article.