The iShares U.S. Home Construction ETF (BATS:ITB) seeks to track the investment results of an index composed of U.S. equities in the home construction sector. It is designed to gain exposure to U.S. companies that manufacture residential homes.
ITB's top 10 holdings accounts for 61% of the ETF's assets.

Source: iShares
65% of ITB's holdings are in the home construction sector, which makes ITB a perfect candidate to ride the housing recovery.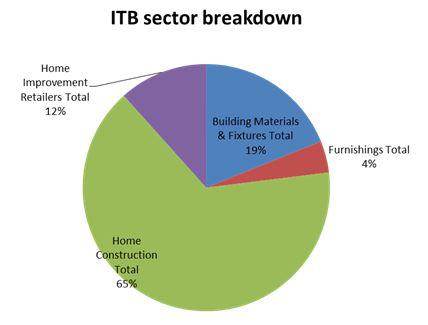 Source: iShares
March housing data is mixed owing to a tough weather in Dec and Jan

The Commerce Department said on April 16th that groundbreaking increased 2.8% to a seasonally adjusted annual rate of 946,000 and permits to build homes fell 2.4% in March to a 990,000-unit pace.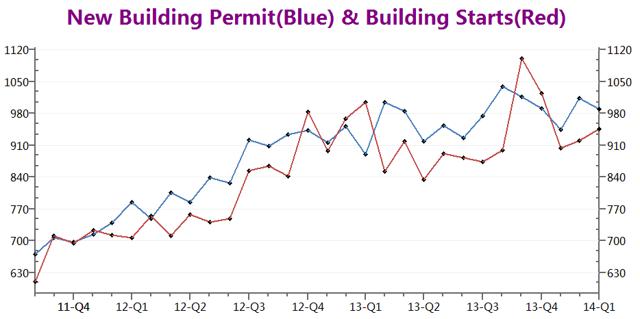 Groundbreaking for single-family homes, the largest segment of the market, surged 6.0% to a 635,000-unit pace last month. Starts for the volatile multi-family homes segment fell 3.1 % to a 311,000-unit rate.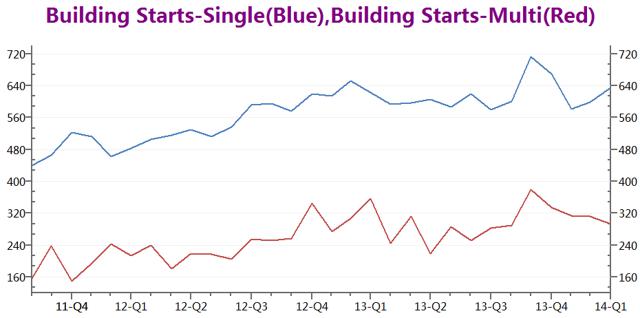 Source: Wind
What I consider the most important drivers for the housing sector, and therefore ITB, are employment and mortgage rate.
Employment is improving
Unemployment keeps coming down and is among its lowest reading post the financial crisis of 6.6%
Source: www.tradingeconomics.com
Hourly wage of private sector non-farm workers keeps going up. Average hourly earnings are up 2.2 percent over the past year outpacing inflation.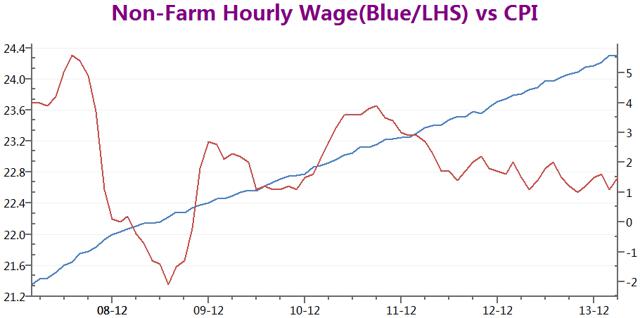 Source: Wind
Mortgage rates stabilizes and QE exit priced in
Entering into 2014, NFP data shows signs of stabilization and gradual improvements. Despite small surprises form time to time, the uptrend remains intact. The mortgage rate, however, climbed up quite a bit in 2Q13. The hike in mortgage rate is a reflection of 1) market participants' fear about the aftershock of QE exit or even rate hike by the Fed, and 2) optimism in the recovery. Since QE exit is already a fact, which marks the bottom of the mortgage rate trend, the latter is more likely the explanation, but a healthy one.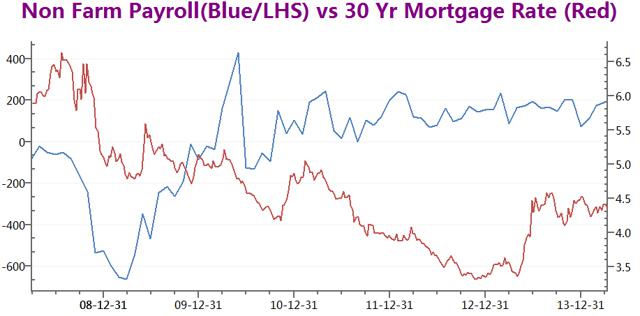 Source: Wind
Housing is still affordable supported by improving fundamentals
According to a research report by Fannie Mac regarding housing affordability, only when the 30 year mortgage rate rises to 7% should Median Income US Households feel "Unaffordable" to Median Priced houses. Also, from a long-term perspective, mortgage rate even at its currently level is still considered low.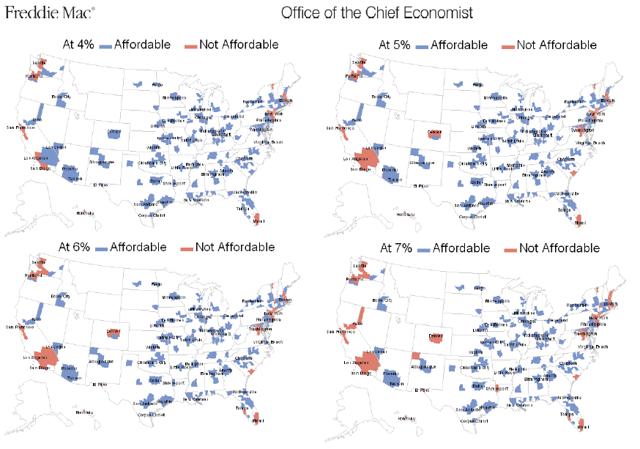 ITB's recent correction presents a buying opportunity
Comparing ITB's performance with 30 year mortgage rate, it is easy to see their negative correlation, which is logically sound as higher mortgage rate curbs demand for new houses. As the 30 year mortgage stabilizes and investors are now more informed about future rate trend, the recent decline in ITB price is nothing more than a correction from its previous rally.
For those investors who are confident in the housing recovery, this correction presents a good buying opportunity. Long-term upward trend remains intact and the trend line provides support at the current price level.

Source: Wind
Disclosure: I have no positions in any stocks mentioned, and no plans to initiate any positions within the next 72 hours. I wrote this article myself, and it expresses my own opinions. I am not receiving compensation for it (other than from Seeking Alpha). I have no business relationship with any company whose stock is mentioned in this article.