Like most things in life, investing boils down to looking at various alternative options and selecting those that best fit with your desires and strategy. At the end of 2013 into the beginning of the New Year, I was allocating almost all of my new funds into sectors and stocks with high yield and reasonable valuations. These included real estate investment trusts (REITs) and energy limited partnerships (LPs) as well as many blue chip American icons like General Electric (NYSE:GE).
I made this decision for several reasons. I was not buying the economic consensus that called for the U.S. economy to finally break out of the weakest post war recovery on record and start posting 3% or better GDP growth like the economy did in the last half of 2013.
A good portion of that was due to inventory building which is non-sustainable without robust demand. Given the continuing tepid wage and job growth in this country, I did not believe this was likely. As a result I did not think interest rates would continue to rise at the consistent rate it did in the last six months of 2013. This would mean that these high yield stocks and sectors should perform well, which indeed they have.
In addition, I did not believe the over 30% rally in 2013 led by high momentum stocks like Tesla Motors (NASDAQ:TSLA) could continue. Earnings only increased ~5% year over year in 2013 and are only projected to rise in the low single digits in the first quarter of 2014. Given this, I thought we were overdue for a correction. The last month has seen a huge rotation from high PE/momentum stocks and sectors into more reasonable valued parts of the market.
I have sold some of the REITs and MLPs I had as they had significant gains but am keeping my blue chip stocks. One of these is Microsoft (NASDAQ:MSFT). I chose the tech titan over more traditional dividend paying blue chips like Coca-Cola (NYSE:KO) at the beginning of the year for myriad reasons. Even though it has easily outperformed Coke throughout 2014, I have no desire to "trade out" as I believe this outperformance will continue. Let's take a look at the two American icons through a variety of lenses as I think they are important for value and income investors in their investment decisions.
Valuation:
Coca-Cola is going for just under 20x forward earnings and just over 18x projected FY2015's EPS. Even with its recent rise, Microsoft is selling for under 15x forward earnings and under 14x FY2015's consensus EPS. Advantage: MSFT
Growth:
Coca-Cola's sales growth looks like it will be flat in 2014. Consensus shows it is projected to post ~4% increases, but given its recent mixed earnings report, I would paint that as slightly optimistic right now. On the other hand, Microsoft should post revenue gains in the 6% to 9% annual range over the next few years. Both of Microsoft's "cloud" businesses (Azure and Office 365) are growing better than 100% annually. Windows license revenue and its server software divisions are growing in the low teens. Advantage: MSFT
Environment:
Microsoft has a new CEO and just made its Office app suite available to iPad users. In the first week, Office apps were downloaded some 12mm times by iPad users. Coca-Cola's main product (sugary drinks) are under attack in many places (New York City, Mexico) as a primary cause of obesity. In addition, pallets of soft drinks are much harder and costlier to distribute than software. Finally, 80% of Coke's sales are from overseas and the company is more vulnerable to currency movements. Advantage: MSFT
Dividends:
Coca-Cola pays a dividend of 3% currently. The company has paid dividends for decades and raises its payout incrementally. It has doubled its payout over the past eight years. Its payout ratio is over 50%.
Microsoft only started paying dividends a decade ago. However, it has tripled its payout over the past eight years and now yields 2.8% even after the recent rise in the stock. Its payout ratio is around 40%. Microsoft's balance sheet also has a AAA credit rating and over $60B in net cash and marketable securities on the books.
Given Microsoft's superior growth, lower payout ratio and cash rich fortress balance sheet; dividend growth is likely to much higher at Microsoft than at Coca-Cola over the next few years making it up for its slightly smaller current dividend yield. Advantage: MSFT
Summary:
Even after its recent outperformance against the S&P and Coca-Cola over the past three months, Microsoft still is a superior choice here for at least the rest of 2014.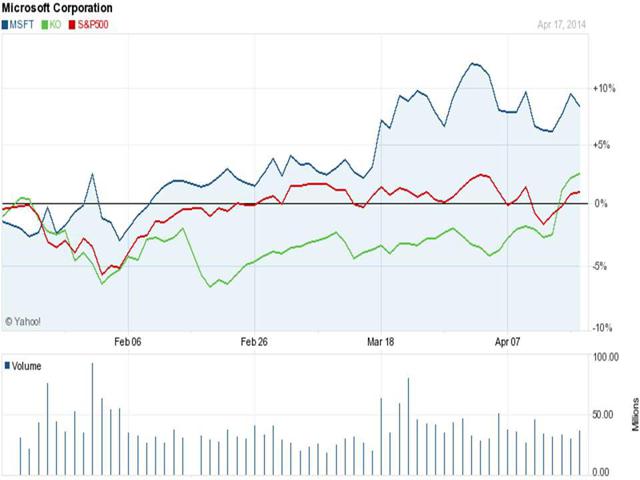 Disclosure: I am long MSFT. I wrote this article myself, and it expresses my own opinions. I am not receiving compensation for it (other than from Seeking Alpha). I have no business relationship with any company whose stock is mentioned in this article.