Starting with Monday's Q2 earnings release by Delta (NYSE:DAL) and ending on July 29th with Southwest (NYSE:LUV), we
estimate that the nine largest US airlines will report an accumulated $1.77 billion in net profits on $31.5 billion in revenues. This updated estimate is at the high end of the May 18 projection when we stated:
The nine largest US passenger airlines will end the 2nd quarter with over $1.4 billion in profits. This could increase to $1.8 billion if fuel prices remain at or below current levels.


Every major airline excluding American (NASDAQ:
AMR
), should be reporting significant profits for the recent Q2. American is estimated to be at or near break-even.
Leading the way in estimated Q2 profit margins is US Airways (
LCC
) at 8.17% followed by Alaska (NYSE:
ALK
) at 7.8%, Southwest at 7.74%, Continental (NYSE:
CAL
) at 7.67%, Delta at 6.46%, United (
UAUA
) at 6.25%,
AirTran (AAI) at 5.65%, JetBlue (NASDAQ:JBLU) at 3.04%, and American at .03%. Average Q2 profit margin for all nine airlines is estimated at 5.63%. Note: "profit margin" is the ratio of net profits/total operating revenue. (See following charts for Q2 2010 estimated revenue, profits and margins.)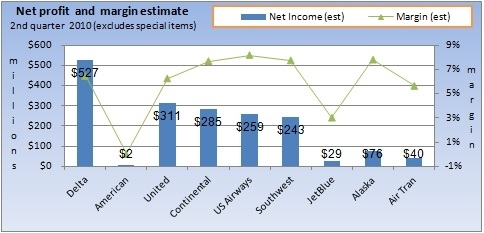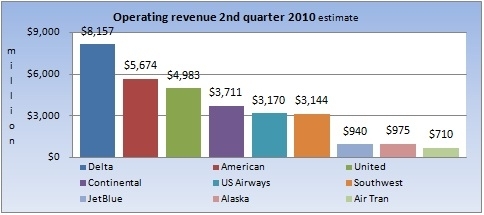 If these Q2 2010 estimates hold true, excluding 2007, they will be the highest Q2 profits in the last ten years. Further, 2010 industry revenues are estimated to be the 2nd highest in the history of the airlines topped only by 2008. (See following charts for five year history of revenue, profit and margins. Delta includes Northwest.)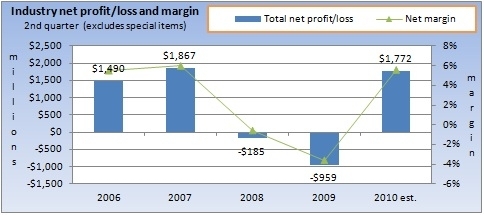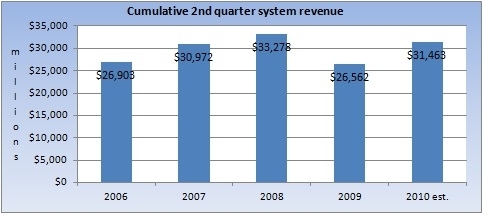 Conclusion: We project all of the airlines noted above will have strong revenue performance for the remainder of 2010. Excluding American and assuming fuel prices remain in the $75-$85 per barrel price range, the airline industry should see significant profits for the current Q3.

Disclosure: The above opinions and comments should not be used to determine the worth of any stock or investment. At the time of writing, the author and his family did not hold stock and/or derivative positions in any of the airlines covered in this article.