Google Inc. (GOOG, GOOGL) shares took a hit after posting results that were not up to par with investors' expectations. Sales fell short of estimates because the search provider has found it difficult to keep up with the broad shift to advertising on mobile phones. While this certainly demonstrates some weakness in the Google business model, it is by no means a huge negative. Any disappointment is amplified with this tech giant because of the impressive growth that the firm has had. While the company has lost just shy of 5% of its value YTD, Google shares have grown about 35% in the past year.
The problem for Google is due to its audience progressively migrating to smartphones. As such the company receives less money for marketing spots on smartphones than it does on desktops and tablets. Rivals such as Facebook Inc. (NASDAQ:FB) are also challenging Google's ascendancy. In light of the fact that Google CEO Larry Page has acquired more advertisers to purchase promotions, with total volume rising 26%, the average price for an ad fell 9%. However, this setback for Google is not so terrible as it is more of a reality check for a company that has had so many things go its way for so long. The problem is clearly identifiable and solvable, so investors should not fret, as Google will figure out how to make proper adjustments needed to adapt. The I Know First algorithm has a bullish signal for Google in the 1-month and 3-month time horizons.
Financial Review
Google's ad pricing continued to weaken and earnings came in lower than analyst expectations. The company presented earnings of $6.27 per share on revenue totaling $15.42 billion, an increase of 19%. Analysts expected $15.52 billion in revenues with EPS of $6.41. Revenue, excluding sales passed on to partners, was $12.2 billion; fell short of analysts' projections of $12.3 billion. Google has a track record for impressive revenue growth. Chart 1 displays Google's global revenue growth since 2002.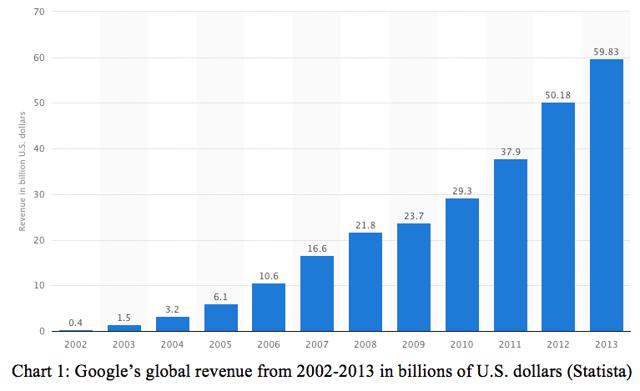 Last year Google's total revenue amounted to $59.83 billion, where $50.58 billion was accredited to advertising revenue. Despite previous steps towards mobile integration, cost-per-click (CPC) fell by 9% year-over-year, compared to the forecasted drop of 8%. This is in light of the fact that advertising paid clicks are up approximately 26% year-over-year. Mobile advertising on smartphones has been a problem for Google. While the volume of paid clicks for smartphones has increased, they also yield less than advertisements on desktops. Smartphones obviously have a smaller screen, which consequently limits the scope of promotion. As a result, cost-per-click for search advertisements declined 35% in the states, while tablets on the other hand, experienced an increase of 29% in ad prices.
1Q14 GAAP operating income was $4.12 billion, or 27% of revenues, versus 1Q13 GAAP operating income of $3.75 billion, or 29% of revenues. Non-GAAP operating income in the first quarter of 2014 was $4.95 billion, or 32% of revenues, while 1Q13 non-GAAP operating income was $4.40 billion, or 34% of revenues.
Google still remains tremendously popular especially in the United States. As of March 2014, the United States accounts for 30.5% of the distribution of global online visitors, followed by India at 8.9% and Russia at 3.5%. Chart 2 displays how Google, the most visited website in America, compares to Facebook, the second most visited website, in the number of monthly unique visitors in millions.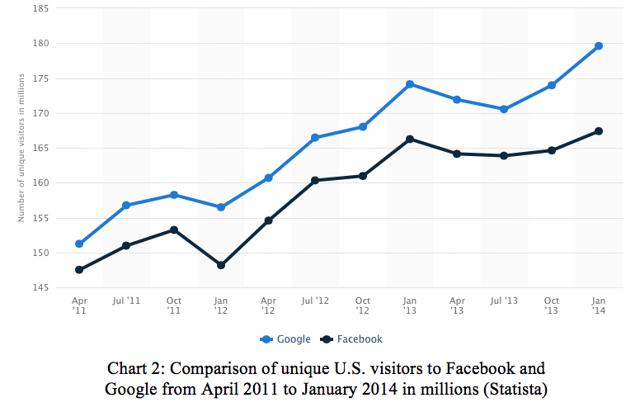 As of January 2014, Google (light blue) has persisted as the most visited website with more than 179.6 million visitors while Facebook (black) during the same period had accrued 167.39 million unique US visitors. Google's net income was reported at $3.45 billion, or $5.04 per share, in Q1 of 2014, compared with a net income of $3.35 billion, or $4.97 per share, in Q1 of 2013. Chart 3 highlights the growth of net income for Google in the past decade.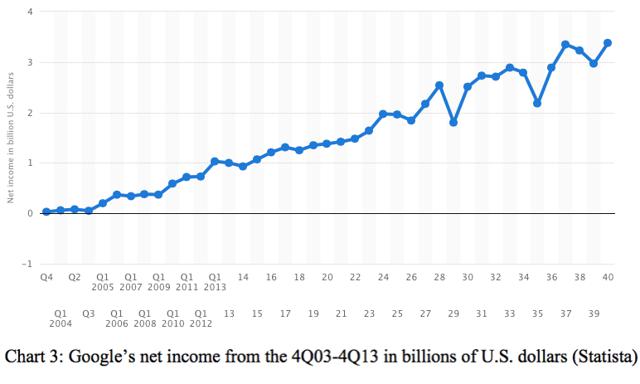 Our Prediction
In a prediction made last year from the I Know First Best Tech Stocks industry forecast, Google was one of our stock picks on April 14th 2013 for the 1-year time horizon. Google was far from the largest return in this forecast but still returned 34.49% in accordance with the algorithmic prediction. The market prediction system (the algorithm) works by modeling and predicting the flow of money between markets. It separates the predictable part from stochastic (random) noise and then creates a model that projects the future trajectory of the given market in the multidimensional space of other markets. The self-learning algorithm outputs the predicted trend as a number, which in turn is used by traders to identify when to enter and exit the market. Chart 4 displays the Best Tech Stocks forecast with the corresponding returns.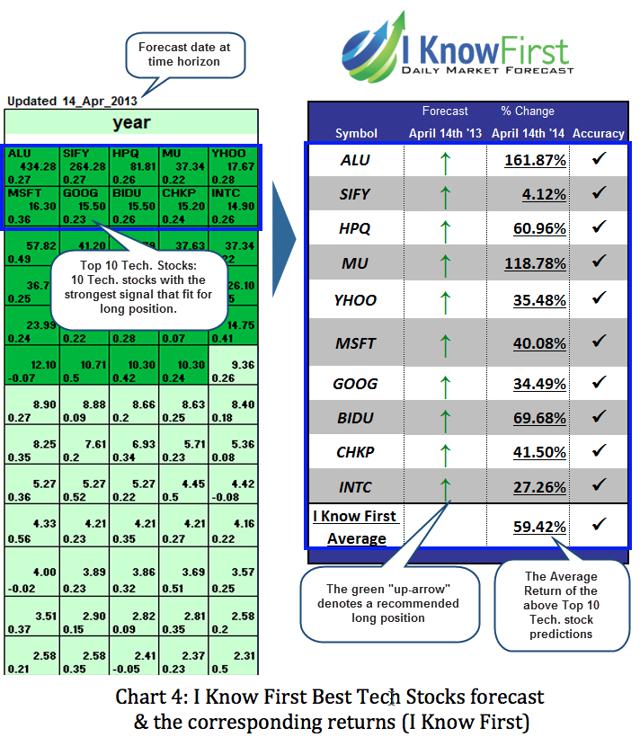 The forecast is color-coded, where green indicates a bullish signal and red indicates a bearish signal. Deeper greens signify that the algorithm is very bullish as it does at the top of this forecast. Google had a signal of 15.5 and a predictability of 0.23 displaying confidence in the forecast. The signal is the number flush right in the middle of the box and the predicted direction (not a specific number or target price) for that asset while the predictability is the historical correlation between the prediction and the actual market movements. In other words, the signal represents the forecasted strength of the prediction while the predictability represents the level of confidence, however, further explanations are available here.
In the most recent forecast, Google has a bullish 1-month and 3-month prediction, although it is not currently one of the top tech stocks and there are better market opportunities. Chart 5 displays today's algorithmic forecast for Google.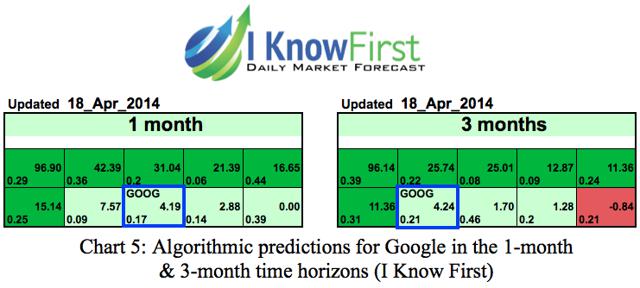 In the 1-month time horizon, Google has a bullish forecast with a signal of 4.19 and a predictability of 0.17. The tech giant has a slightly stronger signal of 4.24 in the 3-month forecast and a more confident predictability of 0.21. While the market may react somewhat negatively for some time to investor disappointment, the stock is predicted to retain and gain value over the next few months.
Conclusion
Google is currently learning how to acclimate itself with an audience that is progressively migrating towards utilizing their smartphones more for searches. In the conference call, Google's Chief Business Officer Nikesh Arora stated, "the more you know about the user and their context, the more effective advertising you can provide to them. The better the conversion is likely to be for a search or any piece of advertising that you do. There's a whole bunch of building blocks that need to come into play for us like you said to get the gap to close." He later continued by stating, "That journey is just beginning for advertisers in the mobile site. They're just beginning to understand what it takes for the end user to come transact on their website."
Currently the algorithm has a bullish forecast that is not remarkably strong but still fair. Personally, I believe the signal will increase in strength considerably when Google learns how it will adapt to the shift in mobile advertising. Google is arguably one of the most innovative companies and it should not be a tremendous learning curve for them to adjust. There is even the possibility that the company can make this situation work in their favor creating more value than expected. As the dominant search engine, Google is in a position to turn this dilemma into an opportunity that will create value for advertising clients and shareholders.
Business disclosure: I Know First Research is the analytic branch of I Know First, a financial startup company that specializes in quantitatively predicting the stock market. Joshua Martin, one of our interns, wrote this article. We did not receive compensation for this article (other than from Seeking Alpha), and we have no business relationship with any company whose stock is mentioned in this article.
Disclosure: I have no positions in any stocks mentioned, and no plans to initiate any positions within the next 72 hours. I wrote this article myself, and it expresses my own opinions. I am not receiving compensation for it (other than from Seeking Alpha). I have no business relationship with any company whose stock is mentioned in this article.