Netflix (NASDAQ:NFLX) is scheduled to report Q12014 earnings after the bell on April 21. Analysts are expecting earnings per share of $0.83, higher than the company's guidance of $0.78. Analysts expect quarterly revenues of $1.27 billion, a 23.6 percent growth year over year. For the fiscal year 2014, revenues are expected to be $5.38 billion, implying sequential 22.90 percent revenue growth.
Earnings Overview
It is often helpful to gauge the uncertainty associated with future asset prices as well as investors' expectations through options implied volatility levels. Implied volatility is said to be highly significant and "informationally efficient predictor" of realized volatility in an asset. For the last 14 quarters, options market has on an average expected 16 percent movement in Netflix's stock on earnings release, whereas the stock has moved (average) 12.7 percent after the earnings release. For the earnings report on Monday, options market is implying a $39.50 move in Netflix shares (equivalent to 11.5 percent).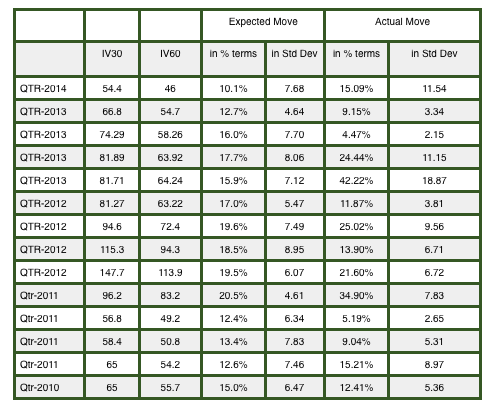 After reaching an all-time high earlier this year, Netflix shares have lost 15 percent, mainly due to the reversal of momentum in high beta, high risk names. The chart below highlights the implied volatility levels in Netflix for the last 2 years. Peaks in implied volatility levels reflect the high uncertainty associated with the stock price around earnings announcement. Notably, this sharp reversal in Netflix share prices since March has failed to stimulate the re-pricing of risk in the options markets.

(Source : Livevol)
In fact pre-earnings implied volatility level in Netflix is close to two-year low (on a sequential basis), which contradicts the broad investor sentiment these days towards the high-beta stocks. Investors should also take note of the shift in upside skew for Netflix as we head into earnings this quarter.

(Source: LiveVol)
Business Fundamentals and Valuation
Netflix ended 2013 with over 44 million subscribers and with expectations of 48 million subscribers at the end of Q1 2014. Netflix reported faster streaming for its Comcast (NASDAQ:CMCSA) customers, after the online video streaming company agreed to pay the cable company for direct access to its networks. The investment community has had a long debate over this deal, expounding this move as the latest evidence of a shift in the balance of power of internet service providers. By signing up this deal, Netflix has essentially subsidized broadband service costs for its customers, to encourage consumers to use their streaming service more. To create growth opportunity for the future, Netflix has quietly been sowing the seeds of latent demand in 15-24 year old age group via smart sampling, content and habituation. According to Pacific Crest Securities, "Netflix can reach 134 million global streaming subscribers: 64 million in the U.S. and 70 million in international markets."
The company currently faces strong headwinds as it competes with conglomerates such as Comcast, Verizon (NYSE:VZ) and the content owners for content licensing. Netflix is competing in an industry which is capital-intensive, and creating an original content library is the only way it can control the price. My fair value estimate is based on using the discounted cash flow model:
Used a discount rate of 9.52 percent (readers can argue it's low) weighted using cable TV and internet software services industry averages.
Used a very aggressive, compounded annual revenue growth rate of 21.50 percent (higher than analysts' expectations) for the next 5 years.
Netflix will need to expand its pretax operating margins (current levels of 8.54 percent) to create more shareholder value.
Business reinvestment needs will grow by 16.9 percent yearly to expand the original content offerings.
Incremental working capital needs will drift higher.
My fair value estimate for Netflix is $128 per share, 62 percent lower than the current market price. In order to realize the subscriber growth by 2020, Netflix will need to reinvest $8.3 billion to generate the expected revenues. Incremental reinvestment requirements highlight a shortfall of $1.5 billion, which needs to be raised either through an equity or debt offering.
For a stock that is overvalued and has historically moved strongly after the earnings, options market is understating the upside movement risk of NFLX.
Disclosure: I am short NFLX. I wrote this article myself, and it expresses my own opinions. I am not receiving compensation for it (other than from Seeking Alpha). I have no business relationship with any company whose stock is mentioned in this article.
Additional disclosure: Long NFLX May/Sep 275 put calendars and long April wkly 350-380 call spread as a hedge.