All mega deals are not done when the economy is either super hot or in the dumps. The recent talk of deals in certain industries highlights that, and none more than the talk the past week of a major gold miner deal in the works. The gold market is not that bad right now, although at the same time it is not great. Any deal done now is to further cut costs from operations and make the mining companies more attractive for investors looking for better returns. Even if costs can be cut and margins increased we still see better opportunities elsewhere, but admit the gap will have closed a bit.
Commodities have been hot this year and with the summer approaching we do believe it is time to take some money off of the table as May, and more importantly summer, approaches. It is historically a rough time to be invested in some of the junior resource names and we do want to point that out as it is quite relevant.
Chart of the Day:
Many investors have been able to finally make money off of the US Natural Gas Fund (NYSEARCA:UNG) by going long the ETF for the first time in many years these past two years on the back of increasing demand. We found an interesting chart from CNBC which highlights where this growth has come from which we wanted to share this morning.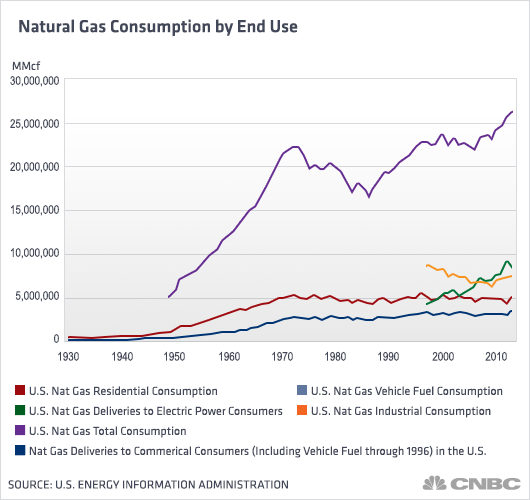 Source: CNBC
Commodity prices this morning are as follows:
Gold: $1,283.80/ounce, down by $10.10/ounce
Silver: $19.305/ounce, down by $0.291/ounce
Oil: $104.11/barrel, down by $0.19/barrel
RBOB Gas: $3.044/gallon, down by $0.0107/gallon
Natural Gas: $4.763/MMbtu, up by $0.022/MMbtu
Copper: $3.0425/pound, down by $0.0025/pound
Platinum: $1,405.60/ounce, down by $23.10/ounce
Consolidation Among Gold Producers?
The Wall Street Journal reported last week that talks between Barrick Gold (NYSE:ABX) and Newmont Mining (NYSE:NEM) were ongoing as the world's largest gold producers were looking to combine in order to cut costs and boost returns for shareholders. By the end of the week the WSJ reported that talks had broken down and a deal was no longer imminent. This morning, after a holiday lengthened weekend to talk to sources, there are numerous reports out that the deal is off even though the major deal points and price were all agreed to. Apparently the deal fell apart due to the particulars surrounding a spin-off of the combined company's Australian and New Zealand assets.
Although the past year has seen Barrick's share price remain flat, Newmont investors have fared far worse.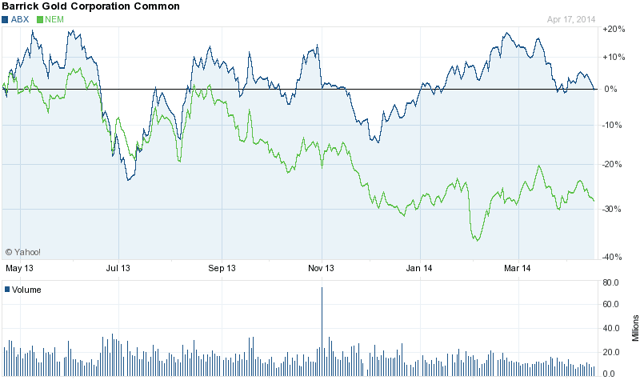 Source: Yahoo Finance
With the current state of the gold market we would not be surprised for the two sides to come back to the table. Investors do need to realize that the two sides have had numerous talks over the years and nothing has ever come of them, yet. Where there is smoke there is fire, so we think that investors would do well to pay attention here.
We do want to be clear, readers should not expect a deal to affect the price of gold or the SPDR Gold Shares (NYSEARCA:GLD) as this is a company specific deal that is not looking to affect the price of gold or its supply but rather company specific costs. So if one is trying to play this deal, go long gold equities and/or gold equity ETFs but certainly not physical gold or its related ETFs.
Guinea Moves Against Vale
As the evidence has piled up against BSG Resources and the actions taken to obtain the Simandou and Zogota iron ore deposits (some of the largest in the world) it has become quite clear that there were improprieties. Ordinarily we would frown upon moves like the ones that Guinea is now taking as they appear to be reneging on a deal but the evidence does point to numerous improprieties here. Although Vale (NYSE:VALE) is involved with the project, authorities are focusing their attention on BSG at this time. Vale might be able to continue to be involved in the project moving forward as they do appear clean at this time, and nothing in FBI wiretaps has turned up anything on the company as damaging as that to BSG Resources.
This is not a mover for stock prices of the biggest names in the sector on this news alone, but it could help with supply issues further down the road. We say this because as Guinea moves to void the previous deal it will tie up the project for some time in the legal sphere and keep interested parties from investing the billions needed to bring the project into production.
Disclosure: I have no positions in any stocks mentioned, and no plans to initiate any positions within the next 72 hours. I wrote this article myself, and it expresses my own opinions. I am not receiving compensation for it (other than from Seeking Alpha). I have no business relationship with any company whose stock is mentioned in this article.