By David Gibbs
Marriott International beats on the numbers, but sells off nonetheless:
Earnings: Q2 profits of $0.31 vs. $0.29 consensus and $0.10 for Q2 last year ($0.23 excluding charges).
Revenue: Up 8.2% to $2.77 billion vs. consensus of $2.75 billion.

Chairman and CEO J.W. Marriott noted that:
business and leisure stays at Marriott hotels [are] trending up and room rates at North American locations rose for the first time in two years.
Comment: Marriot's (NYSE: MAR) Q2 reports not only beat estimates but guidance as well last Wednesday before the bell, and while shares rallied during after-hours trading, the beat was clearly not enough for the Street, as shares began sinking immediately upon the resumption of regular trading.
MAR raised its 2010 earnings forecast from $0.95-$1.05 to $1.05-$1.13. It also raised the bottom end of its revenue-per-available-room, or revpar, estimates by 100 bps to a forecast of 4% to 6% growth. For the current quarter, MAR forecasted EPS of $0.18-$0.22. This is below consensus estimates, which sought $0.22, and is likely the reason for the downside pressure on shares. Management also announced revpar growth of 6% to 8% for the current quarter.
The recovery in the travel-lodging industry has been been building after a period of patchwork improvements. Last quarter, Marriott's business-travel demand and occupancy levels both improved, but room rates were generally lower.
Overall, the quarter was not well-received by the Street, as shares were pressured on Thursday and Friday, giving up nice gains from earlier in the week. Shares had put together a bit of a rally after sinking below $30 just two weeks ago. On a positive note, MAR found support at its 200-day moving average, though we are likely to see yet another test in the near future. If it can hold that mark yet again, we might have a near-term bottom on our hands, but until then you'd probably be best served by investing elsewhere.
Click to enlarge: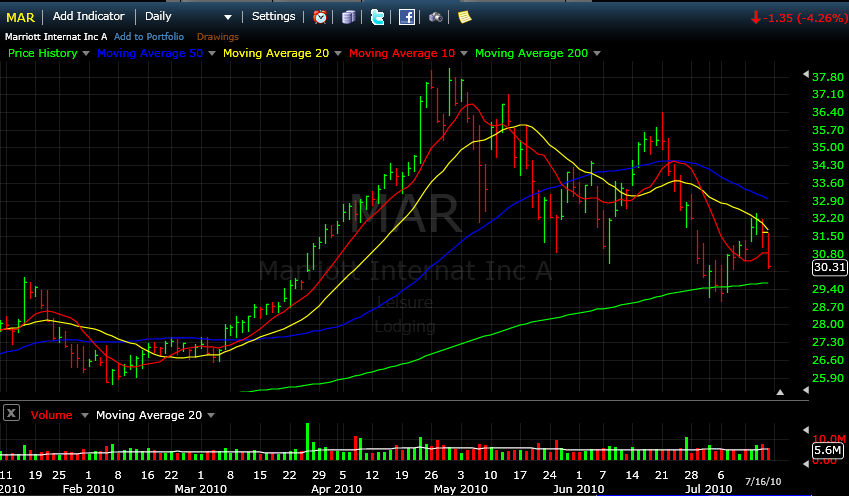 Disclosure: No holdings in MAR.