Recently Citi Equity Research released an updated list of global bond refugee stocks. Stocks with higher dividends ands lower volatility as an alternative to bond investments for income seeking investors. Among companies making the cut is Kimberly-Clark (NYSE:KMB) with a current dividend yield of 3.1%. We rate KMB as a bond refugee buy.
Background
KMB is a consumer products company that engages in the manufacturing and marketing of personal care and health care products. KMB has four segments:
Personal care,
Consumer tissue,
Professional and
Healthcare.
Across the four segments KMB produces and markets a number of well-recognized brands including Huggies, Kotex, Keleenex, Viva, Scotts, and many others.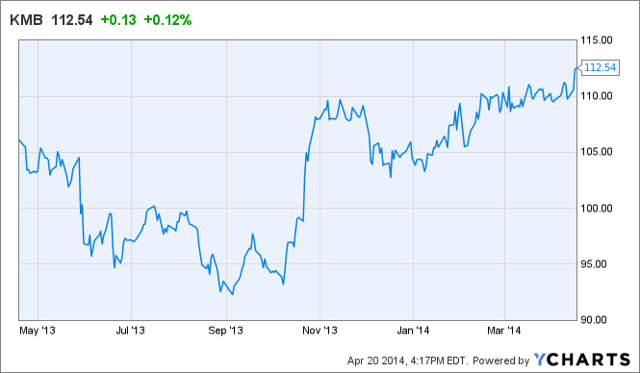 Valuation
KMB is a large cap stock with a $42.7 billion market capitalization and $46.9 billion enterprise value. On an earnings basis KMB trades at a slight premium to the S&P500, at 20.4 times trailing earnings versus 17.1 for the index. In comparison to the consumer sector KMB trades at a 10.3% trailing earnings premium. Looking at forward earnings KMB's premium narrows slightly to the S&P500 but is largely in line on a sector basis.
We rate KMB as fairly valued given:
The sector reasonably trades at a premium to the S&P500 multiple due the predictability of earnings
KMB's forward earnings multiple is in line with the overall sector.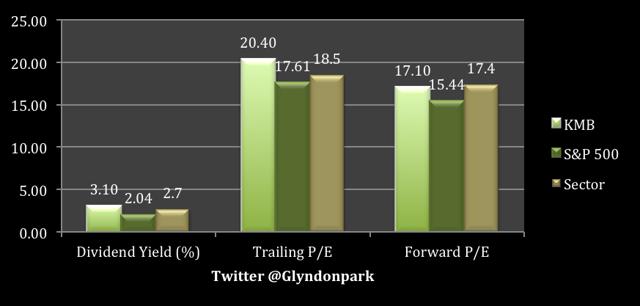 Dividend Stability
KMB has a long history of dividend increases and investor should expect that to continue for the foreseeable future. KMB presented their 2014 outlook and expect to grow earnings by 4-7% while targeting significant return to shareholders in the form of dividends and stock buybacks. Investors will get a good sense of the progress as KMB reports earnings tomorrow, April 21, 2014.
Looking at key dividend safety metrics KMB has a Debt to EBITDA ratio of 1.48. KMB pays out 54% of earnings as dividends. Given the strong predictability of KMB's consumer essential products both the above metrics are very conservative. We rate KMB's dividend as highly stable.
Overall we rate KMB as a bond refugee BUY for investors seeking current income and low volatility and a stable dividend. We view the shares as fairly valued on a total return basis .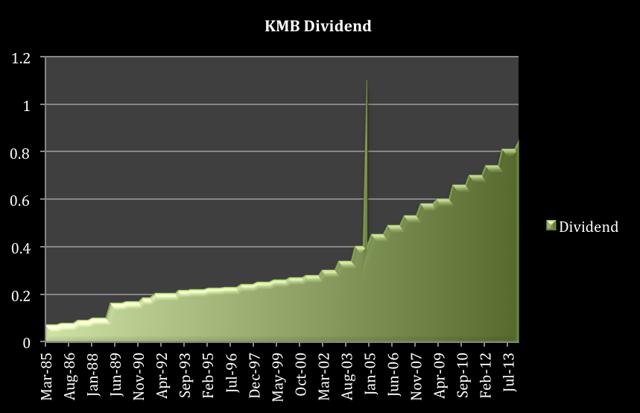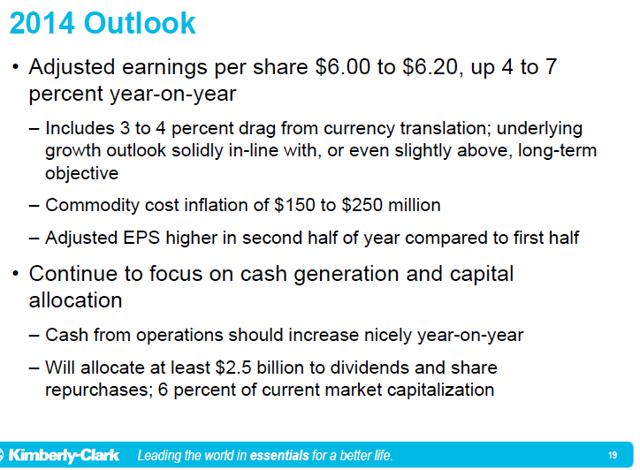 Source: KMB Q4 Earnings presentation
Disclosure: I have no positions in any stocks mentioned, and no plans to initiate any positions within the next 72 hours. I wrote this article myself, and it expresses my own opinions. I am not receiving compensation for it (other than from Seeking Alpha). I have no business relationship with any company whose stock is mentioned in this article.