Chipotle Mexican Grill (NYSE:CMG) stock has been on a tear over the last year. It is up more than 40% YoY, even though it has taken a breather since March. At the time of writing, CMG has a market cap of $16B and sports a high P/E ratio of 49.6. At face value, CMG looks overpriced to value hunters like me. However, while analyzing high growth stocks, I like to look at the size of the opportunity and the company's ability to execute upon it. I really like CMG as a company - their execution is great, the company culture fosters a sense of ownership among their employees, and they are serving a growing customer base that is more resistant to economic downturns. They are also expanding into newer food categories, which increases their potential for international expansion as well.
However, an analysis of CMG shows that even with aggressive assumptions around growth, the stock is around 17% overvalued. Therefore, I cannot recommend CMG as an investment at this point. The good news is that momentum stocks such as CMG tend to fall heavily during a market pullback - if the price gets low enough, it will definitely be worth a second look. It could well be that CMG is one of those best-of-breed companies that always seems expensive, and has decades of growth in front of it, however, I would choose to wait for a more opportune time.
Store Growth assumptions
At such rich valuations, the extent to which CMG can sustain its growth in both store as well as sales/store is critical. Between 2009 and 2013, store count has grown from 956 to 1595, a CAGR of 13.6%. Management has guided to between 180 and 195 store openings in 2014. In my model, I assume that CMG will continue the pace of its store growth, getting to 3214 stores by 2020 which would be a CAGR of 10.5%, or 230 net new stores on an average each year. From 2012 to 2014, CMG will be opening around 185 stores on average each year, so this is a significant increase in store count.
Sales/store growth
CMG has guided to high single-digit sales/store for FY14. Accordingly, I have assumed 8% sales/store growth for this year, 5% through 2017, and 4% thereafter. It is important to note that at some point, they will start bumping up against physical limitations of square footage, and it will be harder to keep increasing sales/store. In my model, sales/store increases from $2.2M in 2013 to $3.3M by 2020, a cumulative increase of 50%. Embedded in this number are assumptions of 3% price increases in 2014 (as indicated in the Q1 earnings call), as well as similar increases in 2017 and 2020. The following chart shows the projection of stores and sales/store: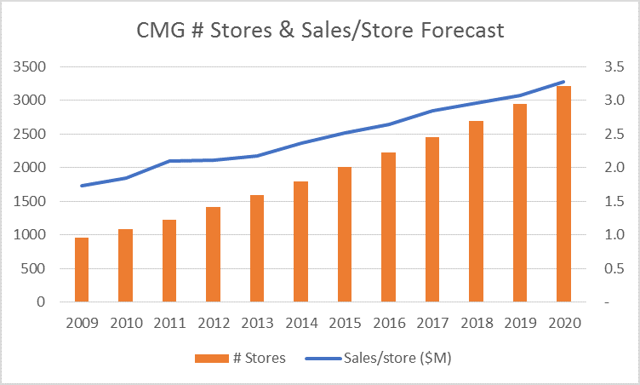 Source: CMG Annual report and earnings call, Aurium Investments analysis
Operating Expenses
Margin expansion is the next opportunity after sales and sales/store growth. Unfortunately, CMG appears to fall short here. In spite of increased leverage on labor and occupancy over the last couple of years (driven by the impressive sales/store growth), food inflation has wiped out all the operational gains. Operating margins have stayed pretty flat in the 16% range since 2012, and Q1 results actually saw a dip to 15% driven by food inflation. For the analysis, I am assuming that CMG does execute well on the more controllable aspects of its business (labor and occupancy), which results in slight margin expansion to the 17.5% range by 2020. Recent performance shows that, although seemingly minor, this is actually quite aggressive. The following chart shows the assumptions around various cost categories, and the resultant operating margins: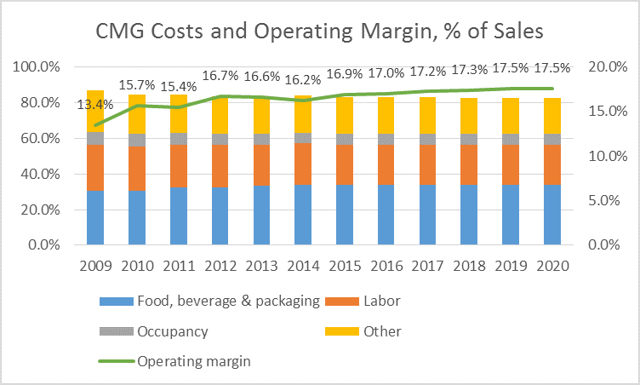 Source: CMG Annual report, Aurium Investments analysis
Valuation
After modeling CMG's store growth and expense assumptions, I calculated its valuation based on a discount rate of 12% (reflecting medium-high risk) and a pretty high terminal growth rate of 7%. Usually I like to be very conservative while modeling terminal values and believe it is unrealistic to grow 7% into perpetuity, but I wanted to test the strength of my bear case. Using this, I get to a fair market value of $429 for CMG, which is a 17% discount to today's price.
Conclusion
I always feel a bit torn making a bear case for a company I like. CMG is a classic case of the market bidding up a good business to unrealistic prices, which always leads to disappointment when expectations are not met. It seems a matter of time before CMG underperforms relative to the aggressive growth expectations and the price declines to less frothy levels. Aggressive investors might consider a small short position, while the more patient should just wait till Mr. Market turns sour on CMG. It will happen. I end with a suggestion for CMG's management - please stop the buybacks now! There are surely better uses of capital - store expansion for one.
Disclosure: I have no positions in any stocks mentioned, and no plans to initiate any positions within the next 72 hours. I wrote this article myself, and it expresses my own opinions. I am not receiving compensation for it (other than from Seeking Alpha). I have no business relationship with any company whose stock is mentioned in this article.