Great businesses are great no matter what the economy is doing because recessions or booms don't determine their quality. Recessions or economic slowdowns are often the only times that investors can acquire quality businesses at reasonable prices because at these times, most investors are afraid of anything other than the safest investment vehicles.
Let's pretend for a second that we have a 100 percent exclusivity to host Warren Buffett. We are the only ones to have the right to have him speak in front of an audience. This would be pretty incredible because if anyone wanted to listen to him, they would have to pay us admission. Because he is the most famous investor, we could sell out events. Considering how much it costs to attend various forums, it wouldn't be hard to charge $100 per person. After selling out an event with 10,000 people, we would bring in $1 million. How could we make even more money? How about setting up a Warren Buffett Tour and having him travel to major cities in the United States? Now, instead of selling out one event, we could sell out many throughout the country.
It may seem like we could be making a killing now, but there are a few more things that we could do to make even more money. How about inviting other famous investors such as Joel Greenblatt, Bruce Berkowitz, Martin Whitman, Mason Hawkins, Seth Klarman, and Mohnish Pabrai and having them join Buffett on the tour? This would bring in even more fans, which would lead to more admission ticket sales. We're not done yet though. We could still make more money because anytime you bring in a huge audience of people, there are others – advertisers – that would want in on the action. How could we do benefit from this? How about selling advertising space in the program? Let's be outrageous. How about selling space on Buffett's and other investors' foreheads and slapping Home Depot's (NYSE:HD), Lowe's (NYSE:LOW), or Menard's logos on them? How about changing the name of the entire tour from Warren Buffett Tour to State Farm Series and getting millions of dollars for it from State Farm? Guess what? We're still not done. How about selling broadcasting rights to TV networks and getting even millions of dollars more for it?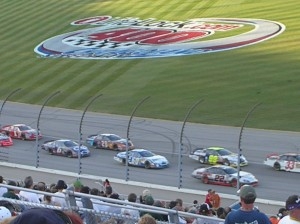 You might be thinking that this kind of business would be too good to be true. Really? What about NASCAR? NASCAR is exactly this type of business. Everything that I described above is what NASCAR has. Famous drivers race against each other all over the United States and they only race at events sanctioned by NASCAR. Huge crowds attend these races and pay for admission tickets, food, and drinks. Advertisers pay big bucks to reach these crowds and television stations fight over the rights to broadcast NASCAR races.
Unfortunately, you cannot directly own NASCAR (National Association for Stock Car Auto Racing) because it is a private company controlled by the France family. However, you can own it indirectly through International Speedway Corporation (NASDAQ:ISCA), Speedway Motorsports (NYSE:TRK), or Dover Motorsports (NYSE:DVD). I have written reports about International Speedway Corporation and Dover Motorsports.
NASCAR is a sanctioning body that controls who gets what race dates and when. For example, there are 38 Sprint Cup races, and NASCAR decides which facility gets which race. Companies like International Speedway Corporation, Speedway Motorsports, and Dover Motorsports own speedway facilities and are assigned Sprint Cup dates on an annual basis. While NASCAR can change these dates, it rarely does so. International Speedway Corporation has 21 out of 38 Sprint Cup races. One of them, LifeLock 400, is in the Chicago market, and I recently attended it.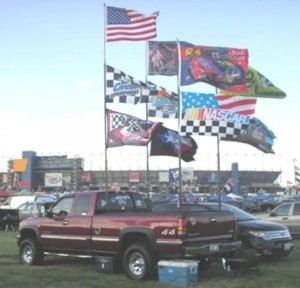 While the experience was incredible, I went to the race to see why people go to these events and why sponsors and advertisers want to be part of the sport. While we were pulling in to our parking spot, it became clear that NASCAR is not just about racing. People attend races for the entire experience. Yes, they want to cheer on their favorite drivers, but also they want to tailgate and grill hamburgers and hot dogs, eat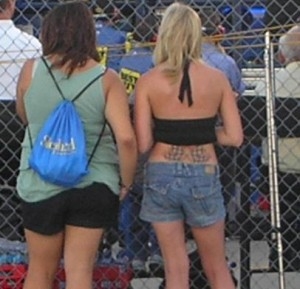 pizza, drink beer, throw a football, and get together with their friends. It's not just a race; it's family entertainment. Race fans are very loyal to the sport and they show it by the clothes they wear, the flags on their trucks, and even the tattoos on their bodies. When someone is willing to tattoo the symbol of the sport on his or her body, as this woman has (see photo above), you know you have something special. As of now, I have never met anyone with a tattoo of my name or my company's logo. The day that I see it, I will know that I have made it big.
The enthusiasm of the fans is not the only thing that draws advertisers – race fans are extremely brand-oriented. They know exactly who sponsors the race series and the teams of their favorite drivers.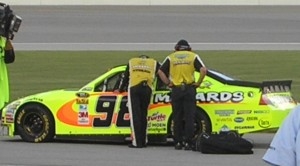 They buy products from the companies that sponsor the sport because they know that operating a race team is expensive and racing teams rely on sponsors to keep them afloat. Race fans don't mind being exposed to advertising. NASCAR is advertiser's paradise, and as a result, cars, drivers' uniforms, and speedway facilities are covered with advertising. Television stations want to broadcast events because they know that they can sell advertising spots to businesses wanting to reach home viewers.
What is interesting about companies such as International Speedway Corporation is that even though they own many speedway facilities, each of these facilities act almost as a separate business because they are located in different markets. For example, LifeLock 400 takes place in the Chicago market and doesn't really compete against Daytona 500. As the owner of LifeLock 400, International Speedway Corporation has the exclusive rights to host a NASCAR race in the Chicago market. There is no one else who has this right. There is no competitor. You and I could build a race track in this area but it would be a big waste of money because we could not host a NASCAR race without having a race date, and getting one is not like applying for a drivers' license. If we wanted to host a Sprint Cup race, which is the most popular NASCAR series, we are out of luck because as I mentioned before, there are only 38 of them and they all are already assigned to other tracks. We could buy one from someone but there are only five left that do not belong to International Speedway Corporation or Speedway Motorsports. The price tag for one Sprint Cup date is about $150 million, based on some historical transactions.
Conclusion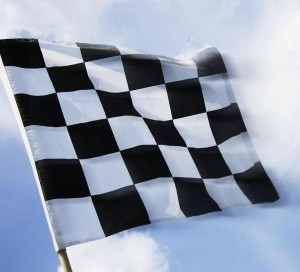 If you have an investment horizon longer than a week or a few quarters, you might want to study the business of NASCAR. When the economy improves, you will probably not be able to buy any NASCAR companies at reasonable prices. Four books that I recommend are The NASCAR Way by Roberg G. Hagstrom, The 200-MPH Billboard by Mark Yost, Growing Up NASCAR by Humpy Wheeler, and One Helluva Ride by Liz Clarke.
Disclosure: I, or persons whose accounts I manage, own shares of International Speedway Corporation and Dover Motorsports at the time of this report. This report is not a solicitation to buy or sell securities. Neither Mariusz Skonieczny nor Classic Value Investors, LLC, is responsible for any losses resulting from purchasing shares of International Speedway Corporation and Dover Motorsports. You are advised to consult your financial advisor or conduct the due diligence yourself.