Economic Reports Rain on Market's Recent Parade
The market vainly tried to keep the Fourth of July parade marching forward. It kept it going forward at a good cadence for six days, even with a sour retail sales report on Tuesday. But the movement for the first four days came on low volume with many traders away and their trading on automatic pilot. The market struggled on Wednesday and ended with mixed results. But a few weak manufacturing reports finally brought the market back to reality. And if the data wasn't enough, the Fed spelled it out with its lowering of its predictions on the economy. But the big blow was that the University of Michigan consumer sentiment report on Friday was far weaker than expected.
Most of the major indices fell by about 3% on Friday, more than wiping out the earlier gains, and dragging the indices down about 1% for the week. The only industry registering a price gain for the week was Technology, up a meager 0.4%. Prices fell 3.75 for Basic Materials, and fell 3.0% for Financials.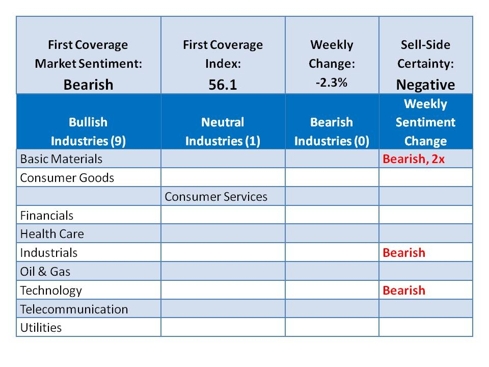 Sell-Side Sentiment Waned Across the Board Last Week
After straight seven weeks of bullish signals, First Coverage Market Sentiment continued to flash a bearish signal for the fourth week in a row. It was virtually a clean sweep last week. Overall sell-side sentiment fell as did the indices for nine of the ten industry groups. The 2.3% drop last week in overall sentiment was the largest in any of the past seven straight weeks of declines, firmly establishing overall sentiment on a downward trend after peaking in late May.
Last week, sentiment declined by 5% or more in four industries with Financials and Technology leading the way with drops of 7%. Industrials were down 6%, and Basic Materials were down 5%. The only gain was a 1% rise in sentiment for Health Care.
Oil & Gas Still the Sentiment Favorite
Even though sentiment for Oil & Gas fell by 2% last week, for the third week in a row it retained the industry crown for highest sentiment. Technology is a distant second. The always-in-the-news-these-days Financials industry had a sharp rise in sentiment from mid-April to mid-June, but sentiment for the industry has been trending down for four weeks.
Despite the substantive sentiment declines lately in many industries, all are still flashing bullish except Consumer Services which is in neutral territory because of its very rapid decline in sentiment over the last six weeks.
Manufacturing Finally Bites the Bullet
The extraordinary economic news last week came from the manufacturing reports. Despite the continuing reports in recent months of weak employment, housing, and consumer spending, the bulls clung to the strength in the manufacturing sector. There were earlier anecdotal signs manufacturing was starting to crack. The reports last week indicated those earlier reports may not have been anomalies.
The biggest manufacturing shocker last week was the Philadelphia Fed report which is regarded as a good indicator of national manufacturing strength, and often a good predictor of the next industrial production report. After hitting a depressed 8.0 in June, everyone was expecting at least a slight bounce up from such a low value, but the index fell even further to 5.1. Worse yet new orders fell from 9.0 in June to minus 4.3. The manufacturing portion of the industrial production report for June, reported the same day, also was disappointing. Manufacturing production dropped 0.4% from May levels, the sharpest monthly drop in a year. That, plus the aforementioned Philadelphia Fed report and a similarly disappointing Empire State manufacturing report, likely spell trouble for the July industrial production report a month from now.
The debate over manufacturing has centered on how much of the reported strength was due to inventory rebuilding and how much was due to a recovery in final demand. The ratio of business inventories to sales is still at low levels, so it's hard to say the inventory rebuilding is over. The few recent negative reports on manufacturing growth also do not settle the demand issue, but another month or so of reports like last week could mean the economic recovery is in jeopardy.
Last week, Credit Suisse put another nail into the housing coffin when its survey of real estate agents showed another month of weakening traffic. Rates for a 30-year fixed mortgage remained at a record low 4.57%. The 10-year Treasury is at an extremely low 2.94% and the FOMC minutes released last week made it clear the Fed will keep rates extremely low longer than many may have thought, probably well into 2011. Coincident with the release of the minutes, the Fed issued a new forecast that lowered expectations for growth in the second half of 2010. This is a huge statement for the Fed to have made as the country heads into elections in less than four months and the President trumpets progress in the recovery. One has to wonder what their off-the-record opinion might be.
The initial weekly jobless claims did give the bulls something to cheer about, at least on the surface. Claims fell by over 20,000 for the second week in a row. The problem is that it may all be due to GM not shutting down this year for retooling. Those non-layoffs could have distorted the initial jobless claims into a seasonally adjusted decline.
This Week
Main market drivers this week will be Q2'10 earnings reports, and possibly some housing reports.
Last week only a handful of companies reported. Only 21 were from the S&P 500. But the media made a circus out of this miniscule start to the earnings season. The 21 were from a variety of industries, so it was hard to draw any meaningful conclusions from the reports. The disappointing revenues from Bank of America (NYSE:BAC) and Citigroup (NYSE:C), although only a non-random sample of two, might be a forerunner of some further disappointing results in the Financials. The Intel (NASDAQ:INTC) results, taken with some earlier reports from tech companies with May ending quarters and from some tech company pre-announcements, indicate Technology revenues and earnings growth will be terrific, not only for Q2'10, but at least through Q3'10. Companies may be reluctant to spend for capacity expansion, given the excess capacity available, as was reinforced by last week's capacity utilization report. But companies are sitting on big piles of cash that are earning almost nothing, so spending to improve productivity, especially for internet infrastructure [makes sense].
This is the week the rubber meets the road for earnings reports. Not every industry will be heard from in a meaningful way, but most will be. This week the floodgates open with about 122 reporting.
As we've said before, Q2'10 earnings in general should be very good. There has not been the usual rise in the ratio of negative to positive pre-announcements in the final weeks heading into the earnings reporting season. Last week the ratio actually declined. There has not been the usual trimming of estimates in those same final weeks. They have held flat at 27%. Now, as the earnings reporting season gets underway, expectations based on the actual earnings for those who have reported and the estimates for the rest should rise to over 30% as we work through the reports. The number now stands at 28%. The two biggest problems for earnings going forward are demand and margins. Demand growth is becoming less certain. Margins are already at such high levels, that it is hard to imagine any margin expansion. Enjoy the terrific Q2'10 earnings, but let's hope we get more than boilerplate guidance with the earnings.
The pundits keep telling us it's to pay attention to the guidance from the early reporters. Then how come last week after Alcoa (NYSE:AA) and CSX (NYSE:CSX) gave guidance that some investors found disappointing after Monday's close last week, the stocks went down but the market went up? There was guidance that was quite good from bellwethers Intel and JB Hunt (NASDAQ:JBHT) that did offer cause for optimism. Tech bellwethers this week, which on average we expect to have good things to say, include IBM (NYSE:IBM), Texas Instruments (NYSE:TXN), Qualcomm (NASDAQ:QCOM), EMC (EMC), Western Digital (NYSE:WDC), and Microsoft (NASDAQ:MSFT). Transports include Union Pacific (NYSE:UNP) and UPS (NYSE:UPS). Consumer spending related bellwethers include Whirlpool (NYSE:WHR), Leggett & Platt (NYSE:LEG), AutoNation (NYSE:AN), McDonalds (NYSE:MCD), and Sherwin-Williams (NYSE:SHW). Other bellwethers to watch are Caterpillar (NYSE:CAT), Freeport McMoRan Copper & Gold (NYSE:FCX), Air Products & Chemicals (NYSE:APD), Illinois Tool Works (NYSE:ITW), and Robert Half (NYSE:RHI).
All the data in the housing reports this week is post homebuyer tax incentives, so the headline numbers on most of these housing reports will very likely be quite negative. The reports start on Monday with the homebuilder's sentiment and continue on Tuesday with housing starts and building permits. The other big report is existing home sales on Thursday, but don't overlook weekly purchase mortgage applications.
Good earnings will likely outweigh bad housing reports this week.
Stocks to Watch
Over the last week, the following stocks had the largest bullish and bearish sentiment shifts amongst the sell-side.
Until next week …
About The First Coverage Weekly Street Sentiment: Derived from the aggregated analysis of thousands of actual trade ideas and data being sent in real-time from the sell-side to the buy-side, the First Coverage Weekly Street Sentiment provides a snapshot of market trends and a unique perspective of the mindset of the Street for the week ahead. The following data has been extracted directly from all information transmitted in the past week by sell-side representatives from more than 300 firms submitting information to portfolio and asset managers worldwide via the First Coverage platform.
DISCLAIMER: First Coverage's Weekly Street Sentiment ("WSS")is derived from sources believed to be reliable, but which we furnish "AS IS" and "WITH ALL FAULTS." We do not warrant or guarantee the suitability, timeliness, sequence, accuracy, or completeness of WSS. THERE ARE NO WARRANTIES OF ANY KIND, EXPRESSED, IMPLIED OR STATUTORY(INCLUDING, WITHOUT LIMITATION, SUITABILITY, TIMELINESS, TRUTHFULNESS, SEQUENCE, ACCURACY OR COMPLETENESS), ANY IMPLIED WARRANTIES ARISING FROM TRADE USAGE, COURSE OF DEALING, OR COURSE OF PERFORMANCE, OR THE IMPLIED WARRANTIES OF MERCHANTABILITY OR FITNESS FOR A PARTICULAR USE OR PURPOSE. THERE ARE NO WARRANTIES, EXPRESSED OR IMPLIED, AS TO THE RESULTS TO BE OBTAINED FROM USE OF WSS. Any analysis, observation or other opinion that WSS may contain is, and must be construed solely as, a statement of opinion and not a statement of fact, indication of preference or recommendation of any nature. Content contained in WSS is not intended to and does not constitute investment advice and no investment adviser-client relationship is formed.
Disclosure: No positions