What would you think if you saw a community bank with the following metrics?
ROAA of 2.27%
ROAE of 33.6%
Strengthening asset quality
1/2 its market cap in a deferred tax asset
20% of deposit market share in the city considered to have more international manufacturing investment per capita than any other community in the US
Board and management own >20% of the company
Trades at 80% of tangible book
Something must be seriously wrong with the bank, right? Well, you would think so, but Greer Bancshares (OTCPK:GRBS) has those metrics and has only a few negatives that will subside in the future. The market really overlooks the bank's profitability post crisis penalizing the bank for its size, TARP funding, FDIC Memorandum of Understanding and leverage leaving the bank significantly undervalued. TARP preferreds are being paid back, the bank's capital is well above the FDIC minimum requirements and leverage will diminish as the bank's loan portfolio increases.
Greer Bancshares is the parent company of Greer State Bank in South Carolina. Greer is a very small community bank with four branches and $350 million in assets. The bank was operating smoothly prior to the financial crisis, but saw significant pressure from their problem real estate loans and commercial construction loans, which made up nearly 30% of their loan portfolio.
The bank was able to weather the financial crisis by issuing cumulative perpetual preferred shares in 2009 to the U.S. Treasury to receive TARP funds. The bank all together received $10.49 million from two series of shares named the 2009-SP and 2009-WP (9,993 shares and 500 shares respectively @$1,000). To focus on the bank's operations and clean up the portfolio, Greer decided to suspend the preferred dividends in 2011 and by December 31, 2013 the bank had $1.7 million in non-declared TARP dividends and $68K in declared un-paid TARP dividends. Since the bank did not pay the dividends on the preferred shares for three consecutive quarters, the U.S. Treasury had the right to appoint two directors to the bank's board, however, chose not to do so.
We believe that the Treasury opted not to appoint directors to the board because the Treasury was well aware that the bank would be able to turn around its performance and pay off the TARP investment under the bank's current directorship. Looking at the ownership of the company we see where the incentives are. The board of directors own a significant proportion of the bank and including executives they all own >20% of the bank's shares. Clearly the directors are incentivized to right the ship.
Greer Bancshares has been able to shed a significant portion of their problem loans and have reached consistent profitability. The bank's positive operating performance has allowed them to pay off all of the cumulated TARP preferred dividends as well as buying back $3.15 million of the preferreds. The bank only has $7.3 million in TARP preferreds remaining and we expect that the bank will be able to pay off these preferreds in the next 2 years.
Greer was also under a Consent Order with the FDIC and the South Carolina Bank Board in March of 2011 to get the bank's operations and loan portfolio in order. Two years later the FDIC and the S.C. Bank Board terminated the Consent Order with Greer and replaced it with a less restrictive Memorandum of Understanding *MOU*. The bank has exceeded the MOU's minimum capital ratios of 8% Tier one leverage capital ratio and 10% Total Risk based capital ratio with a Tier One capital ratio of 10.78% and a Total Risk based capital ratio of 17.61%. These numbers are well above the MOU's minimums and it is only a matter of time before the MOU is lifted.
Asset Quality
The breaking point of a bank is the quality of its assets since banks are highly leveraged vessels and any sizable amount of problem loans could be the kiss of death for a bank. Problem loans nearly buried many banks during the crisis, so asset quality is of most importance when deciding on which banks to invest in.
We have to take into consideration that the financial crisis hit banks extremely hard and even 5 years later banks are still crawling their way to normalized conditions. Asset quality now is more likely to look "worse" than what they might look like in a good economy, however, some banks used the extreme negativity to get rid of loans that have the slightest hint of going bad. While other investors might look at banks and squeam assuming that asset quality is impaired forever, we look at current asset quality of banks and feel more comfortable. Recency bias causes the bank to increase their awareness about their loan portfolio's asset quality. A good example of how recency bias tends to skew reality can be found with the Boston Marathon bombings. Many runners might be scared to participate in the Boston Marathon now that the bombings have happened, but runners should not feel that way because security should be that much stronger than at any previous marathon or let alone any other sporting event.
Greer's asset quality has been improving as non-performing assets to total assets has decreased from 4.41% to 2.4% and non-performing loans to total assets have decreased from 1.09% to 0.71%. We would like to highlight that there are still potential problem loans that are not included in non-performing loans, which amounted to $12 million or 6.42% of total loans by the end of the year. These loans, while still performing, need a decent amount of money to cover any losses.
Greer states in their annual report that "Potential problem loans represent those loans with a well-defined weakness and where information about possible credit problems of borrowers or the performance of construction or development projects has caused management to have concerns about the borrower's ability to comply with present repayment terms." This would indicate that these loans are either substandard or doubtful. Usually substandard assets are likely to have no loss of principal, but a partial loss of interest and principle if the bank cannot correct deficiencies. Reserves of 15% should adequately cover these loans. Doubtful assets are likely to have a loss of principal with pending factors that could strengthen the asset. Reserves of 50% would be necessary to adequately cover these loans. Greer indicates that the potential problem loans include $5.3 million of commercial construction loans down 8.5% from 2012. Note that the potential problem loans have decreased a total of 30.85% in the last year indicating that a large portion of loan decreases was not from construction loans but from non-construction loans. Our guess is that the bank's construction loans are more doubtful in nature, so when assessing Greer's allowance for potential problem loans we would estimate 15% for the non-construction portion and 50% for the construction portion.
Using our educated guesses from above an extremely conservative allowance for the potential problems could be equal to $3.65 million. Greer has significantly reduced potential loan problems from well over 10% of total loans to 6% of loans in a year, so if the bank can continue to reduce the potential problem loans at the same rate, then a $3.65 million allowance for potential problem loans would not be necessary. Greer agrees since they only had a $3.2 million allowance for loan losses on $2.5 million non-performing loans in 2013. We expect that non-performing loans will continue to decrease significantly and little extra will be needed to be added to the loan loss allowance to cover problem loans.
Branch Operations
Greer State Bank operates 3 branches in Greer and 1 in Taylors South Carolina. Greer is the home of the only BMW manufacturing facility in North America directly employing nearly 5,000 workers and indirectly employing more than 12,000 workers in the Greer and SC area. The Greenville-Mauldin-Easley area, where GRBS is located, is considered to have more international manufacturing investment per capita than any other community in the US. It appears that the Greer economy is stable and the future prospects are positive.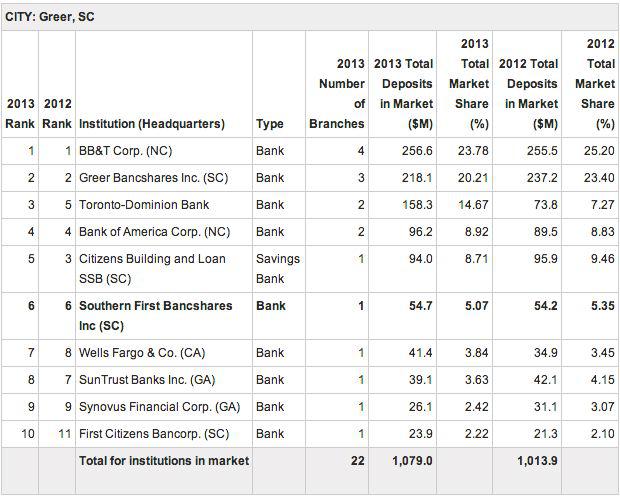 (Source: SNL)
GRBS also has the second largest deposit market share in Greer. TD Bank (NYSE:TD) has been acquiring competitors in the Greer area and it could be highly possible that other larger competitors would be interested in acquiring GRBS. We like that management and the board of the bank are heavily aligned with minority shareholders with their >20% cumulative ownership and would only sell the bank when and if it was beneficial to shareholders.
Balance Sheet and Deposits
The bank is liability sensitive meaning that any increase in the interest rates will negatively impact NIM. Higher interest rates are inevitable so this is a risk for the company. We do not feel that the bank's management want a liability sensitive balance sheet, but have been dealt this hand with the financial crisis. Management states that their intention is to increase low cost deposits. Further increases in lower cost deposits will shift the bank's balance sheet closer to asset-sensitivity and better NIM. Management has been successful thus far in their deposit mix since low cost (demand, NOW & MM) deposits make up 64.3% compared to 51.85% in 2011.
GRBS's excess debt on the surface seems to be a negative. If borrowings were used to fund loans and improve NIM it might be a prudent move. When borrowings are reinvested into investment securities to capture the spread, then it might not be as prudent. In Greer's case investment securities make up $143 million and loans make up $183 million of the portfolio. This would indicate that Greer is utilizing leverage to perform arbitrage, but let's step back for a moment to realize the situation the bank has been in. Before the financial crisis, GRBS's investment securities only made up 18% of total assets while today they make up 40% of total assets. Long-term debt in the form of FHLB loans and trust preferred shares have grown since 2008. Our view is that management had to shed problem and potential problem loans and the cash was directed to investments in securities as it was the only way to go to get this bank through its most difficult hour and has shown to be a prudent move. The main concern would be if management were to continue to follow this strategy of arbitrage for the sake of profitability. Greer's management has mentioned that they are strictly focused on acquiring more low cost deposits and increasing loans, which would indicate that management is transitioning away from investment securities and leverage for profits towards a lower risk typical commercial bank's strategy of low cost deposits funding loans with a little leverage.
Profitability And Valuation
Greer has produced significant profits since 2012 with returns on equity and assets on par with the national banks. Return on average assets was 2.27% and return on average equity of 33.6% in 2013. So, the question becomes are the earnings sustainable?
Although we do not think earnings will be $8 million again for a while, earnings should be in the +$4 million range for a few reasons. The $8 million earned in 2013 was positively aided by a credit to loan provision of $1.7 million and a net tax benefit of $3.8 million that mainly was from the non-cash reversal of the deferred tax asset valuation allowance. To put it simply, the tax benefit won't be as high in the future because the reversal from valuation allowance to tax asset was a onetime event. The bank does have $6 million in deferred tax assets that will shelter taxes going forward which would equal roughly $1.5 million per year (assuming $5 million in normalized income @ 30% tax rate) for 4 years. The credit to loan provision could possibly continue to add to the bank's income if the bank's problem assets and potential problem assets continue to strengthen, but to be conservative we would estimate $0 in credit to loan provisions in the future. That would equal roughly $4 million a year, on the low end, in income that could pay off TARP preferred shares and go directly to shareholders. The bank recently reported their 1st quarter and earnings were above $1 million, which further supports our estimate. Keep in mind that the bank only trades slightly above $12 million, so $4 million in annual earnings means the bank is significantly undervalued.
If the bank were to achieve $4 million in earnings on their assets, then the bank would still be earning a 1% ROA and an ROE above 15%.
The bank currently trades at 0.8x book, which is very low in proportion to the bank's profitability. A bank that can earn 1% ROA and 15% ROE rarely trades below 1 times book, regardless of a bank's size and economic downturn. Southern First Bancshares (NASDAQ:SFST) is a competitor of GRBS and although slightly larger - with a lower % deposit market share in Greer SC than GRBS - it trades at 1.16 times book value. Keep in mind that Southern First Bancshares received TARP preferreds that have been reduced and the bank currently has an ROA of 0.7% and an ROE of 7.89%. Greer's performance would necessitate a premium over Southern First and GRBS's valuation could approach 1.5-1.6 times tangible book in a takeover. This would indicate that the bank's intrinsic value could be double the current price.
The South Carolina market, Greer SC in particular, has seen some consolidation in the past as Toronto-Dominion Bank acquired Carolina First Bank and it is possible further consolidation could occur in the area. GRBS is small enough to be a prime acquisition target.
Conclusion
Greer Bancshares is a well run community bank in Greer, SC that goes unnoticed in the market giving investors an opportunity to own a bank with:
$4 million in normalized earnings equaling a ROA of 1% and a ROE of 15%.
$6 million in a deferred tax asset, which is 1/2 the bank's current market cap.
Strengthening asset quality.
20% deposit market share in a stable attractive local economy.
Board and management that own >20% of the bank.
Soon ending FDIC MOU and TARP repayment that will equal no dividend or share repurchase restrictions.
All for 0.8 times tangible book.
Disclosure: I have no positions in any stocks mentioned, but may initiate a long position in GRBS over the next 72 hours. I wrote this article myself, and it expresses my own opinions. I am not receiving compensation for it (other than from Seeking Alpha). I have no business relationship with any company whose stock is mentioned in this article.
Additional disclosure: This article is meant for instructional purposes and not meant as a recommendation to buy or sell. The only kind of intelligent investing is through your own due diligence.
Editor's Note: This article covers one or more stocks trading at less than $1 per share and/or with less than a $100 million market cap. Please be aware of the risks associated with these stocks.