How can you go wrong investing in Apple (NASDAQ:AAPL), Google (NASDAQ:GOOG), General Electric (NYSE:GE), or Microsoft (NASDAQ:MSFT), you might ask? They are great companies with competitive business models and we could assume they are going to be around for a very long time. But sometimes, all of that good news is already reflected in the price. With Facebook (NASDAQ:FB), that certainly seems to be the case.
Great Company
There are a number of reasons why investors are clamoring over Facebook, particularly retail investors. First of all, it's what they hear about in the news. But there are other very legitimate reasons why it is considered a great company:
It is the pioneer of social networking - first mover advantage can be hard for competitors to overcome.
1.23 billion monthly active users - that's a large number of people that can be marketed to.
Immense growth potential in Asia, Latin America, and Africa.
Cash flow of over $4 billion in 2013.
Mobile usage growth has been nothing short of extraordinary, reaching almost 1 billion users in a very short timeframe.
These are reasons enough to back up the truck and load up on the stock. But wait a minute, it's not all smooth sailing.
Facebook also has some challenges:
Competition from Snapchat, Tumblr, Pinterest, Google, and Microsoft, and Twitter (NYSE:TWTR).
Waning interest among teenagers.
Low internet penetration rate may limit growth potential in certain regions.
Lower average revenue per user in faster growing international markets.
Earnings estimates are attractive
Estimates for 2014 range from $0.95 per share to $1.35 per share. The median is $1.19, which represents 98% EPS growth. For 2015, growth is expected to slow but is still compelling at 33%.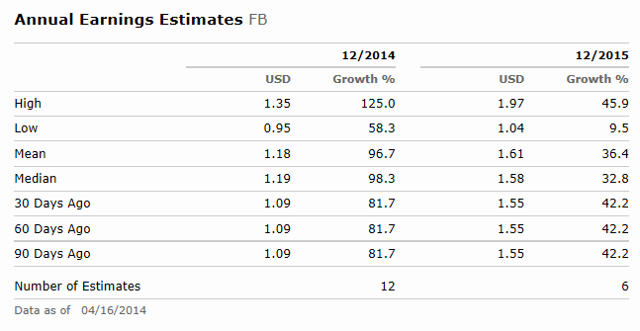 Source: Morningstar
Another source of analyst estimates tells the same story with a slightly more conservative estimate for 2014.

Source: MSN
Applying a reasonable multiple to these earnings and we might be able to estimate a target price. But coming up with a reasonable multiple is easier said than done. Facebook hasn't been around for very long so any historical average multiple would be meaningless.
Still, looking at current multiples below, the stock looks a bit pricey. PE multiple of 99, Price to Book of 9.7, and Price to cash flow of 35.1. By comparison, Google has a price to cash flow of 17 and a price to earnings of 29.

According to the chart below, Facebook stock has a potential return of 22% over the next 5 years. But this return is based on a long-term average growth rate of 33%! I would be very surprised if Facebook can continue to grow at that level for more than a couple more years.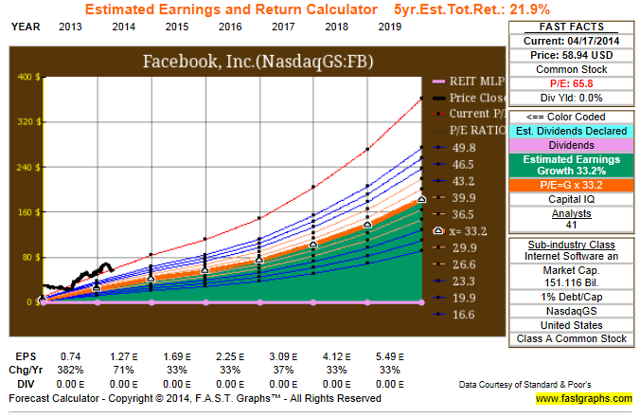 On a price to book comparison, Facebook again looks relatively expensive compared to Google and Baidu (NASDAQ:BIDU). All three have comparable return on equity but Facebook's price to book substantially above both. Even in comparison to eBay (NASDAQ:EBAY), Facebook may look less pricey, but eBay has a return on equity that is 2.5 times that of Facebook. On those metrics, the better buy is eBay even if both look expensive. That being said, the marker size, which is an indication of risk, shows that Facebook is less risky than both Google and Baidu. This risk measure is comprised of several metrics including current ratio, interest coverage, debt/equity, the receivable turnover. Facebook appears to be less risky primarily because of its relatively high current ratio relative to the other firms.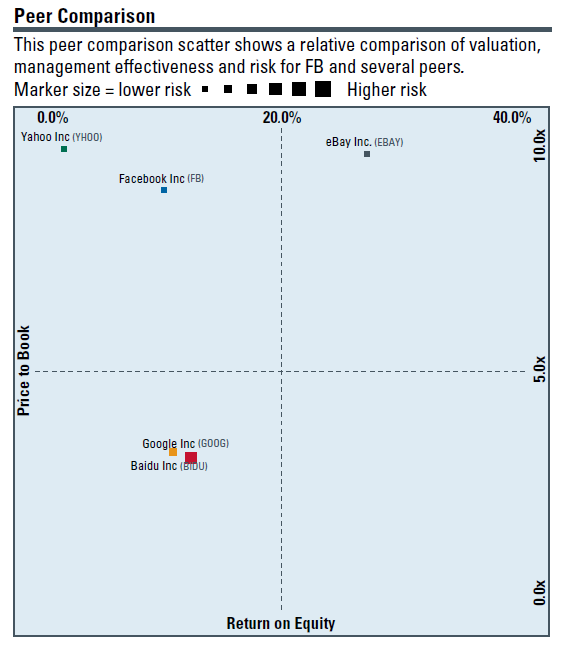 Source: Standard & Poor's
Facebook has pulled back from the low 70's to a recent close of $58.94. The MACD looks like it is set to cross-over and the stock looks to have stabilized at these levels. But I would wait until it breaks through its 50 day moving average before jumping in. There is still a risk it could drop down to the low 50's, where the 200 day moving average currently is.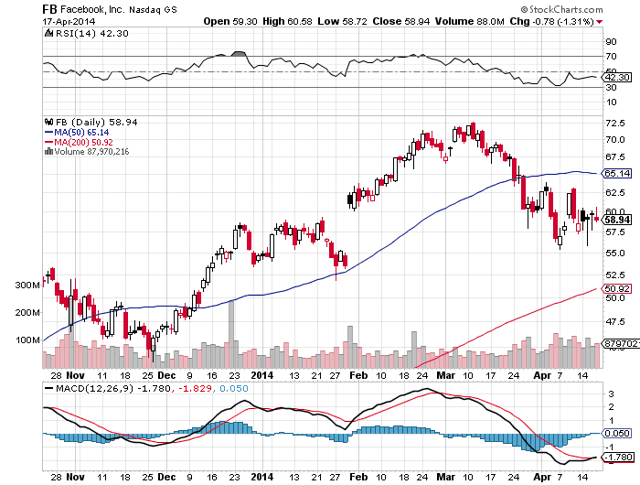 For now, I wait for a better buying opportunity.
Disclosure: I am long GOOG, GOOGL, BIDU. I wrote this article myself, and it expresses my own opinions. I am not receiving compensation for it (other than from Seeking Alpha). I have no business relationship with any company whose stock is mentioned in this article.