Who is SVB Financial Group?
SVB Financial Group (NASDAQ:SIVB), a diversified financial services company, provides various banking and financial products and services. It operates in three segments: Global Commercial Bank, SVB Private Bank, and SVB Capital. The company offers deposit products, merchant services, and lending products and services. It also provides cash management products and services comprising wire transfer and automated clearing house payment, bill pay, account analysis, and disbursement, as well as online banking services. In addition, the company offers foreign exchange services; various loan and credit facilities; letters of credit, including export, import, and standby letters of credit; investment services and solutions; third-party money market mutual funds and fixed-income securities; and investment advisory services. Further, it provides vineyard development loans and community development loans to clients in the wine industry; equity valuation services to companies and venture capital/private equity firms; asset management, private wealth management, and brokerage services; and non-banking products and services. Additionally, the company offers private banking services and other secured and unsecured lending services. It operates through 28 offices in the United States; and offices in China, Hong Kong, India, Israel, and the United Kingdom.
Did you get all that? SIVB is a complicated and diverse company that provides a suite of simple services to clients. These services also happen to be very profitable. The combination of those two have allowed SIVB to consistently hit their metrics into quarterly reportings and consistently push their stock higher. This article will discuss a market that I think is currently one of the most under-invested, probably because there are currently only two companies with a primary focus on this market, and one of the most attractive landing places for money.
I recently wrote an article covering Square 1 Financial (NASDAQ:SQBK), the only true competitor to SIVB, that I would also recommend reading, as I think the best trade possible is a pairs trade, which will be explained later. This article also discusses in detail the venture banking market, the structuring of products offered through the various stages of the bank/company relationship, and the various benefits to each party.
What do they do and what is the opportunity going forward?
SIVB is the largest provider of services to a banking niche being referred to as "venture banking". This particular market is huge, not very well penetrated, and not saturated with providers. According to the PricewaterhouseCoopers/National Venture Capital Association MoneyTree™ Report, in 2013, venture capital investment in the U.S. totaled approximately $29.4 billion invested across 3,995 venture investment rounds. In the past four years, in a given quarter, based on the MoneyTree™ Report, there are generally as few as approximately 675 and as many as approximately 1,075 venture investment rounds completed, totaling between $5.0 billion to $8.0 billion across the U.S.
The venture banking market has four distinct stages of operation that are seed, early stage, expansion, and late-stage, that require distinctly different services and provide distinctly different benefits to SIVB for servicing. The majority of the opportunity in this market comes from lending activities and other capital management services. The lifecycle of venture funding lasts many years, and generally, the nature of the loans and credit products are shorter-term, creating high turnover of product usage and a steady stream of needs by the clients. What this short duration of loans and other products has done is significantly reduce the risk that servicers have to assess to their books, and greatly reduces the risk of any single event taking down a large portion of their assets. Loan terms generally stay between 12-48 months, with a few exceptions coming from real estate-secured and government-guaranteed loans.
Traditionally, as a venture-backed company progresses to the next stage in the cycle, they are provided fresh funding in lump sum amounts, which they are forced to hold in liquid vehicles that allow them to access funds for operating purposes as they implement their business models. The same is true for the venture funds, which often have large cash lump sums after a capital call or the selling of a company in their portfolio. This skews the percentage of servicers customers that hold large cash balances in deposit accounts and cash management products. This uniqueness in cash flow and the unique liquidity needs that are demanded allows a large majority of servicers client funds to come from their borrower clients, which creates low costs of deposits and helps widen spreads and margins.
The lending and company stage progression dynamic is the foundation of success or failure that SIVB is completely dependent on. The companies that SIVB chooses to engage with must be able to, at the very least, remain solvent in the stage that they at the time operate in, and the future profits and abilities to lend further (not just to the company in the example, but to future external business) of SIVB are dependent on the company moving forward to the next stages. As discussed above, the importance becomes greater in value during the later stages, as the loan amounts to the companies engaged and the cash funding events of the companies engaged (creating further lending capability for SIVB) become larger. Each party involved, the SIVB and the borrower (which could very well be a venture fund itself), has a vested interest in the other party seeing success. This dynamic has created deep bonds between company and client, and has aligned each party behind a common goal. A very important factor in client retention, referral opportunities (both company and fund-based), and in creating brand equity.
The final piece that you should understand about this market is that because of the nature of surface level risk (I say surface level risk because you'll find out this business is actually VERY low-risk from a charge-off and loss perspective) involved in these transactions, the complexity of the risk management (having an overwhelmingly large dependence on making successful loans, expertise and experience needed in each particular field to properly assess risk of underlying business, quickly and constantly changing dynamics of borrowers' business environments, lending to companies that often have never generated a profit or aren't in the later stages of development, etc.), the specialized staff needed to service clients, and other factors, this space has a very large barrier to entry. Most major banks who are trying to enter this market (Comerica, Republic Bank, etc.) have had minimal success and are limited in the amount of this business they can do by regulations. The market, at this point, has no clear pipeline of competitors, although, as stated earlier, I do feel like SQBK is a serious player in this space. That doesn't mean that competitors won't begin to develop and enter into the space, just that SIVB has a huge book of business that they do a really good job of retaining, and that I feel their brand name and the overall size of the remaining market will provide plenty of opportunity going forward.
Some of SIVB's recent business highlights include:
Total assets of $26.4 billion, total investment securities of $13.6 billion, total loans, net of unearned income, of $10.9 billion, total deposits of $22.5 billion and total stockholders' equity of $2.0 billion.
Net interest income on a fully taxable equivalent basis and noninterest income for the year ended 12/31/2013 were $699.1 million and $673.2 million.
Had record net income available to common stockholders of $215.9 million, with a diluted EPS of $4.70 in 2013, compared to $3.91 in 2012.
Included in results for the year were pre-tax gains of $55.0 million from the increased valuation of two of portfolio companies, FireEye, Inc. and Twitter, Inc., which included gains from equity warrant assets and gains from non-marketable and other securities.
Average loan balances of $9.4 billion, an increase of $1.8 billion, or 23.7 percent. Period-end loan balances were $10.9 billion, an increase of $2.0 billion, or 21.9 percent.
Average deposit balances of $19.6 billion, an increase of $1.7 billion, or 9.5 percent. Period-end deposit balances were $22.5 billion, an increase of $3.3 billion, or 17.2 percent.
Net charge-offs in 2013 were 0.33 percent of average total gross loans, reflecting the strong overall credit quality of our portfolio
Gains of $46.1 million from equity warrant assets, an increase of $26.7 million, or 137.8 percent.
I wanted to highlight three items in bold and discuss the last item listed for their particular importance, as noted above. The average loan balances, deposit balances, and charge-offs are all highlighted because of their importance. They are the driving force behind the health of the company. Again, as they grow, the opportunity for the company as a whole grows. Now when it comes to the first two channels, we can't go on without highlighting the effectiveness of that said lending and talking about the charge-off rate. SIVB has an absurdly low charge-off rate of 0.33%, and that is reflective of the overall credit quality of their book and their scalpel-like detailed approach to lending. These guys have driven almost all of the risk out of their book, and that, coupled with the mechanisms that help generate an almost free cost of deposits is a fundamental reason to own this company and this "sector" that can't be stressed enough. All three of these channels are growing (in the case of charge-offs NOT growing) at extremely healthy paces, and I feel like the exponential potential of the growth is hard to value exactly and has lead to the marked growth in the stock over the last five years. Take a look at the following comparisons to several other benchmarks, although admittedly, some have low correlation, they are widely-used benchmarks for gains comparisons: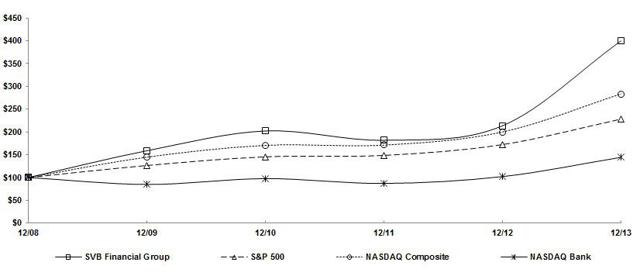 SIVB's stock has done incredibly well when compared to these indexes, and should continue to do well as they further leverage their competitive advantages, embedded within their abilities to simply service this market and the high barrier to entry, to organic and external growth.
The last item marked bold in the business highlights section was the item in regards to their warrant growth. This is something that is newer to SIVB, but should continue to grow in importance to the company, and depending on how you look at it, possibly lessen the importance of the success or failures of the individual companies they finance. SIVB has a regular practice of negotiating warrants in the companies they finance. They use these warrants as a low-cost, low-risk source of leverage that they can monetize, should they take a company to an equity event that places the warrants in the money. They haven't done this on a consistent basis until recently, but the efforts have shown to be incredibly profitable, and as a result, have helped them diversify their income and revenue streams away from their lending portfolio and their securities portfolio. One of the major differences between SIVB and their largest competitor, SQBK, is the maturity (from a company lifecycle standpoint) of their book of business. SIVB has a significantly larger portion (net and percentage) of companies either on the verge of entering or currently in the later stages of development. What that has done has obviously helped them with massive book growth both loan and deposits, and will soon help them (as evidenced in 2013) monetize their growing warrant book in size. I look at this as a major catalyst, if not the single largest catalyst for future valuation growth. I think as the markets get wise to how to price in projected growth of deposits and loans, this warrant monetization will become the one portion of their book that can always provide shocks to the upside, with minimal downside risk. I'm hugely bullish this "sector" based on this unique revenue generation vehicle, and hugely bullish this company based on their maturity of their book. Look for the monetization process to accelerate as the SIVB begins to see the fruits of their labors of making warrant acquisition and growth a focus.
Where's the trade?
In the interest of keeping this article at a readable length, let's get to the trade. I think it's pretty obvious I like this company as a long. I like them so much, I would actually say they have core position potential. As mentioned above, I really like SIVB and SQBK as a pairs trade, based on the fact that you can diversify "your" book maturation and warrant growth, which I think are two important factors here. Although the charge-offs are low for both companies (risk), SQBK does have a slightly larger charge-off rate and higher risk profile. I think they also have a faster growth potential, which could be average into an overall pairs trade position. SIVB is going to be a major player in the space going forward, and I could see them developing household name recognition in financial circles over the next few years. I think they have become so large that unseating them as the market leader will be extremely hard for competitors, including SQBK, and that the overall market is showing no signs of decreasing in size or slowing in growth. I think SIVB found an untapped profit gold mine and that they have built an incredibly sustainable, low-risk model. They have one of the best-looking balance sheets and income statements I have seen in a long time, and haven't made any major mistakes or had any relevant setbacks since inception. They are at a point now that I think even a major recessionary event would be nothing but a short-term blip in their numbers, and I think that any dips caused by macro environmental factors are buy opportunities. I like SIVB going forward and have a 25% growth increase target for the remainder of 2014, but could see them exceeding that based on warrant monetization and later-stage companies being acquired or taken public. Good luck to all.



Disclosure: I have no positions in any stocks mentioned, but may initiate a long position in SIVB over the next 72 hours. I wrote this article myself, and it expresses my own opinions. I am not receiving compensation for it (other than from Seeking Alpha). I have no business relationship with any company whose stock is mentioned in this article.