There are numerous quality dividend paying stocks out there, but many investors focus on the large, well-known companies when looking to add dividend stocks to their portfolio. In this article, I'll cover 3 high-yield dividend stocks that are off the beaten path and don't get the attention they should. All three companies have a successful core business, and make returning value to shareholders a priority through dividends.
| | | | | |
| --- | --- | --- | --- | --- |
| Company | Market Cap | P/E | Dividend Yield | Beta |
| AmeriGas Partners (NYSE:APU) | $ 4.1 | 18.9 | 7.5% | 0.35 |
| Iron Mountain (NYSE:IRM) | $ 5.2 | 54.1 | 4.0% | 0.72 |
| Universal Insurance Holdings (NYSEMKT:UVE) | $ 0.5 | 8.6 | 3.0% | 1.11 |
AmeriGas Partners
AmeriGas Partners is a master limited partnership (MLP) that has become the largest retail propane marketer in the US, with over 2,500 distribution locations across all 50 states. Odds are you drive by an AmeriGas tank exchange location every day passing by your local gas station or convenience store. The company had a great FY1Q2014 due to higher volume and lower expenses. An abnormally cold winter drove up demand significantly for residential heating, and its cylinder exchange program outperformed expectations as well. Continued cold snaps through the first three months of the year should also lead to strong FY2Q2014 for the company when it reports earnings on May 8, 2014.
3 months ended 12/31/13

($ millions)

2013

2012

Y/Y % change

Revenue

$ 970.3

$ 797.0

21.7%

Costs & expenses

$ 866.1

$ 736.7

17.6%

Operating Income

$ 179.7

$ 139.8

28.5%

EBITDA

$ 230.2

$ 187.8

22.6%

Net Income

$ 134.9

$ 96.6

39.6%

EPS

$ 1.14

$ 0.93

22.6%
Source: AmeriGas earnings release
The company is projecting EBITDA for FY2014 at $645-$670 million, a 9-14% increase over FY2013, and EPS at $2.60-$2.70, a 21-26% increase over FY2013. The AmeriGas Cylinder Exchange program increased 9.8% in the last quarter and added 2,900 locations quarter-to-quarter.
The biggest positive impact on earnings was the cold snap felt across the US from October-December. The National Oceanic and Atmospheric Administration reported last quarter was 3.8% colder than normal and 14.0% colder than the prior year. This trend will be similar for the January-March 2014 period, as 12 states from the upper Midwest to the Southeast had three-month temperatures that ranked among the 10 coldest on record.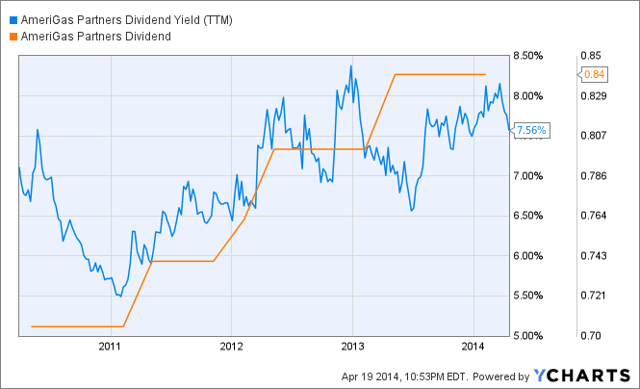 The company has also a decent track record of increasing dividends for the past 4 years. As the company continues to grow and become more profitable, these dividend payments should become easier to sustain. Currently, the company's dividend payments of $0.84/quarter ($3.36/year) exceed projected FY2014 EPS of $2.6-$2.7. While this is always a red flag when analyzing dividend payments, the company has shown it is willing to sustain its high dividend payouts, and will likely continue to do so, as the company is seeing renewed growth.
Iron Mountain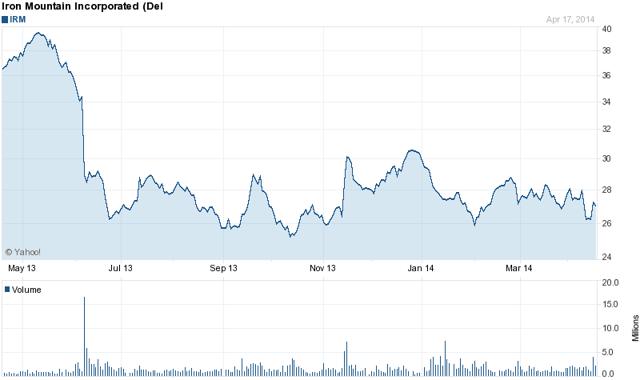 Iron Mountain provides records storage and information management services across North America, Europe, Latin America and the Asia Pacific. The share price saw a dramatic decline in June 2013 when the company's attempt to convert to a REIT was flagged for further review by the IRS. A conversion to REIT status would allow the company to utilize tax advantages, allow the company an efficient structure to repatriate foreign income from foreign storage rental income and allow for higher dividend payments. As long as REITs payout at least 90% of earnings in the form of dividends, they do not have to pay income taxes.
12 months ended 12/31/13

($ millions)

2013

2012

Y/Y % change

Revenue

$ 3,026

$ 3,005

0.7%

Gross Profit

$ 1,737

$ 1,728

0.5%

Adj. OIBDA

$ 896

$ 912

-1.8%

Adj. EPS

$ 1.03

$ 1.12

-8.0%

Free Cash Flow

$ 390

$ 347

12.4%
The company saw stagnant growth in 2013, and only sees modest top line improvement in 2014, with revenues projected to increase by 2-4% and OIBDA to increase by 2-5%. The company sees emerging markets as the key to growth going forward, and believes it can increase emerging markets' percent of total revenue from 10% to 16% by 2016. Record storage and management is a largely untapped market in emerging countries, and Iron Mountain plans to establish dominance in these areas as it has in North America and Europe.
However, the real upside value in the stock comes with its potential REIT conversion. The company currently has a dividend yield of 4%. The dividend payout will increase substantially if this conversion is accepted by the IRS. Quarterly dividends distributed in 2013 were $207 million. Assuming a successful REIT conversion, the company estimates quarterly dividend distributions would increase to $400-$430 million.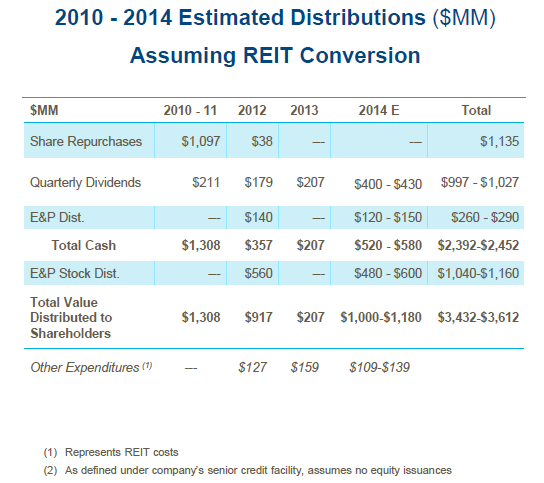 Source: Iron Mountain Investor Day
Iron Mountain has spent over $150 million on the REIT conversion, and has been operating internally as a REIT since January 2014. This was done so the company will be prepared to reap the benefits of a favorable ruling. The IRS decision on Iron Mountain has been delayed for months, and no concrete date has been set. However, Iron Mountain did get a bounce when CBS Outdoor Americas (CBSO) received a favorable REIT ruling from the IRS on April 16, 2014. This is significant because of the manner in which CBS Outdoor operates. The company owns outdoor billboards, transit advertising, and a network of digital displays. This REIT conversion shows the IRS is willing to accept less traditional REIT structures, and brings a glimmer of hope to Iron Mountain's conversion.
A successful REIT conversion would push Iron Mountain's share price above $30, and put its forward yield around 6-7%.
Universal Insurance Holdings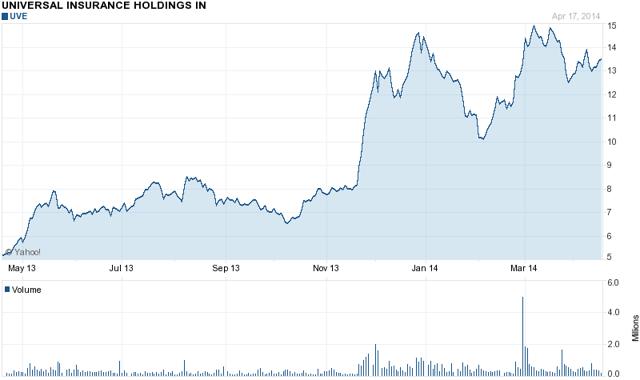 Universal Insurance Holdings is a property and casualty insurance company. It is one of the largest writers of homeowners insurance in Florida, and has commenced operations in North Carolina, South Carolina, Hawaii, Georgia, Massachusetts, Maryland, Delaware, and Pennsylvania. The company services roughly 546,000 homeowners and fire dwelling policies.
12 months ended 12/31/13

($ millions)

2013

2012

Y/Y % change

Premium & Revenue

$ 301.1

$ 269.9

11.6%

Operating costs

$ 200.6

$ 217.3

-7.7%

Net Income

$ 58.9

$ 30.3

94.4%

EPS (diluted)

$ 1.56

$ 0.75

108%
The company has done a great job growing revenue, while decreasing costs. A major factor in the success of 2013 was losses and loss adjustment expenses decreased by $17.6 million. The company was also able to repurchase 7.3 million shares (17% outstanding shares) for an average price of $4.46. This repurchase price is roughly 300% lower than the current share price. Share repurchase programs often get a bad name, but this example shows that when done right, it can be extremely valuable for shareholders.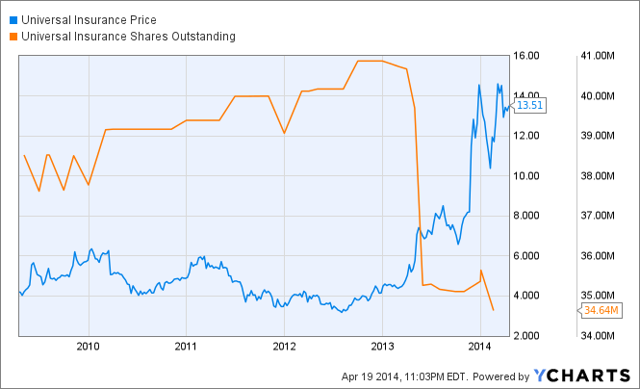 The company also increased its standard quarterly dividend from $0.08 in 2013 to $0.10 in 2014. Universal Insurance Holdings paid $0.49 in cash dividends in 2013, which included a $0.15 additional special dividend. Excluding any potential special dividends in 2014, the stock has a forward yield of 3%.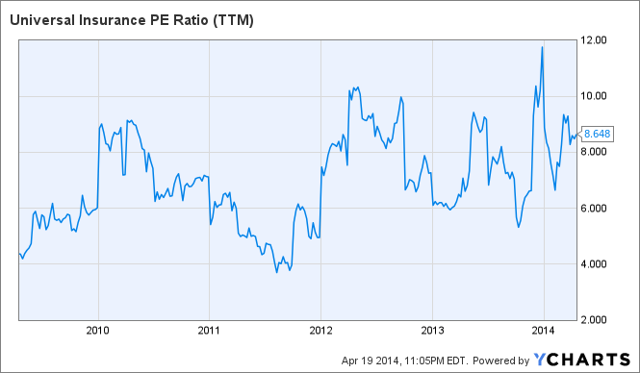 Even though the stock has seen a rapid rise in price, the stock is still moderately valued, with a trailing P/E of 8.6 and a forward P/E of 6.4. The company continues to expand its homeowners policies to new states, and should continue to see growth going forward.
Conclusion
Investors looking to further diversify their dividend portfolio can benefit by looking for stocks that aren't widely covered and offer attractive yields and future growth. While these three stocks have radically different businesses and risk profiles, they all offer investors impressive dividends and potential for capital appreciation. I wouldn't recommend these stocks as cornerstones in a portfolio because of their relatively small size, but I believe they can compliment any dividend investor's portfolio.
Disclosure: I have no positions in any stocks mentioned, and no plans to initiate any positions within the next 72 hours. I wrote this article myself, and it expresses my own opinions. I am not receiving compensation for it (other than from Seeking Alpha). I have no business relationship with any company whose stock is mentioned in this article.