Philip Morris (NYSE:PM) presented first quarter results last week which caused some disappointment for investors. However, despite revenue challenges and currency effects, Philip Morris still has an attractive risk/reward ratio to offer. The company has a solid dividend yield, has proven in the past that it is committed to increasing shareholder value via cash distributions, share buybacks and high payout ratios, and has substantial upside potential given its high intrinsic value.
For the first quarter 2014, Philip Morris reported:
Adjusted diluted EPS of $1.19: down 7.8% y-o-y. Without currency impact, adjusted diluted EPS stood at $1.35 (plus 4.7% y-o-y).
Net revenues of $6.9 billion: down 8.8%. Without currency influence: down 1.6%.
Adjusted operating income of $3.0 billion: down 12.3%. Without currency effects: down 3.1%.
Cigarette shipment volume down 4.4%.
Share performance
Philip Morris has lost almost 10% over the last twelve months underperforming other large-cap tobacco companies such as Altria Group (NYSE:MO), Lorillard (NYSE:LO) and Reynolds American (NYSE:RAI). In fact, Philip Morris has underperformed its peers over a one-, two- and five-year performance measurement period.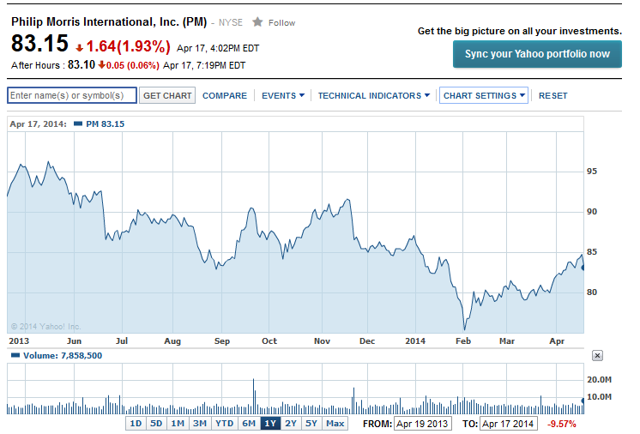 (Source: Yahoo Finance)
Philip Morris' underperformance over a five-year investment horizon is less striking than for shorter measurement periods. Philip Morris has gained 122% over the most recent five-year performance measurement period while Altria returned 127%, Lorillard 161% and Reynolds American 179%.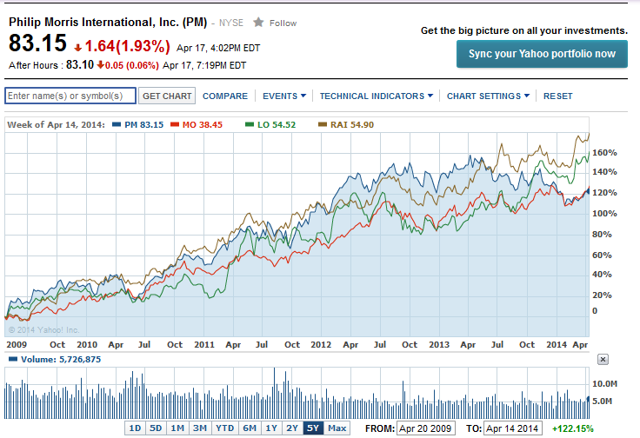 (Source: Yahoo Finance)
Dividend discount model
I still believe Philip Morris offers investors outstanding dividend value. I have adjusted my dividend outlook for the tobacco firm in light of the company's most recent earnings release.
I estimate that Philip Morris can achieve a full-year 2014 dividend of $3.90 per share which, I project, will grow as strongly as it did in the past. I have also decided to settle for a 5% terminal growth rate in order to reflect Philip Morris' extraordinary focus on shareholder remuneration.
With dividend growth rates successively trickling down to 5% and assuming a cost of equity of 9%, a classic dividend discount model yields an intrinsic value of $105.88 per share for Philip Morris. At a current price of $83.15 per share the tobacco firm has about 27% upside potential.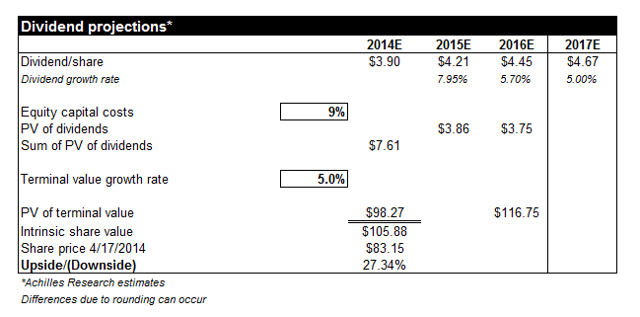 (Source: Achilles Research)
Market valuation
In order to supplement the dividend valuation model from above, I look at the forward P/E ratios of Philip Morris and its peers. Philip Morris currently trades at 14.88 times forward earnings which translates into a solid earnings yield of 6.7%.
The first chart below shows that valuations of tobacco companies are not meaningfully dispersed: The peer group average P/E ratio stands at 14.56 with Philip Morris and Reynolds American trading above the average and Altria and Lorillard below the average.
(Source: Achilles Research, Finviz.com)
Clearly, tobacco companies are a sector for income investors. In fact, with an average peer group dividend yield of 4.73%, tobacco companies are valid alternatives to Real Estate Investment Trusts and Master Limited Partnerships (purely from an income perspective).
Philip Morris currently pays investors a quarterly dividend of $0.94 per share or $3.76 per share annually. This translates into an initial dividend yield of 4.52%. I say initially because investors can reasonably expect Philip Morris to increase its payouts going forward.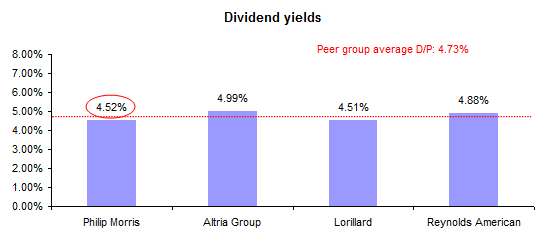 (Source: Achilles Research, Finviz.com)
A summary valuation table is provided below:

(Source: Achilles Research)
Conclusion
Philip Morris remains a strong dividend player in the sector. With an estimated intrinsic value of approximately $106 per share, the dividend champion still has attractive upside potential of 27% while the company also has a solid dividend yield of 4.52%. Tobacco companies such as Philip Morris are still highly attractive income vehicles for investors accentuating recurring cash flows. Long-term buy.
Disclosure: I am long PM. I wrote this article myself, and it expresses my own opinions. I am not receiving compensation for it (other than from Seeking Alpha). I have no business relationship with any company whose stock is mentioned in this article.