Alibaba Group Holding is a Chinese Internet behemoth preparing to file the prospectus for a U.S.-based initial public offering. It is more like a mixture of Amazon.com (NASDAQ:AMZN), eBay (NASDAQ:EBAY) and Paypal. Alibaba has two retail sites:
1. Taobao, which features thousands of non-brand name products sold by smaller merchants similar to being a third-party seller on Amazon and eBay.
2. Tmall, which offers brand-name products.
The two sites are largely popular, and collectively account for more than half of all parcel deliveries in China. According to The Wall Street Journal, their combined transaction volume in 2012 topped one trillion yuan ($163 billion), more than Amazon and eBay's revenue combined. All payments are handled through Alipay, Alibaba's version of PayPal.
Making the Connections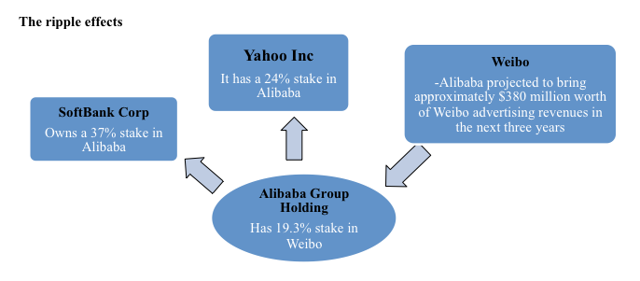 For the October-December quarter of 2013, Alibaba doubled its net income to $1.36 billion, a rapid rebound in the fourth-quarter sales growth compared to its slowest rate of growth in the three quarters during the July to September period. As a result, SoftBank's shares (OTCPK:SFTBF) surged as much as 9.1 percent and traded 7.9 percent higher in mid-afternoon trading in Tokyo. Yahoo's stock (NASDAQ:YHOO) gained more than 9 percent after hours, despite reporting anemic quarterly revenue and display advertising growth in its own business. Weibo's (NASDAQ:WB) IPO was last week Thursday. Its shares opened below the $17 IPO price, at $16.26, before rebounding and reaching as high as 40 percent above its debut price as of 1:58 p.m. ET on the Nasdaq. Weibo's shares settled 19 percent at $20.24 and I believe this jump was small but it gives Weibo momentum to go higher this coming week.
From the aforementioned relationships, I believe that a positive Weibo performance this week will have a ripple effect on all three firms. It will start by enhancing Alibaba's IPO performance and this will increase the share prices for both SoftBank and Yahoo in the short run. Similarly, a positive Alibaba IPO is going to cause a similar ripple effect among the three companies though less prevalent in Weibo shares.
Alibaba's Upside Potential
Hangzhou-based Alibaba is China's largest Internet company and operates in the world's largest internet market. Based on Figure 1, China has 538 million Internet users as of 2012, a number which represents a 2,291 percent increase in the number of internet users since 2000. China's Internet users are twice as many as those in the U.S., who spend an average of 20 hours a week online. Alibaba has 24,000 employees, which is more employees than Facebook (NASDAQ:FB) and Yahoo combined. Some of Alibaba's growth driving factors are:
Profitability: Alibaba had 36.7 million registered users in 2012, and Taobao.com is one of the worlds 20 most-clicked sites, Business Insider reported. Traffic of this magnitude represents a site with potential for huge sales since consumers are more likely to buy if they are frequently browsing a website.
Promotions: Alibaba is good at promotions. For instance on Nov. 11 every year, Alibaba conducts a huge online shopping sale, which coincides with what is known in China as Singles Day -- a day on which young people lament or celebrate being single. Promotions are essential because they drive sales and thus reduce inventory costs and shrinkage. This promotion is highly profitable. This is substantiated by the fact that on Nov. 11, 2013, Toabao and Tmall made 35 billion yuan ($5.75 billion) in the 24-hour period around Singles Day.
Mobile penetration: A recent annual e-commerce survey conducted by MasterCard across 25 markets between November and December 2013, included interviews with 7,010 respondents from 14 Asia-Pacific markets. It found that two-thirds of consumers in the Asian region go online to shop. What's notable is that nearly 100 percent of respondents from China indicated that they made at least one online purchase in the last three months - and 59.4 percent of them made their purchases via smartphones. Alibaba's mobile payments service Alipay was responsible for 70 percent of all of China's mobile payments in 2013, The Wall Street Journal reported. A market share of this magnitude is a potential sales driver as the demand for mobile payments increases.
A glimpse into China's Internet users compared to the rest of the world and the significance of Alibaba's dominance in mobile payment: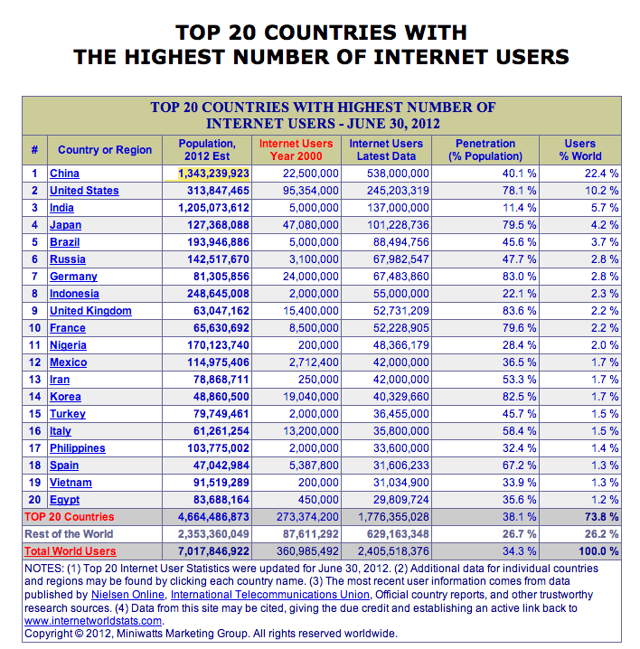 Catalysts to Alibaba's market valuation include:
1. Weibo's performance this coming week: Alibaba bought a 19 percent stake in Weibo for nearly $600 million in April of 2013. Consequently, the performance of Weibo's IPO is directly correlated to Alibaba's valuation. I believe that Weibo is going to actually help improve people's perception on the value of Alibaba. Weibo had a poor timing for an IPO. Last week, people were still not eager to put their money back into the stock market because of the market correction the week before making it the worst time for anyone to envision a successful IPO. Nonetheless, these coming weeks are more positive and I am sure Weibo is going to be fine and so will the perception of Alibaba.
2. Speculation: Due to uncertainty of future trends in our modern day, speculation and ideas get more attention than actual profit generating activities. For long-term investors, short-term speculation might not mean anything but for short-term investors it is everything.
Excitement about Alibaba has helped drive Yahoo shares more than 40% higher in the past year.

Alibaba reported a whopping 66% jump in revenue, to $3.06 billion. That sent Yahoo shares up 11%, to $37.05, in after-hours trading on April 15.
Yahoo's quota of the $120 billion worldwide digital ad market declined to 2.9% in 2013 from 3.4% in 2012, while Facebook's and Google's increased, according to eMarketer. Yahoo shares are expected to decrease further in 2014. Alibaba's massive ripple effect on Yahoo was so good as to overshadow troubling issues at Yahoo and caused Yahoo's share price to increase. What this shows is the fact that the market's perception of Alibaba is very good. People have huge expectations of Alibaba and it is these expectations -- in addition to its value -- that are going to drive the company valuation higher.
3. Timing: The market fears are less prevalent. The IPO is setup at a time when the market fears of a correction are subsiding. This means that people are likely to put their money back into the stock market.
4. Mobile success: Mobile shopping is the future of e-commerce including social media. All companies, which understand consumer trends, are looking to find ways to generate as much revenue from mobile usage as possible.
Alibaba is at the forefront of m-commerce. Positioning it as a pioneer in a very lucrative market.
5. Growth Potential: It has room to expand into Asian and global markets. Alibaba has the potential and the financial structure to enter new markets in addition to its potential for further growth within China. Because of China's low costs of production, Alibaba's third-party sellers are in a position to offer competitive prices globally once Alibaba decides to expand beyond China.
Risks - The Recent Attacks on Alipay
China's mobile payment market last year increased by more than 700 percent, to 1.22 trillion yuan ($199 billion) in transactions. Because of this increased use of mobile phones, China's three internet giants (Alibaba Holdings Ltd, Tencent Holdings, Ltd. and Baidu, Inc.) invested heavily in technologies and businesses that use scanning QR codes with mobile devices to cash in on China's 500 million smartphone and tablet users. Alipay is not going to be part of the Alibaba IPO since its not under Alibaba's control. However, Alibaba owns 37.5% of total equity of Alipay in case Alipay goes public or there is a liqudity event. Also, Alipay is required to pay Alibaba royalties for software services and 49.9 percent of its consolidated pre-tax income and continues to service Taobao. Therefore the success/failure of Alipay has direct effects on Alibaba. The recent attacks on Alipay were:
1. Regulation: The Industrial and Commercial Bank of China, Ltd. (ICBC) restricted trade with Alibaba's online payment arm to one branch. Alibaba's payment arm, Alipay, had contracts with numerous branches of ICBC for negotiated corporate deposits, and was able to place deposits with the branch offering the highest yield. What this move by ICBC means is that the numerous branches will no longer compete to offer Alipay the highest yield. This implies that Alipay's revenues will be negatively affected from an interest rate standpoint.
2. Transfer and spending limits: Most commercial banks are concerned about the security of payments made by virtual credit cards and smartphones and the risks relating to money laundering and customer information security.
'The market doesn't fear competition, it fears injustice,' Alibaba founder Jack Ma wrote online on Sunday after banks set harsh new limits on how much their customers could transfer from their accounts into Alipay.
Banks, including ICBC, Bank of China Ltd, Agricultural Bank of China Ltd and China Construction Bank Corp, recently restricted how much their customers can spend on Alibaba's and Tencent's online payment services.
3. Politics: It's almost impossible to analyze any business in any country without looking at the politics.
Restricting spending is going against the core aim of these online businesses whose goal is to maximize spending. Regulators including the PBOC, China's central bank, are now discussing draft regulations to govern the Internet banking industry in China, including their own limits on how much people can spend on individual purchases and transactions between bank accounts and online finance services.
The current PBOC draft regulations would impose draconian limits on how much money can be transferred to wealth management products like Alibaba's Yu'e Bao, China's 21st Century Business Herald reported this month.
In August, Chinese media reported that Alipay halted its offline point of sales service for small companies. The move came after state-owned China UnionPay, the country's monopolistic credit card provider, put pressure on Alipay to route the service through UnionPay's system so it could increase its commission earnings on transactions.
Consequently, all these threats need to be considered as we envision the future of Alibaba. A firm should not only be evaluated by focusing on the balance sheet alone, but macro economic factors need to be taken into account for the health outlook of the firm.
The Interplay Between Quality and Affordability
The next economic giants are likely to be the MINT (Mexico, Indonesia, Nigeria and Turkey) and not the BRICK (Brazil, Russia, India and China) countries. The MINT countries have geographical positions that can act as centers for global trades as patterns of world trade change. Take Mexico for example -- it is next door to Latin America and the U.S. Bloomberg ran an article in 2012 with the caption "Mexico Replaces China As U.S. Supplier With No Wage Gains." If Mexico can manage to attract more U.S. firms to outsource from Mexico rather than China or India, then we are going to see a shift in demand for Chinese goods. Mexico is positioned to be cheaper:
Potential source of cheap labor
Cheap transportation and hence cheaper prices for goods
It's quicker to manufacture and transport goods from Mexico than from China -- retailers would love this speed!
Once China ceases to be associated with cheap goods then China's retail online giants like Alibaba are likely to see a decrease in revenue from both local and international buyers. Local people might prefer something exotic -- manufactured oversees, and they might associate products from other countries to have better quality than products from China.
Can Alibaba Keep Up With Market Expectations and the Current Rate of Growth?
October to December revenues jumped 66 percent after a sluggish July to September. Alibaba's resurgence after several quarters of slowing growth helped lift shares of Japan's SoftBank Corp and Yahoo, which own 37 percent and 24 percent of the Chinese company, respectively. This makes them highly sensitive to the Chinese firm's growth prospects and valuation. But can Alibaba keep up such tremendous sales growth prospects or are we going to see it go back to the sluggish state it had for July to September 2013?
Conclusion
Do not ignore the ripple effects. Alibaba's success will increase Yahoo's and SoftBank's share prices but you have to understand that this change is temporary. I believe these ripple effects are short-term tactics. Yahoo's first quarter revenue and profit growth were flat, a slight improvement from previous quarters, but as Brian Wieser, an analyst with Pivotal Research said, "you can make an argument that the entirety of the value is Alibaba." Hence, I strongly suggest analyzing Yahoo independent of Alibaba for long-term investors considering it is planning to sell most of its stake in Alibaba.
Morgan Stanley's latest Alibaba estimates suggest its worth $66-$128 billion. But lets break it down more. The upper $128 billion valuation uses Facebook's forward P/E ratio of 36x, and the lower end of $66 billion uses eBay's trailing P/E ratio of 29x. But Alibaba is more similar to Tencent (OTCPK:TCEHY) than Facebook and eBay. They face the same regulatory challenges, cultural similarities, consumer preferences, political challenges and they are competitors. Therefore, by using the Tencent trailing P/E ratio of 35x, Alibaba Group worth becomes $80 billion. But also remember that Alibaba's growth is faster than that of Tencent. Hence, any valuation in the lower end of the suggested range of $66-$128 billion will be a huge buy opportunity.
Alibaba provides meaningful downside protection. To borrow words from the movie the social network:
Sean Parker: When you go fishing you can catch a lot of fish, or you can catch a big fish. You ever walk into a guy's den and see a picture of him standing next to fourteen trout?

Christy: No, he's holding a three-thousand-pound marlin.
Alibaba's positive performance caused both SoftBank's and Yahoo's stocks to rise by 9.1% and 9%, respectively. Weibo seems to be a good company but not only does Alibaba have a 24% stake in Weibo, it also has potential to buy it. Alibaba is the big fish -- the three-thousand-pound marlin. For this coming week, I think it is essential to decide whether you want to catch the fourteen trout or the 3,000-pound marlin.
Disclosure: I have no positions in any stocks mentioned, but may initiate a long position in ABABA, WB over the next 72 hours. I wrote this article myself, and it expresses my own opinions. I am not receiving compensation for it (other than from Seeking Alpha). I have no business relationship with any company whose stock is mentioned in this article.