By: Craig Bowles
Overview
McDonald's Corp. (NYSE:MCD) is slated to report 1Q 2014 earnings before the bell on Tuesday, April 22. The earnings release is expected at approximately 8:00 a.m. EST with a conference call to follow at 11:00 a.m. that is webcast through here. A member of the Dow Jones Industrial Average, McDonald's has significant market influence and the potential to impact the broader market gauges.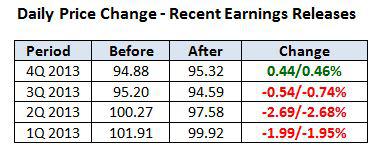 Outliers And Strategy
Key measures:
Earnings Per Share: The current Street estimate is $1.24 (range $1.20 to $1.29) (Source: Yahoo Finance).
Revenues: Analysts expect an increase of 2.0% y/y to $6.73 bln (range $6.61 bln to $6.99 bln).
Global Comparable Sales: The 2014 estimate is 0.2% (Source: Zacks Institutional Services). Weak U.S. sales for January and February were blamed on weather and have analysts expecting -1.0%, so global expectations are positive in spite of this.
Even in the wake of the recent run-up, McDonald's shares yield 3.1% compared to the industry average of 2.0% and McDonald's year-year average of 3.0%, suggesting support from investors with an appetite for yield.
The company has a history of buybacks and has been spending an average of $3 bln each year since 2007 to return value to shareholders. Since 2011, share repurchases halved, however.
McDonald's shares were trading at similar levels two years ago after approaching the $100 level but showed a more limited downside last year. Shares now trade at 18.1x trailing earnings compared to a five-year average of 17x but well below the industry average of 27.9x.
McDonald's shares have a one-day average price change on earnings of 1.68%. Options are pricing in an implied move of 2.03% off earnings. Index futures are more apt to be impacted by surprising results from McDonald's given its stature and influence in the marketplace.
Recent News
04/16: Soaring beef prices may cause a significant drop in profit margins unless costs are passed on to the consumer who is already being affected by higher gasoline prices, increased payroll taxes and delayed tax refunds, according to a post on Benzinga.com.
04/10: A 3% increase in breakfasts from U.S. foodservice outlets in 2013 is one reason McDonald's wants to stay ahead of the competition in this area, according to a post on TheMotleyFool.com.
03/20: COO Tim Fenton will retire on October 1 this year.
03/18: Workers in 30 cities protested for overtime pay, according to a post on Forbes.com.
Technical Review
McDonald's shares tested above $100 in early 2013 and are doing so again. Moving averages are in the top half of consolidated support from $95, up to $98. The bears would need to see the stock below $92 to gain back control. (Chart courtesy of StockCharts.com)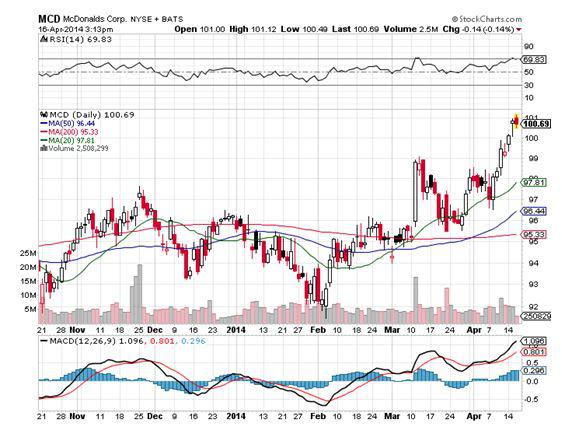 Summary
Having not had a major pullback in the last decade, McDonald's has acted as a safe haven. One reason is that the company prides itself on using stock buybacks as a way of returning money to shareholders but that has been halved over the last two years. Still, McDonald's shares are again testing above $100 and near all-time highs. Previous releases over the last year have missed estimates as often as beat them, so hopefully consensus having been reduced by 5 cents over the last three months will help. January and February comparable store sales were weak in the United States, so March needs to show improvement to keep the quarter out of the red for the quarterly global reading. That's probably one reason the company tried to boost sales with its free coffee campaign. The high end of earnings estimates is $1.29, so anything close to that would be a surprise for a company that has been reporting within 2 cents of consensus.
DISCLAIMER: By using this report, you acknowledge that Selerity, Inc. is in no way liable for losses or gains arising out of commentary, analysis and or data in this report. Your investment decisions and recommendations are made entirely at your discretion. Selerity does not own securities in companies that they write about, is not an investment adviser, and the content contained herein is not an endorsement to buy or sell any securities. No content published as part of this report constitutes a recommendation that any particular investment, security, portfolio of securities, transaction or investment strategy is suitable for any specific person.
Disclosure: I have no positions in any stocks mentioned, and no plans to initiate any positions within the next 72 hours. I wrote this article myself, and it expresses my own opinions. I am not receiving compensation for it (other than from Seeking Alpha). I have no business relationship with any company whose stock is mentioned in this article.