By Chris McKhann
Shares of Leap Wireless (LEAP) are pushing back toward multi-year lows, but option traders are looking for a bottom.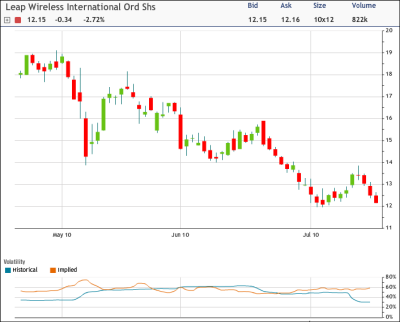 LEAP trades down 2.6 percent to $12.16. The wireless communications carrier was up near $12 in the middle of last week and is now pressing toward the multi-year low of $11.96 set on July 6. The shares have been in an extended downtrend for the whole year, with the 52-week high of $27.52 coming in last July, and prices above $18 as recently as early May.
Despite this bearish picture, it is the August 10 puts that dominate the trade this morning, with almost 9,000 changing hands. This volume far exceeds the previous open interest of 249 contracts, so these are new opening positions. The largest block of options -- 7,600 -- was sold for $0.15.
It appears that this put selling was tied to a trade in LEAP stock. There are a number of traders who would sell cheap out-of-the-money puts like this in a strategy known as "picking up nickels," but their numbers are far fewer since the crisis of 2008.
In that regard we do see a block of 50,000 shares of LEAP stock sold a minute after the options traded. If this activity is related it would create a hedged strategy that has an enormous profit range, at least at expiration.

Disclosure: No positions