Background: Following a career as an executive at Texas Instruments (NYSE:TXN) and a brief stint as president of General Instrument Corp., Morris Chang founded Taiwan Semiconductor Manufacturing Company Limited (NYSE:TSM) in 1987. In doing so, he gave birth to the dedicated silicon foundry industry, and allowed the growth of fabless semiconductor companies. The company has prospered mightily, dominates its industry, and reports that it is gaining market share. Its market cap exceeds $100 B, and the stock is close to its Y2K all-time high.
TSMC manufactures for giants such as Apple (NASDAQ:AAPL) and numerous small fry.
(In this article, TSM refers to the stock and TSMC to the company itself.)
Despite this, it is only followed by a handful of analysts. Yahoo! Finance reports only 4 analysts provide estimates for Q2 and 6 for full-year 2014 earnings. On the other hand, a small fabless semiconductor company, ON Semiconductor, with a market cap in the $4 B range, has 19 analysts providing estimates for 2014 earnings. U.S. fund ownership in TSM is low. Yahoo! Finance has virtually no discussion of TSM, even though late last week, the company had a strong "beat and raise" quarter, and the stock surged to a multi-year high and is close to its bubble-era high. Here is its long-term chart: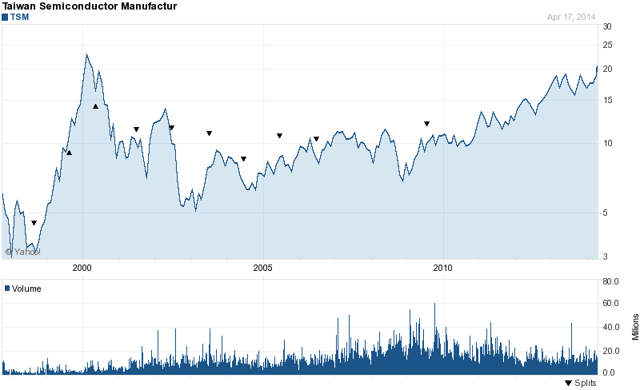 Price appreciation since going public is 10.15%. This has outperformed the market, as shown below in the chart that compares TSM to the S&P 500: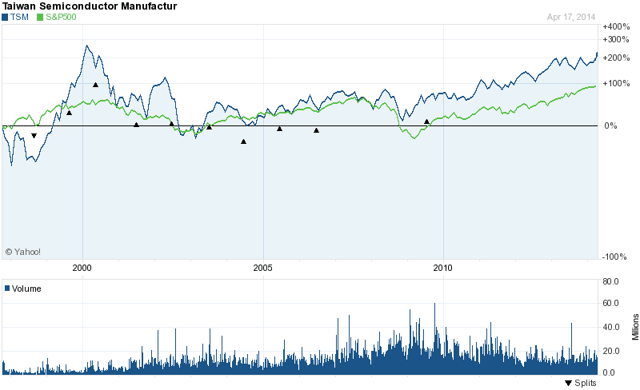 It is my goal to introduce this high-quality stock to investors who may know little about it. Readers should be aware that I am not a tech industry professional, but simply a long-time investor in tech stocks who was in the vanguard of Internet adoption for personal use.
I must note that Seeking Alpha has published several articles about TSM, generally bullish, consistent with its role as an increasingly important source of information about under-followed equities.
Introduction: Information about TSMC comes from the company's web site, which is in English; from Value Line; S&P Capital IQ; other sources including Seeking Alpha; and general knowledge of the company.
TSMC's website does a good job promoting the company, as one look at this web page on its efficiency shows. I encourage interested actual or potential investors to peruse the company's IR section.
The reason to write about the stock at this time is the recent operating results. Even though the stock is far enough above its moving averages for an investor to think it's ready to rest or correct, the accelerating fundamentals suggest that it may be time to surge past its Y2K high price and establish a new trading range.
Q1 results - beat and raise: Going into earnings, the Street was at 28-29 cents (all data are per share, where relevant) and $4.8 B in sales. Instead, it came in at 31 cents, and expectations for Q2 have been ramped up (U.S. analysts) to 37 cents. Sales exceeded expectations at $4.9 B. The company stated (see "Latest News" on its IR website):
"In the first quarter, we saw much stronger demand for our wafers across all segments but more pronounced in mobile related applications, than we had initially predicted in January," said Lora Ho, SVP and Chief Financial Officer of TSMC. "Driven by better than expected 4Q'13 business, IC companies have turned more positive on their 2014 outlook. Meanwhile, the low level of supply chain inventory has prompted the IC companies to begin restocking inventory actively. Thanks to the better performance and higher yield and reliability of our advanced technologies, we saw a strong rebound of demand for our leading nodes extending beyond the first quarter..."
Furthermore, the Seeking Alpha transcript provides more details, and it's clear that the growth beyond expectations is coming in large measure from the dynamic surge in LTE mobile phones. The first question on this topic had the following as part of the response:
TSMC's average wafer value per unit (smartphone semiconductor content: Ed.) is $7 last year, it will increase to about $8. So this increase of course include the silicon content increase as what's the market share increase but I cannot at this point I cannot distinguish those two. For last year we are about $10.8 per unit in average. This year we expect to be $13.9 so that's a major increase.
In fact, Qualcomm (NASDAQ:QCOM) stock moved up sharply Thursday, and I suspect this was a contributing reason.
Elsewhere in the Q&A, the company reiterated that it anticipated expanding margins, despite an increase in depreciation charges:
As I just gave you the guidance of second quarter will grow 22%. I cannot give you specific number, I'm sorry. We also talked about the margin. I think last quarter couple of analyst were asking how can we maintain even better structure profitability given 35% year-over-year depreciation increase. Let me elaborate and I will talk about a 20 nanometer impact.

The reason we can improve structural growth profitability are the following, number one, you see the 35% increase in depreciations that's on dollar to dollar but we're also increased 10% capacity so if you divide it by unit basis asset depreciation or whole basis go up by 22% that's number one. Number two, we have another half that's basically the variable cost in direct material and other fixed cost. We work extremely hard to drive those cost down. With that along with the better blended ASP thanks to the technology migrations and our higher EUV and better performance we're able to raise the overall corporate SGM level.

With the ramping of 20 nanometer which started in the second quarter. We will have very, very small volume shipment but we will have much more volume in third and fourth quarter as any new know -- top level margin starting from second quarter the magnitude of that your impact for the second half but for the whole year we still expect to see a slightly higher SGM compared to last year.
To summarize Q1 and beyond, business strengthened as the quarter went on, the company is keeping margins up, even as it increases capital spending and pushes the envelope on technology, and it is achieving success in strengthening its overall competitive position. The single most important growth driver is LTE-enabled smartphones.
Competition - breaking news: As this article was being written, Bloomberg.com reported that Samsung Electronics (OTC:SSNLF) and Globalfoundries have signed a deal, giving the latter a license to Samsung's advanced, proprietary 14 nm FinFET technology. In contrast, TSMC is at the 16 FinFET level. Bloomberg reports thusly:
The companies are seeking to pose a bigger challenge to Taiwan Semiconductor, which last year controlled about half of the $38.9 billion chip-foundry business. Samsung and Globalfoundries are betting the advanced technology and scale they can offer together will help ensure they remain central in the market for building smartphone and tablet parts.

"This offers a huge competitive threat to TSMC and provides an alternative to those companies who are looking to use leading-edge production," said Jim McGregor, an analyst at Tirias Research. "It's a huge deal."

Samsung will reach full production on the new manufacturing technology by year's end, said Jeong Seh Woong, an executive vice president in charge of the foundry business.
TSM is down a bit Monday, based possibly on this news. However, this sort of problem is normal in a growing industry. TSMC is likely ready for this situation, and in any case, is making satisfactory progress on a 10-FinFET, which is another in the unending string of technical advances in semiconductors. From TSMC's conference call:
10-FinFET will offer greater than 25% speed improvement the same total power compared to 16-FinFET plus. More importantly 10-FinFET greater than 45% compared to 16-FinFET plus. 10-FinFET will offer 2.2x of density improvement over its previous generation 16-FinFET plus.
What is the prognosis for TSMC's long-term growth? As we know, the rise of the Internet is inexorable and at the stage of geometric growth in gadgets, and therefore, in silicon usage. The advantages of fabless chip design are so powerful that the foundry business of TSMC should have secular growth for many years to come. (Some companies with their own manufacturing facilities also hire TSMC for part of their production needs.) TSMC's advantages of scale and experience, and close relations with industry leaders such as Apple give it an advantage that is tough to dislodge. So it may be analogous to a Coca-Cola (NYSE:KO) in that it may stay #1 in its industry indefinitely.
The Internet is still new, and has not come to its full potential from an economic sense. I read this week that as late as 1995 (I think that is the year mentioned), only 3% of Americans had ever signed onto the Internet. So it was not until last decade that it began to pervade the economy, and the age of mobile Internet usage is only now coming into full flower. There is the entire concept of the "Internet of things" to be developed - we will see how extensive the changes are from that process. More and more silicon is going to perform more and more sophisticated information handling. Thus, I see no reason for TSMC's growth to slow down.
Value Line reports that TSMC has grown sales and earnings at 12.5% and 17.5% per share on average for the past 10 years. As this may have been exaggerated due to the Tech Wreck that was ending about 10 years ago, I'll assume 12% profit growth annually until the end of this decade, and perhaps somewhat slower sales growth as margins increase per the company's commentary. Based on the beat and raise announced last week, I'm guessing at $1.50 EPS this calendar year.
What P/E should this dominant company receive? Part of the answer comes from evaluation of TSMC's financial strength. Net profit this year will be about $7.5 B, and long-term interest payments due are only $194 million.
Another part of the answer relates to stability of profits and other metrics. In the Great Recession, TSMC's profits only fell moderately. They peaked 74 cents per share in 2006, and bottomed at 54 cents in 2009. In 2010, they were back to a new record at $1.07. TSM's price stability, per Value Line, is in the 80th percentile of all stocks, which is the same as that of Intel (NASDAQ:INTC). However, its earnings predictability is 60th percentile and price growth persistence in the 90th percentile, whereas INTC's are 45 and 35 percentile readings. Thus, TSM has been a better and stabler stock than mighty INTC. So given this fine set of achievements, I argue that a 16X P/E is very attractive and probably a bit low. At $1.50 EPS as my estimate for this year, that suggests a $24 price, which could be appropriate this calendar year.
More to the point, 12% yearly profit growth would lead to a doubling of profits in six years. That would translate to $3.00 EPS in 2020. Even if the P/E of this more mature company would drop to 14X by then, that would suggest a price of $42 by then, or a doubling from that of today. That would translate to a 12% annual return, in line with profits.
Dividends: TSM paid its first dividend in 2004, 8 cents per share. It has paid dividends once a year every year since then. The past two years, it paid out 50 cents. The payout ratio last year was 41%, the lowest it has been since 2004. With earnings rising nicely this year, a dividend increase is a possibility. A 2.5% dividend yield could be forecast, and certainly is not unattractive based on current interest rates.
Thus, it is reasonable to look for a 14-15% annual total return from this company out to decade's end, mostly from stock appreciation and partly from dividends. I believe there is more return than risk from this equity, based on these assumptions.
Upside potential: The possibility exists that a growing number of investors will look around and see how NYSE- or Nasdaq-listed corporations, especially mega caps (over $100 B market cap), are seeing growing earnings that are exceeding legitimate, original analysts' expectations. (We are, as usual, seeing lots of beats of lowered expectations.)
Under that scenario, where investors get starved for organic growth off of non-lowered baseline EPS, we might see something similar to that which we say in the late '90s. In 1998, Value Line data shows that TSM had an average P/E of 37, based on EPS of 12 cents. In 1999, the average P/E was 51, based on 19 cents. And in 2000, the average P/E was 39, with EPS soaring to 41 cents. All of these average P/Es were very roughly twice that of the average stock.
Could such an extreme bubble occur again? I hope not, but something milder could occur, and it might be centered not around tech, but around high-quality companies that investors finally perceive as being worth more a good deal more than a market multiple. This has been Jeremy Grantham's argument for the past couple of years, and the declines the past few months in the Russell 2000 and the Nasdaq but the relative stability of the DJIA and S&P 500 suggest that perhaps this outcome is in the process of occurring.
Other aspects of TSMC: The company is making efforts to expand in the solar and lighting fields. It is not standing still, as silicon expands its uses. There is no requirement that it not expand into other fields that are distinct from semiconductor technology, either.
Independent research on TSM: S&P Capital IQ gives the stock its highest, 5-star rating, even though its 2014 estimates are much below Street now (I anticipate an update next week). Value Line has rated the stock a #2 on a 1-5 scale, but its recent strength through the sloppy market, plus the strong Q1 might lead its computer to rate it #1. Finally, Fidelity provides a composite rating of stocks based on the ratings that various independent stock rating services have on the stock (which Fidelity then weights based on prior accuracy). TSM achieves a superb 9.7 on a 0-10 scale.
Of the six firms covering TSM, the rating firm (Jefferson Research) that Fidelity identified as the most accurate rates is as follows: Quality of earnings: Strongest. Quality of cash flow: Strongest. Operating efficiency: Strong. Balance sheet: Strong. Valuation of the stock: Least risk (relatively cheap/undervalued).
While no rating system is ideal, my preference is to seek out and earn stocks that are industry leaders that have the above metrics.
That several independent research outfits rate TSM highly is, in my view, a positive for the stock, given its current earnings momentum and constructive price action.
Risks: TSMC operates in a difficult and highly competitive business segment. It is not churning out Cheerio's that are the same (more or less) year after year for decades. It is always on the knife's edge reputationally, given how fast the changes in its industry and how large the stakes are. It takes a great company to deserve (my view) a premium P/E given the field in which it operates, and my assessment may be wrong. The company currently has co-CEOs, and that may be a source of problems. There may also be political problems between Taiwan and mainland China. Many other issues could negatively affect both the business itself and the price action of TSM.
Amongst the issues are the maturation of its business field, both regarding the growth of semiconductors and the outsourcing, fabless business model.
Summary: In what has been a weak start to earnings season, the innovator and leader in its field, TSMC, clocked in with a legitimate beat and raise both on EPS and on sales. Its valuation is reasonable given the growth characteristics of its business; it pays a satisfactory dividend; and it showed strong stability of its business during the Great Recession. It dominates the field that it pioneered, allowing fabless semiconductor shops to proliferate and prosper and allowing other companies to outsource to TSMC, while manufacturing a base or core amount of product. It is expanding into other growth areas.
Thus, it qualifies both as a growth and income, and GARP (growth at a reasonable price) stock.
For unknown reasons, despite having a market cap near $110 B, the stock is barely covered in the U.S. Investors may find TSM to be a strong buy and hold investment.
Disclosure: I am long TSM, QCOM. I wrote this article myself, and it expresses my own opinions. I am not receiving compensation for it (other than from Seeking Alpha). I have no business relationship with any company whose stock is mentioned in this article.