By Alfonso Esparza
The Easter holiday continues this week as some major markets are taking Monday off. Wednesday will bring major data releases from Australia on the inflation front. The Bank of England minutes will also be released. They will give more insight into Governor Carney's decision to hold rates as the how the members voted on different topics. There was no surprise at the BOE announcement given that the central bank had originally mentioned that rates would remain low even as their previous unemployment target was close to being met. The target was actually hit the week after the rate decision was published.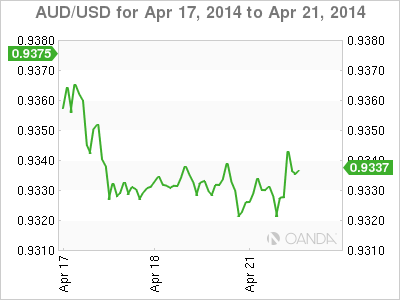 After last months Reserve Bank of New Zealand interest hike there is further expectation of another 25 basis points raise this week. The market is not so sure about the RBNZ decision and the uncertainty is sapping some of the strength away from the Kiwi. A small rate hike could result in a negative effect as the expectation is barely met. A no rate hike announcement would be met by a strong depreciation. So it seems the RBNZ would have to create the most unlikely scenario of a higher than 25 bps hike in order to boost the NZD.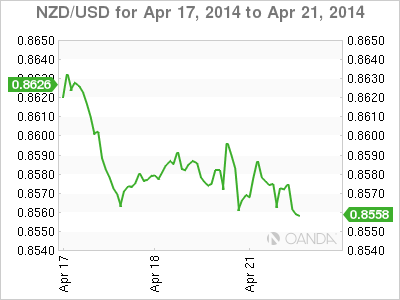 WEDNESDAY, APR 23
AUD Consumer Price Index
GBP Bank of England Minutes
NZD RBNZ Interest Rate Decision
Thursday, April 24 will can be quickly summed up by one word: deflation. The European Central Bank's President, Mario Draghi, will issue a speech where he is expected to tackle the issue of the Eurozone's low inflation and the measures that need to be taken to avoid a Japanese style deflation.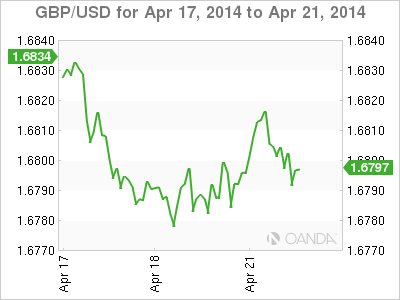 Japan last year launched an aggressive monetary, fiscal and political reform initiative to boost the economy out of the last two decades of deflation. The measures known collectively as the three arrows of Abenomics have had varying degrees of success. The market was impressed both by the rhetoric and the boldness of action of the Bank of Japan last year when it announced a doubling of the monetary base in two years to achieve the 2 percent inflation target. This year there has been disappointment at the lack of action by the BOJ even as the rhetoric has softened with a "wait-and-see" approach.
The inflation figures on Thursday will boost the case of Abenomics having achieve some of its objectives even as analysts and policy members criticize the unrealistic deadline. Today the Japanese trade data showed the effect of a weak currency on an Energy importing nation. The effect of "importing" inflation via energy denominated in USD has boosted the headline inflation figure, but not in a way that will trickle down to Japanese consumers already hit by the rise in the sales tax earlier in the month.