With tax season finally over, one company is probably still fresh in Americans' minds; H&R Block (NYSE:HRB). This Kansas City-based tax preparation company offers up tax advice, do-it-yourself tax return preparation, and advances on tax refunds across the country.
And though while many Americans certainly used their services this past tax season, competitive pressures are certainly building for this company. This is largely thanks to the advent and popularity of Intuit's (NASDAQ:INTU) TurboTax software which is eating away at HRB's core market.
Thanks in part to this pressure, HRB stock has been struggling as of late, as it has underperformed some of its key peers in the past year. Plus, it hasn't helped that HRB has seen sluggish results in international markets too, as this has forced the company to post pretty horrendous results at earnings season, suggesting that HRB has great trouble in meeting expectations
Recent Earnings
In fact, over the last four quarters, HRB has missed the Zacks Consensus Estimate every time, with an average surprise of -226%. The company's 'best' miss did come in the key tax season quarter though, but even then the firm missed by nearly 2% when compared to the Zacks Consensus Estimate.
With this recent weakness in mind and some serious competitive pressures building on its lofty stock, it shouldn't be too surprising to note that many earnings estimates have been falling for HRB as of late. In the past 30 days, not a single estimate has gone higher for HRB's earnings outlook, while several have gone lower.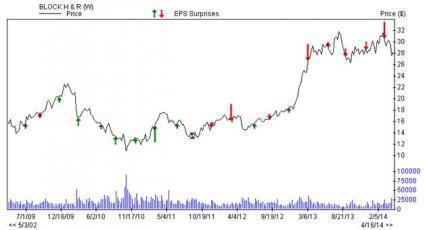 The pain is especially apparent when investors look to the current year and next year time frames, as estimates have gone from $1.67/share for the current year 60 days ago to just $1.62 today. Meanwhile, for the next year period, $2.01/share was the estimate two months ago, but once again this was pushed down, this time to $1.95/share, suggesting that analysts are ratcheting down their expectations for HRB not only in the near term, but over the long haul as well.
These concerns have kept a lid on HRB's shares, as the stock has added over 65% in the past two years, but just 6% in the trailing 12 months. And from a YTD look, HRB has lost about 4% (underperforming the market) and it could face more trouble at its next earnings report if recent earnings estimate trends are any guide.
This is particularly true when investors consider that HRB has a Zacks Rank #5 (Strong Sell) and that its earnings ESP metric is negative. When combined, these factors are generally a harbinger of negative news at earnings season, and given how sluggish HRB has been at earnings season, it wouldn't be much of a shock at all to see another lackluster report from this tax preparation firm.
Other Picks
If investors are searching for better picks in the consumer services space, it is worth noting that the sector currently has a poor Zacks Industry Rank and that many firms in the segment have seen earnings estimate revisions moving in the wrong direction. However, there is one standout, Outerwall (NASDAQ:OUTR), a stock that has a Zacks Rank #2 (Buy).
This security saw a positive surprise in its most recent earnings report, and since its rank just moved from a #3 (Hold) to a #2 (buy), now might be the time to consider this stock instead of the embattled H&R Block, at least until the earnings estimate revision activity turns around for HRB.
H&R Block (HRB): Free Stock Analysis Report (email registration required)