Consumers are worried. That's nothing new. What is new is just how grim the outlook is: last Friday, the Reuters/University of Michigan Consumer sentiment index fell to the lowest level in a year. And the big problem is how the index breaks down: consumers' view of current conditions fell to an eight month low, but the outlook for future conditions fell to the lowest level since March 2009. And just 39% of consumers expect any increase in their income in the next year, a record low.
But it's not only consumers. The Conference Board's measure of CEO confidence was unchanged in the second quarter, after falling in the first quarter. And according to the Conference Board Director of the Consumer Research Center, "expectations signal no change in the pace of economic growth in the coming months". And at this point, no change is not a good thing.
And what's really troubling: fewer CEOs said conditions have improved over the last six months (67%, down from 71%). And even fewer said that conditions will improve in the next six months (48%, down from 52%).
But we don't need to hear what CEOs are saying, just look what they are doing. Many companies are not hiring, not paying dividends, not spending. They are shoring up cash. And getting ready for a storm.
Well, the storm is brewing. The New York Fed's general business conditions index fell 75% to 5.1 this month.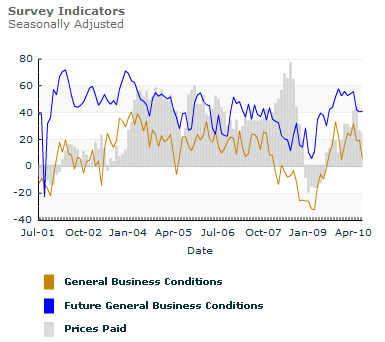 Source: Federal Reserve Bank of New York
And then there was the Philadelphia Fed's business outlook survey, which showed that manufacturing activity, while still positive, has slowed in the last two months. New orders have declined, as well as shipments. Also of concern, the Fed's diffusion index of current activity (the overall measure of current manufacturing conditions) fell to 5.1 from 8. That's a 36% drop. And what's more: the index of future activity hit a 16-month low of 25.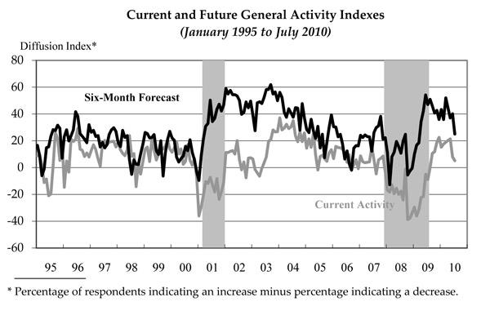 Source: Federal Reserve Bank of Philadelphia
The economic outlook is hazy. And the hits just keep on coming. If it's not bad news in housing, it's consumer confidence. And if the Fed isn't lowering the growth expectations, retail sales are falling. You can look at the economy from any angle, but at this point, you're hardly going to catch any glimmers of light.
Disclosure: No positions