Introduction
Still in the process of transforming their business, Advanced Micro Devices' (NASDAQ:AMD) earnings announcement was very helpful in determining their potential to succeed in the future. Beating their own high-end projection as well as analysts' estimates, AMD demonstrated a solid quarter showing that they have finally returned to seasonality. For the first time in too many quarters there is a positive response from investors; as I am writing AMD is trading near 14% higher thanks to the strong momentum provided by the earnings announcement.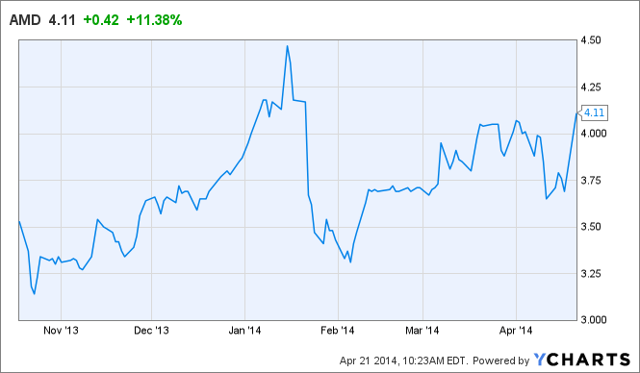 For the rest of the year AMD expects to remain profitable while improving sequential revenues for the rest of the year. I have written many bullish cases for AMD and in my last article, I asked if AMD would finally surprise us, and although the results weren't mind-blowing, finally seeing AMD in the green is the surprise we've all been waiting for. I still believe AMD is a great long-term investment, and for this article I will discuss the earnings release, outlook, and why I remain very positive on any long investment in AMD.

AMD Continues to Exceed Estimates
The results for last quarter were great. AMD reported an EPS of $.02 per share with revenues of $1.4 billion, a 28% increase year-over-year and 12% decline sequentially due to the slower season. These results were two cents above analysts' expectations as well as AMD's own high-end forecast in revenue as demonstrated in the chart below. Revenue last quarter was highly driven by the improved demand for their latest consumer and professional graphics cards as well as high volume shipments of their semi-custom accelerated processor unit (NYSE:APU) for the PS4 and Xbox One. We also saw sequential growth from mobile PC shipments and dense servers, but saw a decline in desktop PC revenue, weighing down their PC revenue.
As seen in this chart below, AMD's actual revenue has consistently been at the top or above their projected outlook on the low and high side, as represented by the gray area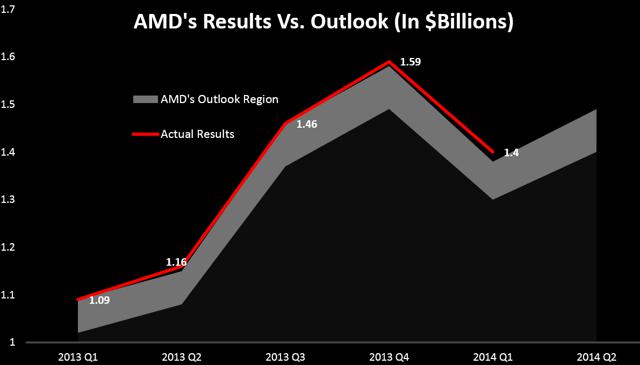 Very good progress is being made
The success of the first quarter highlighted AMD's ability to remain profitable and return to seasonality. With AMD's current revenue stream, they are set to continue profitability while working towards diversifying their sources of revenue, specifically from five high-growth markets: embedded, semi-custom, dense servers, professional graphics, and ultra-low power clients. These new markets are expected to make up half of AMD's total revenue by the end of 2015 and they on track to meet this goal, such as the recent announcement of new semi-custom wins.
In spite of the lower margins, AMD's semi-custom business has the potential to yield a very promising future. The custom Jaguar code-named APUs inside of Sony's (NYSE:SNE) and Microsoft's (NASDAQ:MSFT) new consoles have been very successful. For the future, the semi-custom business looks bright. During the conference call, CEO Rory Read mentioned that AMD is on track to secure at least one to two new semi-custom designs this year. This sounds very promising and after the second design win announcement, there will be a lot of focus on the potential of the semi-custom business. Many have been aware of the console win but some believe that the semi-custom business is a dead end path that ends with the consoles. However, with AMD's announcement to secure one to two new additions by the end of the year, investors have gained a good reason to be excited.
Looking into their revenue with my updated chart below, their revenue breakdown from GVS (graphics and visual solutions) and CS (computing solutions) are still seeing GVS revenues lead CS due to the driving forces behind graphics. However, according to Rory during the call, CS revenues will now see sequential growth for the future which will allow us to see overall revenue increases from now on.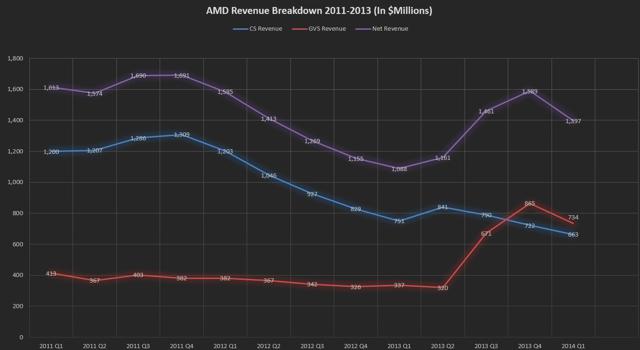 Declining PC revenues are history
You've got to give AMD some credit when you consider how they've managed to keep their business alive over the last few years given their poor performance in the PC market. The combination of the declining PC market and the significant market share loss to Intel looked like it was over. However, with their advancements in and their APU technology, the bottom of their PC revenues is likely behind us now. During the conference call, Rory mentioned that he believes there will be sequential revenue growth in the PC sector in spite of the predicted 7-10% decline for the PC market this year.
In terms of company growth, AMD's current position in the market can be considered advantageous in the declining PC sector as there is such a large pool to take from. For Intel's (NASDAQ:INTC) PC sales, their large market share puts them at the mercy of the market. With the simple release of competitive products such as Beema, Mullins, or Seattle from AMD, one major win means a significant gain in market share. Rory noted that they saw a sequential increase in notebook sales as OEMs prepared to launch products using the mobile Kaveri and Beema chips so we will have to keep a close eye out on how these play out to determine their future.
Conclusion
AMD has demonstrated three quarters of profitability even through the slower first quarter where many people believed they were to just break even. Ever since their announcement to restructure in 2012, we have seen massive changes to their business. We have also seen every goal set by Rory Read in the last two years met or exceeded. For now, AMD will continue their profitable restructure by the end of 2015. On the way, we will see sequential improvements in revenues, more design wins, and continued success towards their goals. This stabilization is incredible for the stock as the newly decreased risk in combination with the future potential are very inviting factors to investors who have questioned AMD's ability to succeed in the future.
Disclosure: I am long AMD. I wrote this article myself, and it expresses my own opinions. I am not receiving compensation for it (other than from Seeking Alpha). I have no business relationship with any company whose stock is mentioned in this article.