Last week, technology giant Google (NASDAQ:GOOG) reported its fiscal first quarter results. The company missed on both the top and bottom line, which may not be surprising given the company's recent earnings history. While shares declined on the news, the analyst community rushed to defend Google, giving the name another pass that many other names don't get. Today, I'll break down the Google quarter, look at where the name stands in regards to others in the space, and detail what investors should do now.
Q1 results / another miss:
Google reported GAAP revenues of $15.42 billion for the quarter, which missed estimates for $15.52 billion. Remember, Google does not provide financial guidance, so analysts have to go quarter to quarter with their numbers. Additionally, Google's non-GAAP earnings per share of $6.27 missed estimates for $6.40. Remember, Google split its stock recently so the EPS numbers are no longer in the double digits like most previous quarters.
So the first key takeaway from the quarter is that there was another miss, and on both the top and bottom line. Last quarter, I wondered where the outrage was when Google missed EPS estimates. I included a table in that article about Google's recent earnings reports, and the results may shock you. I've updated the table, now showing Google's last ten quarterly earnings reports, and their results, along with the stock's reaction the following day. You can review Google's recent earnings history in more detail here.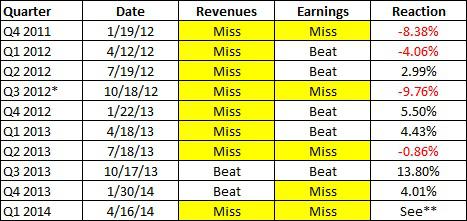 *Reaction includes day of earnings and day after. You may remember that Google's results were mistakenly released early, which caused shares to be halted for quite a while, then drop after re-opening.
**Class A declined by 3.65% and Class C declined by 3.67%.
So in Google's last ten earnings reports, either the top or bottom line has missed in nine of those ten reports. Revenues have missed eight times out of ten, and this was the fourth quarter in that period where Google missed on both the top and bottom line. Yet somehow, the stock has only declined half of the time. As I've continually detailed, Google is not held to the same standard of many other companies, including Apple (NASDAQ:AAPL). Back in January, Apple actually beat on both the top and bottom line, yet Apple shares fell because guidance and iPhone sales were light. Google doesn't even bother to provide guidance.
Perhaps the more interesting story here was the EPS line. For all of those critics that complain about Apple's EPS, maybe you should look at Google in Q1. In last year's Q1 period, Google reported non-GAAP EPS of $11.58. Thanks to the split and the Motorola sale, that number was adjusted to $6.00 according to Google in this year's report. In this year's period, non-GAAP EPS were just $6.27. This is supposed to be a major growth company, yet, that's not a lot of growth at all. In fact, GAAP EPS (including the net loss from discontinued operations) rose from $4.97 to just $5.04. Additionally, Google's EPS were pressured by the continued rise in the share count. Google does not have a buyback plan in place, so shareholders are further diluted each quarter. Google also benefited from a tax rate of just 18.4%, way less than the roughly 26% rate Apple is running at currently.
There were some positives in the report as well. After falling a bit sequentially in recent quarters thanks to mobile, cost per click numbers were flat. Paid clicks were up 26% year over year, down from Q4's 31% growth rate but roughly even with Q3. Google's cash position also rose by about $700 million in the quarter, now standing at nearly $60 billion. Google should put some of that cash to use.
Analysts rush to defend Google:
I mentioned above how Google is held to an unfair standard. After Apple's January report, the stock was downgraded by multiple analysts. You might think that Google would get some negative notes from the street after this double miss. Well, you would be wrong. In fact, analysts have been mostly positive on the name, and have rushed to defend it. Here's a list of recent analyst notes.
For instance, Susquehanna maintained its bullish stance on the company, reiterating a positive rating and $700 price target. The firm mentioned a messy quarter and FX problems, but said the Google story is not structurally broken. While the firm lowered its EPS numbers for both 2014 and 2015, it kept its $700 price target. Why you may ask? Well, the firm claims expansion in the multiple. Despite a double miss and the firm lowering its estimates, the firm says Google deserves a higher multiple. You can't make this stuff up sometimes. Google does have a more stabile business, but it is one that is way less profitable than Apple, and Google already trades at a P/E multiple basically double that of Apple.
There were a lot of similar comments from other analysts, who called this quarter "a small bump" and said that "results were better than headlines suggest". There really was only one "halfway negative" note, from one analyst who cut his price target by $40. However, the analyst maintained a Buy rating and still has a $625 price target that implies a sizable amount of upside.
We have seen analysts trim their estimates a little for Google since the quarterly report. Going into the report, analysts were looking for $66.44 billion in GAAP revenues this year and $27.13 in non-GAAP EPS. Current estimates call for $66.14 billion and $26.78, respectively. 2015 revenue and EPS estimates are down a little as well. However, the average rating on the stock remains a buy, with the average price target at $662.53. Google analysts see a lot of upside from current levels.
Google still is favored for growth:
When it comes to large cap tech, Google remains a favorite due to its growth. While Google is not growing as fast as it used to be, it still dominates this space. In the table below, I've compared Google against Apple, Microsoft (NASDAQ:MSFT), Intel (NASDAQ:INTC), and Cisco Systems (NASDAQ:CSCO) for their respective fiscal years.

*EPS growth and P/E are non-GAAP for Google and Cisco.
**Valuation using closing price of Class A shares.
Google's revenue growth rate will be down a little this year, but is expected to accelerate again in 2015. Current expectations call for 17.8% growth next year. On the flip side, the Motorola business was losing money, so EPS is expected to be a bit better this year. Current estimates call for more than 22% EPS growth in 2014, more than double the revenue growth rate. Next year, EPS growth will dip a little (current estimates for 18.3%).
Either way, Google is expected to have the most growth this year, next year, and perhaps for many years to come. Investors like that growth opportunity. Google shares are certainly bid up, especially if you convert the P/E to GAAP, at which point it is nearly double that of Apple. On the flip side, these other names offer dividends and buybacks that Google does not. Google maintains a solid lead over these "established" tech names in terms of growth and valuation.
But when it comes to "new tech" like Facebook (NASDAQ:FB) and others, Google trades at a lower valuation because it offers less growth. It certainly puts Google in an interesting place at the moment. Do you value it with old tech, new tech, or a combination of both? For the moment, Google is stuck in the middle, which makes it frustrating to some. The short side values it against old tech, while the long side looks at new tech.
Class A versus Class C:
One of the items I was looking for to see in the Q1 report was the presentation, especially in terms of the share classes. Google split off a new trading class, Class C, which carries the GOOG ticker. The other trading class, Class A (NASDAQ:GOOGL), has the new five letter ticker that some are still getting used to. I wanted to see how Google presented the share classes in its balance sheet. In the table below, I've detailed the three share classes (including the non-trading Class B shares) and their shares outstanding over the past year.

Remember, Class B shares have 10 times the voting power of Class A shares, and Class C shares have zero voting rights. For every share of Class A or B owned, Google handed over a Class C share. Now you will notice that Class A seemed to suffer a bit more dilution recently. According to a NY Times article, Google's top three officials must convert a share of Class B to a share of Class A every time they sell a Class C share. Due to that conversion, the Class A share count will continue to rise. However, going forward, it will be interesting to see the dilution numbers when backing out the Class B to A conversion. Going forward, Google is expected to use Class C shares for acquisitions and other share-based payments. That was the reason for the split, to keep Google's top brass in power longer. While Google's top three will lose voting power over time as they sell, they won't lose as much from future dilution to Class A (if any). This issue will be a bit more straightforward in future earnings reports, so I am very eager to see what happens over the next couple of earnings reports.
The major issue here is one I discussed in more depth in my latest Google article. That is the premium that Class A shares are trading at compared to Class C shares. Since Class A shares have the voting rights and are expected to face less dilution over the long term, the argument is that Class A shares should trade at a premium. If a premium exists after a year, Google will be required to compensate investors to a point for the difference. Google could pay in cash, but most see a payment in Class C shares, and that would mean even more Class C dilution. In the chart below, I've tracked the premium since the two trading classes started trading separately.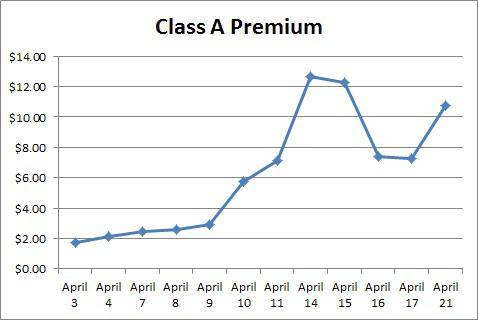 In my latest article, I argued that investors wanting to play the spread, but not necessarily a direction of Google, could go long Class A and short Class C. So far, that trade has worked if you got in right after my latest article was published (that day's opening for instance). The gap was wider at times last week, but is still up from my latest article and last Monday's opening prices. At last Monday's opening, the first time most investors could trade after my article was published, the opening price gap was $5.41. That gap more than doubled early in the week before coming down later in the week. The gap jumped on Monday, and now sits at $10.75.
Final thoughts:
Google missed on both the top and bottom lines, not surprising considering the name's recent earnings history. While the stock fell on the news, the analyst community rushed to defend Google. The name still does offer the most growth in terms of "old tech", but shares do trade at a premium to that group. When compared to "new tech", it is a different story. As you will see in the chart below, Google shares are trading near their 2014 lows.
That might provide an opportunity for long term investors. The growth story is still in place, and Google has plenty of cash to make future acquisitions. For the long trade, I would prefer that investors look at Class A shares. An interesting trade I proposed last week is to go long Class A and to short Class C, for investors wanting to "play the spread". Even though Google missed again, it seems like investors will eventually send this name higher, just like after every previous miss. Remember, Google shares hit their all-time high after last quarter's EPS miss.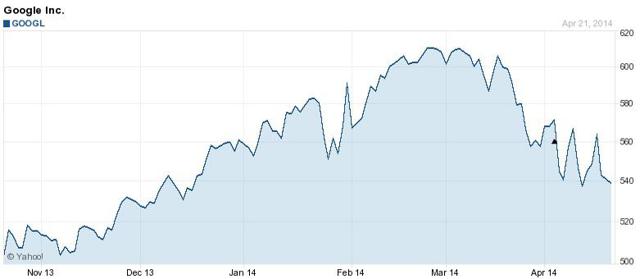 (Source: Yahoo! Finance)
Disclosure: I have no positions in any stocks mentioned, and no plans to initiate any positions within the next 72 hours. I wrote this article myself, and it expresses my own opinions. I am not receiving compensation for it (other than from Seeking Alpha). I have no business relationship with any company whose stock is mentioned in this article.
Additional disclosure: Investors are always reminded that before making any investment, you should do your own proper due diligence on any name directly or indirectly mentioned in this article. Investors should also consider seeking advice from a broker or financial adviser before making any investment decisions. Any material in this article should be considered general information, and not relied on as a formal investment recommendation.