Everywhere you turn another 3-D movie is being released at your local movie theatre. Avatar kicked off the 3-D experience and even Disney (NYSE:DIS) movies are getting in on the action. The movie experience will never be the same again and neither will the style of your 3-d glasses!
Growing up we did have 3-D glasses but they were made out of cardboard. They were mostly uncomfortable and unfashionable. Even today's 3-D glasses you get at your local theatre are just as bad as the old ones. Sitting through a two hour film you want something comfortable, but stylish? Real D Inc (NYSE:RLD) is pushing its line of 3-D glasses that will not only allow you to view the movie comfortably, but in style!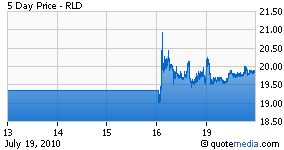 Real D Inc is the only player in this space, a new space where we will see the growth in 3-D continue. The company will not only grab the movie going crowd it'll be able to capture the growing home theatre market. Without much competition Real D Inc has first mover status and establishes the Real D brand. Sales have been growing in the triple digits with the prior 5 quarters showing: 208, 691, 191, 490, and 207%. The potential sales growth still continues, but can it make money is the biggest question.
Earnings growth is there as the company has yet to post a positive earnings number since December of 2008. The company will need to show earnings growth to prove it can make it in the space. Earnings are a key ingredient for winning stocks and without it will only lower the probability of the stock becoming a big winner.
The company's recent IPO and its reaction certainly is a positive for the stock as there was quite a bit of demand for it. It'll need to develop more history to determine a proper entry, but this is a stock that should be kept on your watch list.

Disclosure: No Positions