In September 2013, Nokia (NYSE:NOK) announced the sale of substantially all of its Devices & Services business to Microsoft (NASDAQ:MSFT) for EUR 3.79 billion ($4.88 billion). In addition, Microsoft will also pay EUR 1.65 billion ($2.18 billion) to license Nokia's patent. The deal is in the final stages, and is likely to complete by the end of this month.
After completion of the deal, Nokia will be in a much stronger position. In the past two years, the company has lost a significant market share in the cell phone business due to stiff competition from Apple (NASDAQ:AAPL) and Samsung (OTC:SSNLF). Nokia's smartphone share in 2010 was near 40%. In 2013, it has plummeted to below 5%. Besides losing share, the company has lost a significant amount of money. According to Nokia, if the devices and services unit is removed from its financial, its sales and expenses would be reduced by around €3 billion ($4.14 billion), and operating profit would be several points higher.
Without its devices and services unit, Nokia will have three separate businesses going forward: its network equipment unit NSN, the mapping business "HERE", and Advanced Technologies (R&D and patents business). 'Patents' is a big business for Nokia. In its deal with Microsoft, Nokia retained the patents because it recognized that the long term worth of these patents is much more than what Microsoft would have been willing to pay for them in a purchase. Nokia patents cover a wide range of technology and incorporate much of the many billions of dollars the firm has spent on Research and Development in the last couple of decades.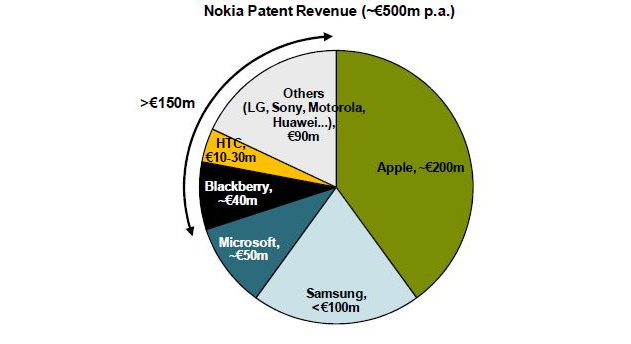 Source: valuewalk
Most of Nokia's future business value will come from its strong patent portfolio. Currently, the company generates about 500 million euros ($690 million) in royalty income every year. The figure doesn't include the €1.65 billion ($2.28 billion) that Microsoft will pay to Nokia for its patents after the deal closes. Once the Microsoft deal closes, Nokia expects its licensing revenue will rise to €600 million ($828 million) a year. Of the €500 million, Nokia generates about €200 million ($276 million) from Apple, up to €100 million ($138 million) from Samsung, over €50 million ($69 million) from Microsoft, €40 million ($55 million) from BlackBerry, and about €10-€30 million ($13-$14 million) from HTC. Nokia receives over €150 million ($207 million) from other handset manufacturers and other industry players. Licensing patents could account for more than 30% of Nokia's operating profit this year. Nokia's current royalty rate is less than 0.3%, much lower than Qualcomm which charges 3.3%. Analysts estimated that Nokia's royalty rate could reach 0.75% as it renegotiates existing deals and signs new ones.
Nokia has just monetized 10% of its patent portfolio yet. These 10% patents are mostly standard essential patents and Nokia has retained many of the remaining patents for its exclusive use (protecting the proprietary features of its own products). As the company is selling its Devices and Service division, it will be free to monetize these product feature related patents.
To boost revenue from Patents, Nokia will have to boost R&D production and come up with stronger licensing practices. According to Berstein Research analysts, the company's patent and R&D business will grow at an average rate of 3.4% per year through 2018. Advanced technologies segment could contribute 9 cents to its earnings next year, growing to 11 cents in 2018.
There are some factors that could affect Nokia's licensing revenues. Sales of smartphone industry laggards such as Motorola, HTC, Blackberry, LG Electronics and Sony Corporation are declining. These vendors account for €150 million of Nokia's total licensing revenues. As their sales are declining, Nokia's patent revenues may come under risk in the medium term.
In November 2013, Nokia announced that Samsung has extended a patent deal with between Nokia and Samsung for another five years. The previous patent deal between Nokia and Samsung has expired in 2013. According to the agreement, Samsung will pay additional compensation to Nokia from January 2014. The amount of compensation will be settled in a binding arbitration expected to conclude in 2015.
JPMorgan analysts believe that Nokia's IP monetization may see steep boost when it will re-negotiate its patent licensing deals with Samsung going forward. According to the analysts, when Nokia and Samsung renegotiate the deal terms, 2013 will be taken as reference year for calculations. Now as Samsung's relevant revenue has grown to be 36 times of Nokia's relevant revenue in 2013, the royalty that Nokia will receive from Samsung will be 36 times of what it received from the earlier deal with Samsung. During the time of inking of earlier deal in 2007, Nokia's revenue was 2.2 times more than Samsung and thus this time around, Nokia may see much higher royalty out of its deal with Samsung.
Similarly, Nokia's IP monetization could also get a boost when it renegotiates its patent licensing deal with Apple, that will expire in 2016. Apple has also gained 20 times in reference revenue as compared to Nokia in 2010.
Bottom Line
By selling Devices & Services segment to Microsoft, Nokia will be free worrying about operational losses of this segment. As a result, the company will monetize its patent portfolio in a big way. Solid execution of Nokia's device patents could increase its share price. Patent valuation may not be fully incorporated in the company's share price, because investor expectation looks focused on the short term. Nokia has over 30,000 patents and 10,000 innovations that are patented. It will likely take several years for this value to be realized.
Disclosure: I have no positions in any stocks mentioned, and no plans to initiate any positions within the next 72 hours. I wrote this article myself, and it expresses my own opinions. I am not receiving compensation for it (other than from Seeking Alpha). I have no business relationship with any company whose stock is mentioned in this article.