I recently had the opportunity to read Kathryn F. Staley's The Art of Short Selling (1997, John Wiley & Sons, Inc.), a comprehensive guide to short selling. Ms. Staley's book is divided into three parts: (1) Facts and Practitioners, which covers the basics of short sales and provides a brief biography of successful short sellers (up until the date of publication); (2) Categories and Examples, which provides examples of different companies that exhibit certain characteristics commonly seen in flawed business; and (3) History and General Lessons, which provides an overview of short selling throughout history, identifies sins that lead to investing mistakes, and provides a practical roadmap to sourcing and developing short ideas.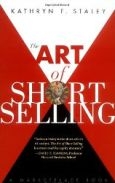 Throughout the book, The Art of Short Selling provides different ways to measure the health of a business, such as measuring working capital turnover or cash flow. In addition, the book also gives investors insight into the various ways companies go about enhancing their operating results.
The Art of Short Selling has several key themes that run throughout the book.
The first theme is that a firm grasp of the financial statement is a must for short sellers. Rather than accepting what is reported, the successful short seller attempts to discover what is behind the numbers in order to determine what drives the company and what the outlook is for the business. (A key point is reading the notes to the financial statements, as this is where the really important information is generally buried.)
The second theme is that investors should have a healthy degree of skepticism in all aspects of their research. For example, if demand is really as healthy as the company is saying it is, why are receivables ballooning?
The third theme is that sell-side research is not useful. By the time the sell-side gets around to downgrading a stock, it is too late. Do your own work.
And a fourth theme is to pay attention to the financial motivation of executives. A thorough review of the Proxy statement can really help an investor determine whose best interests the management is looking after.
Who would benefit from this book?
While the novel itself is geared towards identifying companies where short sale opportunities exist, the type of analysis employed to identify short sale candidates could easily be employed by the long-only investor in a risk-management capacity.
What else I would like to see in this book?
As the book was published in 1997, a lot has changed. I would like to see an updated version that deals with the newer ways companies go about enhancing performance, such as emphasizing non-GAAP results, setting up special purpose entities a la Enron, and Repo 105 of Lehman fame.
Summary
In my opinion, The Art of Short Selling is a fantastic resource. I recommend all investors interested in short selling take the opportunity to give it a read.
Disclosure: No positions