Natixis and BMO Capital have upgraded Alcatel-Lucent (ALU) to BUY. BMO capital also gave ALU a new price target of $5.50. ALU has a 52-week high of $4.68. Elisa, Finland's biggest mobile services provider, just hired Alcatel-Lucent to upgrade its broadband network. Combes should be commended for stealing this deal away from Finland-based Nokia (NYSE:NOK).
NTT Communications, the 32nd biggest company in Fortune Global 500 list in 2013, is currently considering Nuage Networks' Software Defined Networking (SDN) solutions. Numergy already selected Nuage Networks' SDN platform and routers for its data centers. China Mobile would not have granted a billion-dollar contract to Alcatel-Lucent if the company is worthless. This contract alone should be enough to cover the debt payments of ALU.
Alcatel-Lucent Has Market-Leading Technology in Fixed and Wireless Broadband
The geniuses at Alcatel-Lucent's Bell Labs have successfully tested the 400G Photonic Service Engine and 1830 Photonic Service Switch PSS. Alcatel-Lucent is at the forefront of Big Data infrastructure through 400G optical networking. The company proved that a single 400G signal is powerful enough to service 6.25 million voice calls from Toronto to New York.
The Ontario Research and Innovation Optical Network (ORION) helped ALU test the 400G optical network. ORION is the first to deploy 100G fiber optic networking in Canada. The 400G Photonic Service Engine will make Alcatel-Lucent a top choice among Big Data-centric companies. As shown by China Mobile's preference for ALU LTE solutions, Alcatel-Lucent is also poised to greatly benefit from the huge surge in global mobile internet traffic.
Cisco (NASDAQ:CSCO) predicted that internet traffic will increase 11-fold from 2013 to 2018. Alcatel's 4G LTE, VDSL2, and lightRadio Small Cell solutions keep ALU a favorite among telecom service providers in North America, China, and other emerging markets. The uber-fastidious Swiss people at Swisscom also opted to hire Alcatel-Lucent to deliver 1 gigabit broadband service to 1 million households in urban areas of Switzerland.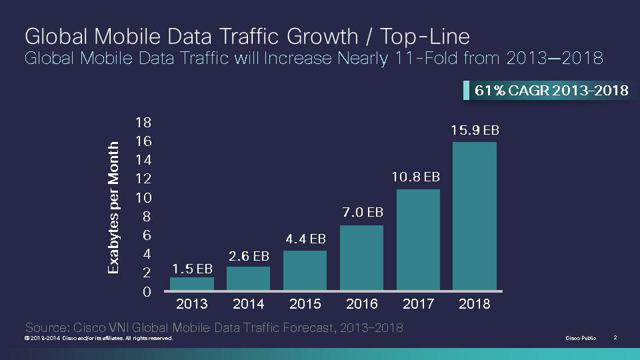 Alcatel-Lucent Is Quickly Adapting To SDN
Nuage's superior and cost-efficient Virtual Services Platform (VSP) will keep Alcatel-Lucent on the radar of Western European cloud services providers. Gartner forecasts SDN and cloud computing spending to grow at 32.1% CAGR until 2017. Nuage Networks is in leadership position to carve out a healthy slice of the Western European SDN market which will be worth $5.9 billion by 2017.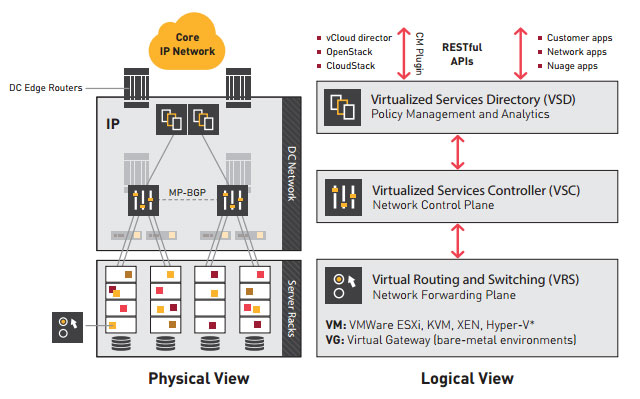 Source: Nuage Networks
Should NTT Communications decide to deploy Nuage Networks' SDN platform and routers, it's a tail wind that will help ALU post another 52-week high this year. Unlike Cisco, Alcatel-Lucent is already landing enterprise contracts for SDN. Michel Combes is more agile than his peers in recognizing that SDN is the future of networking.
Nuage Networks and its Virtual Services Platform supports open compute virtualization. Any data center can deploy this SDN solution regardless of their networking hardware and server hypervisor. It is also automated upgrade process that takes only minutes to deploy. VSP is scalable, programmable, seamless up to layer 4, and is guaranteed secure.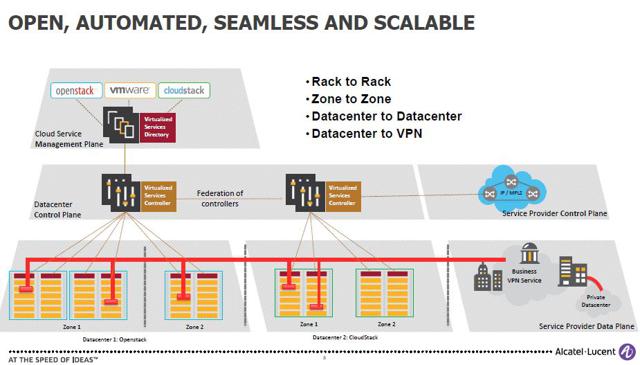 Source: Alcatel-Lucent
On-net CDN Is Another Growth-Driver
One more worthy growth driver for Alcatel-Lucent is its Velocix Content Delivery Network services. SNL Kagan MRG has recognized Alcatel-Lucent as the leading supplier of on-net CDN products to pay-TV operators and OTT multi-screen media content delivery providers.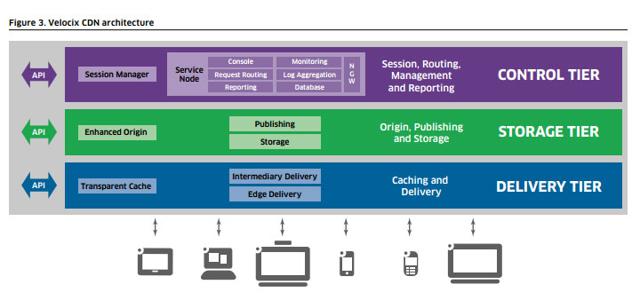 Source: Alcatel-Lucent
Alcatel-Lucent lets content providers deploy CDN solutions using their own networks. This is on-net CDN and is different from the off-net CDN that other companies offer. On-net CDN gives operators complete control over traffic management in delivering content to their subscribers.
Velocix is being used by some of the biggest content providers - Time Warner Cable, Telus, and Oi are some of Alcatel-Lucent CDN clients. ALU offers Internet Protocol (IP) Video Solutions. Cloud DVR from Alcatel won "Best Cloud or CDN Service Delivery" from TV Industry Connect Awards 2014. Cloud DVR is a cost-efficient solution that serves millions of TV viewers who gets time-shifted video streaming on any connected device.
Alcatel-Lucent also won an Emmy Award last year for its pioneering work on Network DVR. Alcatel-Lucent lets subscribers store video or TV content in the Cloud. These media content can then be accessed anytime, anywhere, and from any web-enabled device.
Conclusion
The thesis of this article is to show Seeking Alpha users that Alcatel-Lucent is a worthy investment. The equity of this company is not worthless. Alcatel-Lucent currently enjoys 40 4G LTE deployment contracts. It is a leader in on-net CDN, SDN, and optical 400G networking.
All these services and products are gradually helping ALU deliver positive returns. The $5.50 price target from BMO Capital is feasible within this year because Combes is tirelessly in pursuit of more contracts. The Elisa win is an outstanding victory over Finnish Nokia's NSN subsidiary. ALU is on track to becoming cash-flow positive and profitable by FY 2015.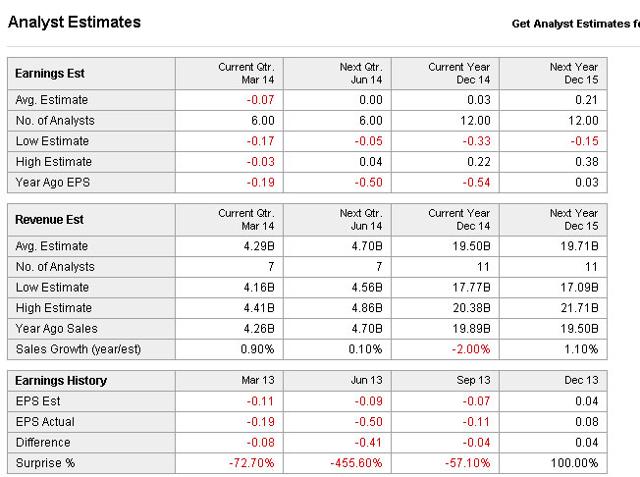 Source: Yahoo Finance
ALU's losses this year can be reduced by the disposal of unprofitable divisions. Alcatel has completed the sale of its LGS Innovations to Madison Dearborn Partners group. Combes is also negotiating the sale of ALU's enterprise division to China Huaxin. The management can also monetize the company's vast library of patents to help the company improve its cash flow.
ALU is a long-term bet that will likely offer big rewards to patient investors. Despite the recent down swings, ALU still posted a beastly good 185.82% 1-year performance. The chart below shows ALU is currently the best performer among its peers.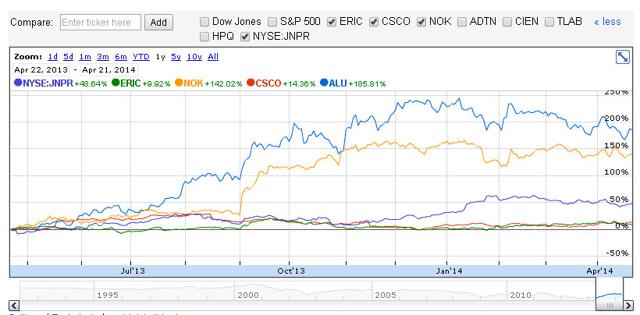 Source: Google Finance
Metrics-wise, I like Alcatel-Lucent for its low Price/Sales Ratio (0.57) and Enterprise Value/Revenue Ratio (0.55). Very few sell-side players are also shorting Alcatel-Lucent. ALU is a HOLD.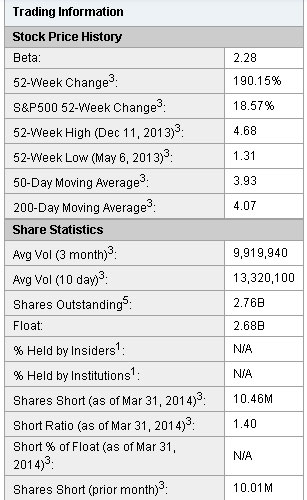 Source: Yahoo Finance
Disclosure: I am long ALU, NOK. I wrote this article myself, and it expresses my own opinions. I am not receiving compensation for it (other than from Seeking Alpha). I have no business relationship with any company whose stock is mentioned in this article.