Goldman Sachs (NYSE:GS) came to market with $700 million Series K perpetual preferred stock. The details of the preferred are:

The prospectus can be found here.
As with most preferred stock of financial issuers, the Series K Preferred Stock may be redeemed prior to May 10, 2024 upon the occurrence of certain events involving the capital treatment of the Series K Preferred Stock (a "Regulatory Capital Treatment Event"). While the Series K has been designed to qualify as Tier 1 capital under Basel III, should this change, the firm would have the ability to redeem the shares even if prior to the optional redemption date of May 2024.
As with all my articles on preferred stocks, the first step is to see how the new issue compares to existing issues from Goldman Sachs.

The new series preferred is cheap to all other Goldman issues, with the potential exception of the GSPrI (GS 5.95%), which are close in yield and trade at a discount.
While many are inclined to purchase shares at a discount, higher coupon preferred shares fare better in a rising rate environment, which should be considered.
With the new preferred being priced somewhat cheap to existing Goldman preferred, the next step is to view the new preferred relative to peers. For this part of the process, the peer group selected will be Morgan Stanley (NYSE:MS), JPMorgan (NYSE:JPM) and Citigroup (NYSE:C):

As the table above shows, while the new Goldman issue is "cheap" to existing Goldman issues, there are "cheaper" preferred stocks available within the peer group. Morgan Stanley, within the broker/dealer space is cheap to Goldman (albeit lower rated by Moody's) as is JP Morgan and Citigroup within the banking space.
Finally, as a "check" on the standing of the peer group, a look at a price chart of the group: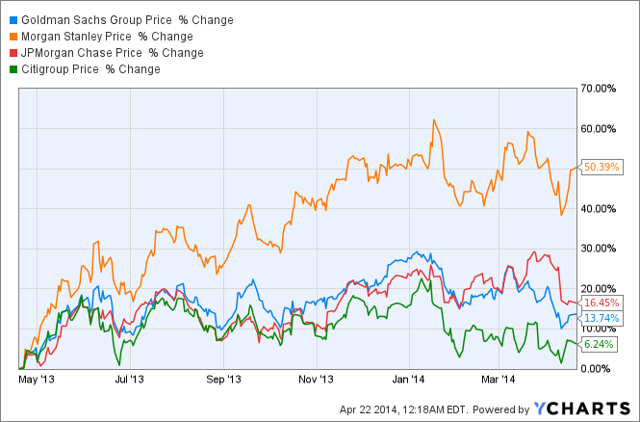 Bottom Line: Unless an investor has a specific need for Goldman preferreds, or is adverse to or overweight the other companies in the peer group, additional yield can be gained by purchasing the preferred stock of the peer group. Similarly, an investor does not have to give up significant call protection to trade away from the new issue.
=======
Sources: Preferred prospectus, author's spreadsheets
Note: If you are interested, GS put out a slide deck on their corporate governance and compensation practices. It is available here.
Disclosure: I am long C. I wrote this article myself, and it expresses my own opinions. I am not receiving compensation for it (other than from Seeking Alpha). I have no business relationship with any company whose stock is mentioned in this article.
Additional disclosure: **Citi long is equity and preferred.**This article is for informational purposes only, it is not a recommendation to buy or sell any security and is strictly the opinion of Rubicon Associates LLC. Every investor is strongly encouraged to do their own research prior to investing.