Chinese travel-booking company Ctrip.com (NASDAQ:CTRP) will report 2Q10 earnings on August 9 after the market closes. Recent industry data from airlines, hotels, and travel destinations suggest Ctrip's Q2 growth was pretty strong. Based on strong data points, I estimate that Ctrip's total revenue and GAAP EPS will come in at $99 million and $0.22 for Q2, representing strong revenue growth of 42% year-over-year. I also expect Ctrip to provide a conservative Y/Y revenue growth guidance for 3Q10, which could prove to be at least 10 percentage points lower than the actual result.
According to data from Air China, China Southern Airlines, and Hainan Airlines, these three major Chinese airlines' combined passenger volume rose 17.5% Y/Y in 2Q10. This represents a 3.3-percentage-point acceleration from 14.2% Y/Y growth in 1Q10, during which Ctrip's total revenue grew 46% Y/Y. Historically, Ctrip's total revenue growth has more than doubled airline passenger growth, so it's reasonable to expect Ctrip to grow revenue by 42% Y/Y in Q2.
In addition to airline data, hotel and Shanghai World Expo data also imply strong growth momentum for Ctrip's business in Q2. According to a major Chinese travel-booking service provider, pricing for economy hotel rooms rose significantly in Q2 in popular travel destination regions such as Shanghai, Shandong, Xinjiang, Liaoning, Hainan, Jiangsu, with Shanghai leading all regions with 16% Q/Q growth.
Since May 2010, Shanghai World Expo has stimulated sharp growth of hotel rooms' pricing and sales volume in Shanghai, with an overall occupancy rate of 93% and 100% occupancy rate for economy hotels. According to the official website of Shanghai World Expo, visitors to this mega event have reached 29.5 million since May 1, with daily traffic reaching a new high of 557.2K on July 17 (see chart below).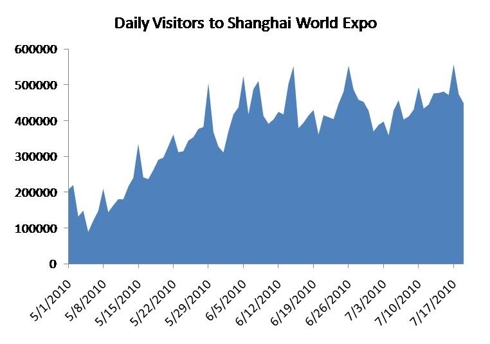 Disclosure: No positions