Facebook (NASDAQ:FB) is due to report earnings this coming Wednesday, which is the dead center of a week where earnings are going to be in the spotlight and likely move the macro market indices significantly.
Analysts covering Facebook are expecting $0.24/share on revenue of $2.35 billion - a 100% gain in EPS and 61% change in revenue from the prior year. Facebook has beat earnings 3 out of its last 4 quarters.
The stock has bounced back significantly after its IPO flop. It's provided returns of 135% for investors that have held over the last year. Year to date for 2014, the stock is up a modest 12.1% after yesterday's trading.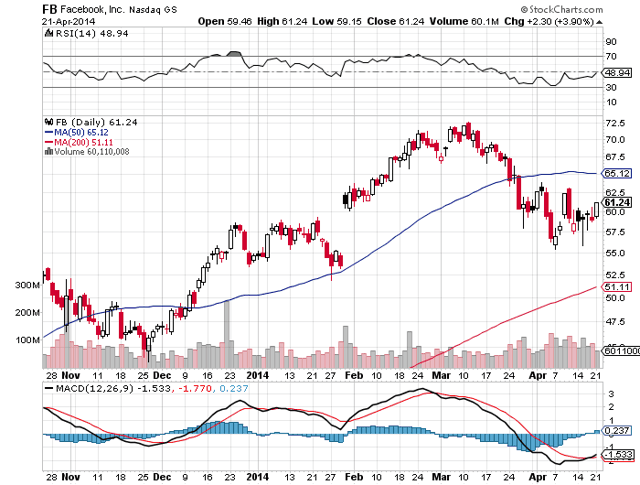 Bulls are going to be looking for Facebook's mobile presence to continue to expand and help drive ad based revenues.
Last quarter's report proved to investors that Facebook has the means to continue expanding in mobile and that they were no way left in the middle to back end of the adoption curve with mobile. Additionally, Facebook's purchase of WhatsApp gives the company even more strength from a mobile perspective.
The bears argue that the amount spent on WhatsApp was too much, and that Facebook is relying too much on an acquisition strategy - as opposed to driving their own organic innovation.
Additionally, shareholders, investors and analysts will all be looking for information regarding the company's acquisition of Oculus VR, which has drifted under the "headline surface" a bit.
Ahead of earnings, Credit Suisse has upgraded Facebook - sticking their neck out there with a $87 price target - which marks a 30% move to the upside. Seeking Alpha reported:
Credit Suisse has upgraded Facebook to Outperform, and set an $87 PT, ahead of Wednesday's Q1 report.
Shares rose 3.9% in regular trading, aided by a moderate tech stock rally and a report Facebook will finally be launching a targeted ad network for 3rd-party mobile apps at the end of the month.
After taking Credit Suisse's move into account, 37 of the 44 sell-side analysts covering Facebook now have bullish ratings, per Thomson/First Call. The other 7 are neutral.
Additionally, I'm loving the recent news I'm hearing about Facebook looking to take a stroll into the mobile wallet market. Zuckerberg may be rich, and he may be getting a bit older, but it still seems that he continues to know what's "trending".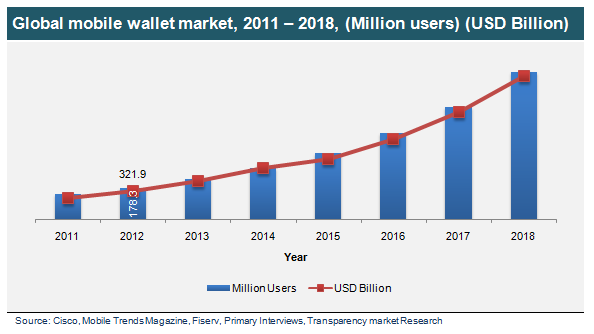 Long-term, as I've disclosed in other articles about Facebook, I'm not completely sold on the company. That's not to say I'm bearish on it, because I certainly am not. What I'm looking for is a couple more years of sustained growth and a clear vision for the long-term of what is going to drive the company's revenues before I get on the long-term Facebook bull train.
For the short-term, however, there's definitely money to be made on Facebook. For one, I'm going to definitely be buying a long-straddle going into earnings - as I did last quarter for Facebook.
"Quoth, you're always advocating these long straddles heading into earnings - do they actually work?"
The answer is "no, they don't always work - nothing in the markets always works" - but what we try and do here in the Margaritaville brand blender that is Quoth's head is identify stocks that are so volatile and so momentum-laden - so in the public spotlight - that there's more than a normal number of catalysts to have them move beyond the realm of the IV that's already priced in on the options. Notice I'm not advocating these trades for stocks like Intel (NASDAQ:INTC) or 3M (NYSE:MMM)?
Sure, options traders know that reports like Twitter (NYSE:TWTR), Tesla (NASDAQ:TSLA) and the likes are going to lead to big moves - they're always priced in through the IV on the options. What we look for here is stocks that have the potential to produce even bigger moves than those. And, in a case where we don't think it might all happen in one day, we'll open up the breadth of our options position and allocate a bit more time for our stock to move.
Like with our friend Netflix, the options prices are showing that investors are expecting a 12% move for Facebook post-earnings. We think that's definitely doable, but for the same price we can tack on a couple of trading days.

The May 2nd $61 long straddle is going to cost us $7.05 to buy, putting our breakevens at $68.05 or $53.95 - both levels that bears and bulls will argue are definitely possible. Both are prices that the stock has been at over the last year, as well. Depending on the company's performance in earnings, and with the extra couple of trading days tacked on, it shouldn't be hard to see us there again at some point soon.
If you're bearish on Facebook, this trade could be a good hedge - especially if you own shares and are considering selling. Additionally, you could always write calls ahead of earnings to curb any downside risk.
If you're long-term bullish, you're likely planning on holding through earnings. If the price dips and you don't think that Facebook's long-term prospects have deteriorated, you'll likely be looking to add on any dips here.
Me? Again, I'm neutral for Facebook in the long-term, but I don't want to let that get in the way of potentially making some money. I'll be looking to make the May 2nd long straddle trade - I reserve the right to open, close, trade or not trade this or any Facebook position going through the week this week, with or without notice.
I wish investors on both sides of the Facebook coin good luck, and will be anxious to see if the social media giant can continue its run.
Facebook is already up 2% in premarket trading Tuesday morning.
Disclosure: I have no positions in any stocks mentioned, but may initiate a long position in FB over the next 72 hours. I wrote this article myself, and it expresses my own opinions. I am not receiving compensation for it (other than from Seeking Alpha). I have no business relationship with any company whose stock is mentioned in this article.
Additional disclosure: I reserve the right to trade Facebook in any way without notice this week for earnings.