Wal-Mart (NYSE:WMT) is the company everybody loves to hate and to shop at. If you own any broad market index fund, then you probably own Wal-Mart. Most people buy Wal-Mart for its reliable dividend and expected growth. Most people are disappointed.

Over 83% of the entire net price growth in Wal-Mart shares has occurred in two sharp rallies totaling only 57 months of its entire 42-year history. These occurred from February 1996 to January 2000 (from $13 to $70), and from July 2013 to November 2013 (from $70 to $81.37). It has been a massive underperformer at all other times, drifting sideways or down in broad and highly volatile channels.
Shares have been traded publicly on the NYSE since 1972. Since the death of founder Sam Walton, the family stake has increased from about 43% to over 50%, mainly as a result of large share buyback programs. It is the largest public corporation, largest retailer, largest grocery store, and largest private employer in the world.
The mid-1980s and early 1990s were a period of major expansion for the company, growing from a regional chain into a national giant. This was followed by aggressive expansion internationally. With the growth in stores and diffusion into niches spanning supercenters to neighborhood hypermarkets, Wal-Mart developed distribution chain synergies allowing it not only to operate more efficiently, but also to command pricing favoritism from its suppliers, sometimes to the point of exclusivity. From this dominant competitive position, it has been resistant to recessions and able to weather broad economic cycles, turning in consistent financial results year after year.
Historical Share Prices:
The share performance has been less than rewarding for most investors. After experiencing strong growth from the mid 1980s through October 1993, advances stalled and shares spent the next 3 and a 1/2 years drifting sideways. They did not return to the October 1993 high of $16 until April 1997. This next period of advance was spectacular, with shares rising from $16 to close at $70.25 on December 31, 1999. The next 12 years were sideways drift. Shares did not return to $70 until July 25, 2012, reaching $70.25 again on that day. The rise begun on May 14, 2012, reached $75 by the close of July 2012, just 2 months later. Since that time, shares have traded in a range bounded by $72.75 and $79.20, drifting generally sideways.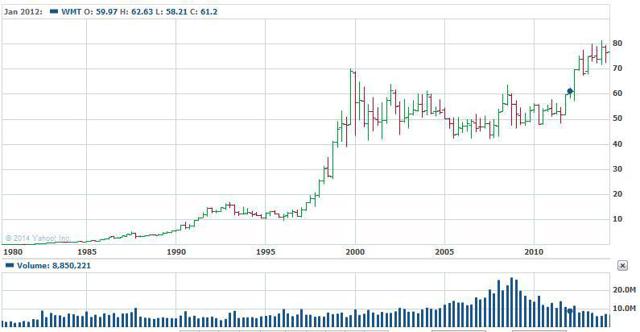 (Source: Yahoo.com)
A look at the chart trends for the past year confirms the shares remain firmly within the trading range established in 2012. Of note is the upward probe above $81 from late November to early December 2013. This may signal the 1st test of a new advance. If so, the breakout of March 21st this past month is of special interest. Each of the significant advances for Wal-Mart units has begun with (or been signaled very early within the rise) by an upside breakout. There have also been numerous failed breakouts, which have returned to sideways drift or even large declines. Patience is called for. Significant uptrends last months, not weeks. It is safer to avoid the false signals than to capture the earliest rises.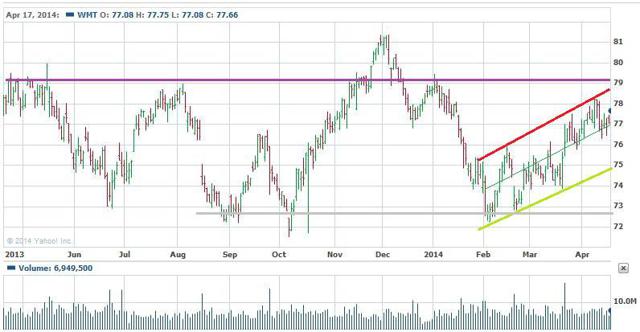 (Source: Yahoo.com, modified by the author)
Dividend income is a primary basis on which investors value Wal-Mart since the end of its rapid growth phase in 2000. The YDP chart confirms it to be a good fit for a dividend income equity investment pattern of valuation. Investors bid price up and down in reciprocal response to dividend distribution growth, so as to yield a result of relatively stable trends of effective yield rate. The correlation of these 3 variables is defined by the mathematical Y = D/P (Y is yield, D is dividend distribution, and P is share price). This is characteristic of dividend income equities, and indicative that yield rate can be a measure of value. For those not familiar yet with YDP charts, I refer you to my introductory article on YDP chart analysis and its precursor article with several YDP chart interpretation examples.
A look at the YDP chart shows investors sought WMT shares for growth, not income, during its rapid rise from regional chain to a national and global behemoth in the mid-1990s to 2000. Yields dropped from 1% down to 0.33% during this time, even as dividends rose aggressively. Since 2000, investors have demanded higher and higher yields, as share prices remained in the doldrums. Yield rates rose even faster than the continuously rising dividend distributions for the period. Since mid-2010, the yield rate has settled into an equilibrium around 2.45%, as price growth matches dividend growth at a pace moderated by yield rate. The dividends have remained solid, with a steady cash payout ratio of about 65% for over 2 decades.
Fair value at the 2.45% yield rate is currently $78.37 for the $1.92 dividend. A 2 cent increase in dividend likely in the near future would set fair value for income investors at $79.18.
click to enlarge)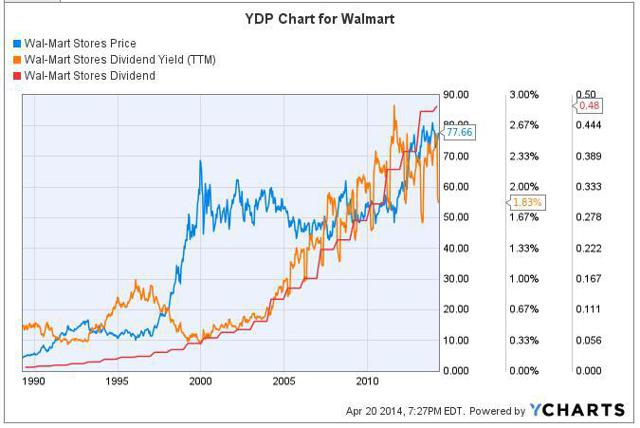 Having established Wal-Mart to be an income investment with very little growth component these days, it is appropriate to examine ways to maximize income with the shares.
Covered option writing is well known as a tool for boosting income yield and hedging market risk. In my recent Tortoise series, I presented 16 tickers with specific covered option income boosting evaluations. Today, we will explore those techniques for Wal-Mart and go one step further. All covered options trade away some of the future upside growth potential for boost in current income and hedge of market risk.
By identifying value priced stocks and purchasing them at or below fair price and concurrently selling at the money calls, we are able to fully convert the latent future growth priced into the shares into current cash income. This strip-out of growth with conversion of that latent price into instant income provides the maximum boost, while trading away something of no calculated value to the pure income investor. I call this form of covered call writing "Call Option Writing Strips" (COWS). It brings a whole new way to create "cash cows".
Covered Options:
The present $77.66 price of Wal-Mart is slightly below its fair value price of $78.37. This makes it an ideal candidate for income investors to convert into a pure income stream by stripping out latent growth prospects using Covered Calls.
Those interested in Wal-Mart for income should enter now with a purchase at the $77.66 market price, and concurrently sell the 1/17/2015 Covered Calls @ $3.25 premium for the 272-day contract. This provides $3.09 in time premium (<$0.16> negative intrinsic premium in the money), immediate cash of $309 per contract, an absolute yield rate boost of the $1.92 (2.47%) dividend to $5.01 (6.45%). It is an annualized boost of $4.20 to a total annual income of $6.12 per share (7.88%), representing a 3.19-fold increase in the total annual cash income on the shares.
This simple COWS strategy converts the modest 2.47% yield into a 7.88% rate, lifting WMT shares from conservative Dividend Aristocrat to GOD (Grand Old Dividend) status. It does so without adding any market risk, in fact, reducing risk by 3.5%.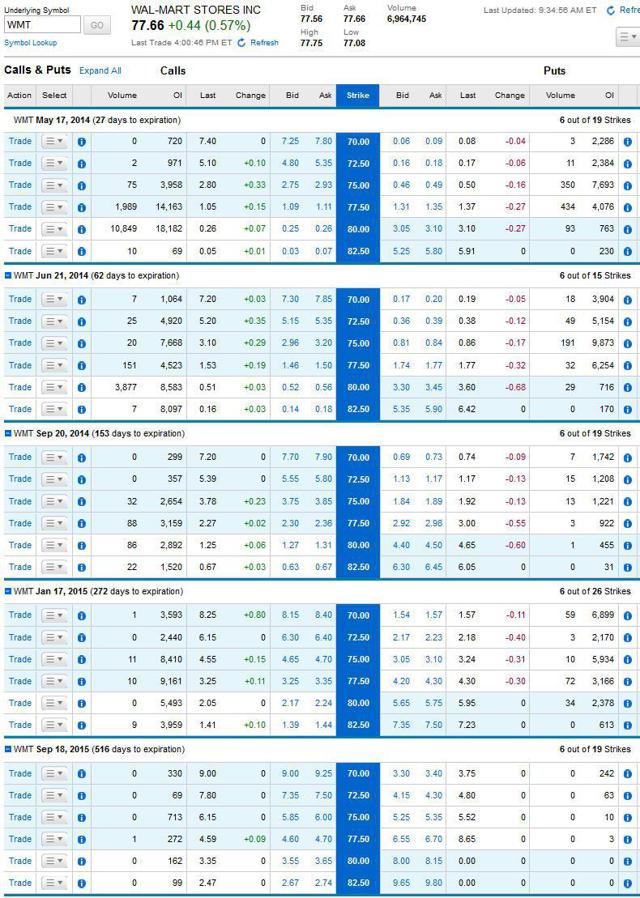 (Source: schwab.com)
Shareholders still focused on Growth may want to pick a higher Strike price on a shorter contract to add yield boost with minimal call away potential. The 5/17/2014 $80.00 Call @ $0.25 premium on the 27-day contract represents an annualized 4.35% yield rate added to the 2.47% dividend yield, a total annualized $1.92 + $3.38 = $5.30 (6.82% yield rate) if not called away.
If called away, the $2.34 intrinsic gain on Strike plus $0.25 premium provide a $3.59 total gain (a 4.62% absolute profit in 27 days, 62.49% on an annualized basis). This demonstrates why call away should not be feared by option writers. The 62.49% annualized profit is far above the highest expectations for Wal-Mart or any other equity found on the exchanges. Higher gains may occur from time to time on some tickers, but certainly fade to insignificance in the big picture and long view.
Conclusions and Recommendations:
Wal-Mart is not a growth stock, achieving over 83% of its total net gains in 2 short burst periods totaling just 57 months of its more than 42-year history.
The secure and long history of dividend payouts and growth mark Wal-Mart as a Dividend Aristocrat. Its yield of 2.47% is comfortable, but can be boosted with covered option writing while adding no risk, in fact reducing risk 3.5%.
Income investors should purchase at the $77.66 market price and concurrently sell the 1/17/2015 Covered Calls @ $3.25 premium.
Use of this COWS strategy converts the $1.92 annual dividend into $6.12, a yield boost from 2.47% to 7.88%, and includes $3.25/share cash income delivered today.
Investors not willing to abandoned the growth prospects can still be well-rewarded by writing the 5/17/2014 $80.00 Call @ $0.25 premium. A 4.62% annualized yield, in addition to the 2.47% dividend if not called away and a 62.49% profit on an annualized basis if the shares are called.
Options trading is always best done inside a tax preference account (IRA, ROTH, SIMPLE, etc.). Tax consequences of call aways should always be considered when selecting appropriate Strike prices and contract lengths.
Always be aware of ex-dividend dates and the potential for call, dividend capture, and Strike price adjustments by the option clearing house when writing contracts across dividend months.
I hope you will continue to join my explorations of the conservative path to wealth and income by value investing boosted with covered option writing. Simply click on the bold link labeled FOLLOW above the title at the top of this article to get an email notice of my new articles when they are published.
Find an index to my Tortoise Article series at this link.
An index to the GODs will also be available.
Thank you for your continued interest.
Disclaimer: I am not a licensed securities dealer or advisor. The views here are solely my own and should not be considered or used for investment advice. As always, individuals should determine the suitability for their own situation and perform their own due diligence before making any investment.
Disclosure: I have no positions in any stocks mentioned, but may initiate a long position in WMT over the next 72 hours. I wrote this article myself, and it expresses my own opinions. I am not receiving compensation for it (other than from Seeking Alpha). I have no business relationship with any company whose stock is mentioned in this article.