Recently Citi Equity Research released an updated list of global bond refugee stocks. Stocks with higher dividends and lower volatility as an alternative to bond investments. Among companies making the cut is Procter and Gamble (NYSE:PG) with a current dividend yield of 3.1%. Below we explore PG as a bond alternative evaluating the PG's relative value and dividend sustainability.
Bond Refugee Recommend Actions:
Overall Bond Refugee Rating: Hold & Accumulate at $77.25
Valuation: Modestly Overvalued
Dividend Stability: Highly Stable

Background
The Procter & Gamble Company engages in manufacturing and marketing of consumer-packaged goods. The company operates through five segments: Beauty, Grooming, Health Care, Fabric Care and Home Care, and Baby Care and Family Care. Each of these segments markets products under many of the most widely recognized brand names
Valuation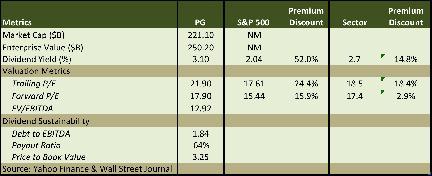 PG is a mega capitalization stock with a $221.1 billion market capitalization and $250.2 billion enterprise value. On an earnings basis PG trades at a premium to both the S&P 500 (NYSEARCA:SPY) index and Consumer Staples (NYSEARCA:XLP) sector on a trailing earnings basis. The premium t index and sector premiums narrow slightly on a forward earnings basis.
Analysts project PG's operating earnings will grow at 8.7% versus estimated operating earnings growth of 11.94% for the S&P 500 Index and 9.34% for large capitalization consumer staples sector.
We rate PG as modestly overvalued based on:
PG trades at a premium earnings multiple to both S&P 500 Index and consumer staples sector .
Projected five year growth rate is lower than both the S&P 500 and consumer staple sector
We recommend investors accumulate PG if shares trade back to 17 times forward earnings, a modest discount to the consumer staples sector.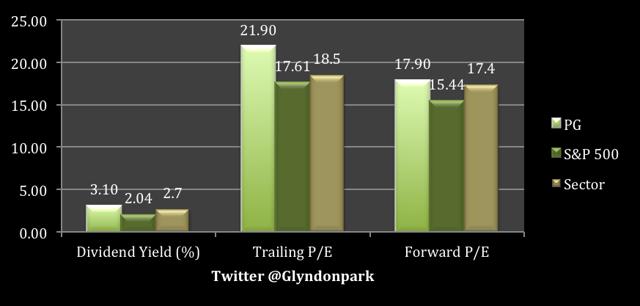 Dividend Stability
PG has a long history of dividend increases. Since 1970 PG has increased their dividend at a compound annual rate of 12.77%. PG uses very modest leverage with current cash flow and earnings more than sufficient to maintain the dividend. PG has a debt to EBITDA ratio of 1.48. PG pays out 64%of annual earnings in dividends. Given PG's stable product set and strong brand portfolio there is little likelihood the dividend would be cut due to an earnings for cash flow shortfall. Overall we rate PG's dividend as highly stable.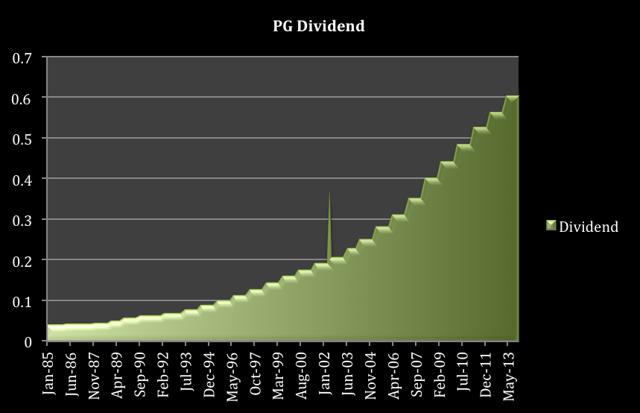 Disclosure: I have no positions in any stocks mentioned, and no plans to initiate any positions within the next 72 hours. I wrote this article myself, and it expresses my own opinions. I am not receiving compensation for it (other than from Seeking Alpha). I have no business relationship with any company whose stock is mentioned in this article.