Most of the stocks I purchase fit the criteria of traditional value investments. I like to purchase companies that are either causing irritation with investors for some reason or another, are going through some form of transformation (restructuring, recapitalization, spin-off etc.) or otherwise display some form of 'mistake' which causes Mr. Market to mis-price the security. Many of those stocks can easily be identified by reading a current mainstream business magazine and realizing which companies are getting bashed. Contrarian investments often offer investors multiple returns on their invested capital as the market slowly but gradually corrects its mis-pricing and the market price of the security catches up to its intrinsic value.
However, I allow only one deviation from my focused deep-value contrarian investment strategy. And that deviation is called Apple (NASDAQ:AAPL). Generally, I shy away from the technology sector, because I find many companies difficult to analyze and deriving a normalized level of free cash flow is often not an easy task -- especially when a company is busily pursuing acquisitions.
Some investors who follow my articles will mention my investment in Micron Technology (NASDAQ:MU) as another example of me venturing out of the value investing sub category of contrarian investing. While I am a big fan of Micron Technology, the company could also be characterized as a restructuring and reorganization play with respect to its Elpida acquisition.
Apple is a deep value investment
Apple remains the one and only 'true' growth investment in my portfolio of contrarian equity bets. Inconsistency? Hardly. While Apple clearly is the best example of a convincing growth story, the company also displays all the characteristics of an undervalued quality company: Apple drives innovation in the consumer electronics industry, sets new design standards, drives a hugely successful differentiation strategy leading to premium prices for its products, creates significant brand equity value, has a pile of cash on its balance sheet that is higher than the tower of Babel and conducts opportunistic and substantial share repurchases. At the same time, Apple trades at only 11 times forward earnings and approximately 9 times estimated 2014 free cash flow to equity.
Intrinsic value surpassing the $1,000 mark
The table below contains Apple's historical operating-, investing- and debt cash flows as shown in Apple's most recent 10-K filing with the U.S. Securities and Exchange commission. The table also contains a reconciliation to the free cash flow to equity which I use to derive the P/FCFE multiple (see below). My cash flow estimates for 2014 are also presented in the table below.
Considering that Apple presently trades at only 11 times forward earnings, it is not surprising that the tech company also fetches a low, though estimated, free cash flow multiple.
With an estimated free cash flow to equity of $50 billion in 2014 or $58.50 per share, Apple has an indicative initial free cash flow yield of 11% and a free cash flow to equity multiple of 9. Both ratios clearly highlight Apple's undervaluation.
A note of caution: Like any valuation model, the model below is not perfect and many investors might question a variety of assumptions, which, I assume, is fair enough. I think the major weakness in the derivation of the 2014 free cash flow to equity per share is the number of outstanding shares.
Apple has announced a substantial share repurchase program in 2013 that will see a dramatic decrease in outstanding shares. However, modeling the path of share repurchases is highly unrealistic, mainly because Apple repurchases its own stock opportunistically.
Apple reported outstanding (diluted) shares of 901.5 million in Q1 2014. In the model below I assume that Apple repurchases approximately 40 million shares in fiscal year 2014 which includes the $14 billion deployed in February to repurchase shares. I am aware that this estimate is at the lower end of what is possible, but I didn't want to push the valuation model too far. In any case, additional share repurchases far below intrinsic value are a good thing for shareholders and only add to the attractiveness of an Apple investment.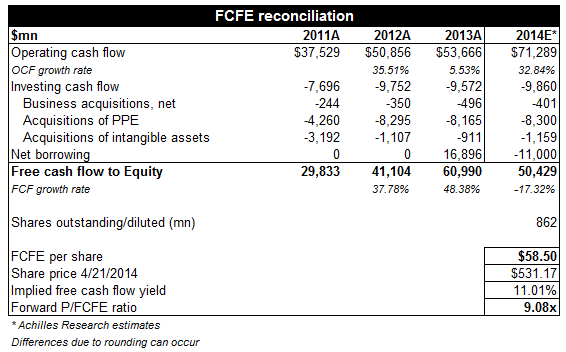 (Source: Achilles Research, Apple's SEC 10-K Filing)
Applying a standard discounted free cash flow model with adjusted FCFE growth rates over the planning horizon, yields an intrinsic value of approximately $1,255 per Apple share. With a current share price of $531.17, Apple stock has more than 136% upside potential.
(Source: Achilles Research)
In addition to strong free cash flow growth underpinning Apple's high intrinsic value, I also like to mention Apple's gigantic cash pile as a major driver of shareholder value: As of December 28, 2013 Apple had more than $158 billion in cash and short- and long-term investments on its balance sheet. This cash will largely be used to fund share repurchases and will likely be a fundamental driver of higher share prices in 2014 and 2015.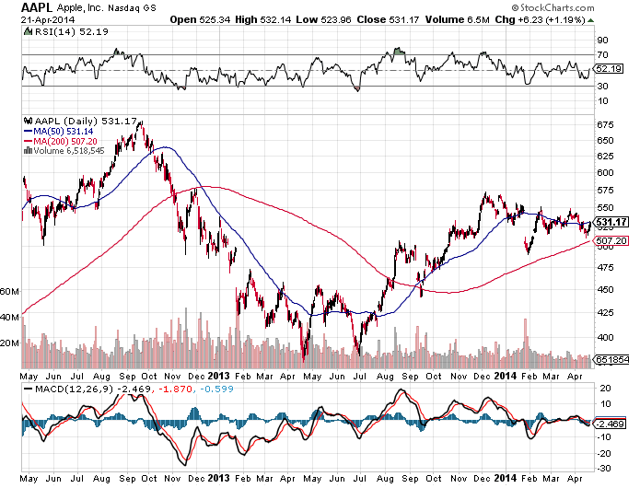 (Source: StockCharts.com)
Conclusion
I must confess: I find it quite striking, that this coveted tech company trades at such low earnings and estimated free cash flow multiples. Given the hype about Apple's tech products, strong free cash flow growth and a treasure trove full of cash to fund a massive share repurchase program, I think Apple is seriously undervalued. I also like to remind readers that Apple traded at $700 just one and a half years ago indicating that the market already identified Apple's outstanding growth potential. Long-term BUY. Strong, long-term BUY on any dips below $500.
Disclosure: I am long AAPL, MU. I wrote this article myself, and it expresses my own opinions. I am not receiving compensation for it (other than from Seeking Alpha). I have no business relationship with any company whose stock is mentioned in this article.