HMS is a company that works alongside the healthcare sector in the USA to provide maximum cost-containment solutions at the state and federal level. It also works alongside commercial insurers to oversee the efficient and accurate management of healthcare costs. The company is based out of Irving, Texas and it is fully owned by HMS Holdings (NASDAQ:HMSY). The company has long been focused on the healthcare sector and works hard to ensure the integrity of the healthcare system by providing accurate payments of claims.
HMS validates and verifies that people who qualify for certain benefits receive them. Year on year, the company saves billions of dollars for the government (at all levels) as well as clients. This small-cap company serves multiple clients including child-support agencies, Medicaid and Medicare, employers who are self-insured, as well as HMOs.
The company's clients span more than 40 states across the USA and it also includes group health plans, Medicaid managed care plans, veterans administration facilities, health and human services programs and beyond. During 2013 alone HMS holdings Corporation was able to save in excess of $3 billion through audits on the client-side and physician side.
Auditing Healthcare Costs to Ensure Maximum Efficiency
Just recently, on 9 April 2014, the CMS (Centers for Medicare and Medicaid Services) released a report detailing the medical services/procedures that were provided by 880K physicians across the USA. According to the reports processed in 2012, there was $77 billion billed under the Medicare program. HMS Holdings utilizes data sets such as the aforementioned to determine as accurately as possible the types of services performed, the payments submitted by Medicare and the total charges.
By evaluating all of the data, it is possible to gain a deeper insight into the practices and spending patterns related to physicians. The company further provides solutions in the form of the commercial coordination of benefits, Medicaid coordination of benefits and subrogation solutions. The solutions offered by HMS are implemented to counter abuse and fraud, to perform credit audits, claim audits, medical bill audits, healthcare analytics and other services.
Stock Performance of HMS Holdings Corp.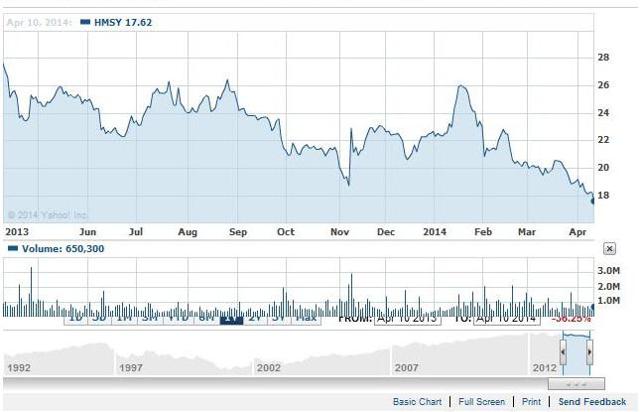 (Source: Google Finance)
The stock is currently trading at 18.26 - significantly down from the 52-week high of 27.30. The volume of shares traded is 650,298 and the average three-month volume is 840,053. HMS Holdings Corp. has a market cap of $1.54 billion and a price-to-earnings ratio of 39.16. The stock enjoyed a comparatively strong performance over the past year, and it is now near its 52-week lows.
The stock has been punted by Forbes who believes that there is still plenty of room for upward movement with this equity. There is no doubt that the misappropriation of funds between Medicare, Medicaid, physicians and fraudulent claims are a big source of concern for the federal government and the insured alike.
Forbes alludes to a US Department of Health and Human Services report detailing $70 billion worth of costs for Medicare and Medicaid in 2010. The efficiency of HMS Holdings Corporation is such that their performance fees are only earned if costs are cut. The remaining balance of their revenue streams come from service contracts. Another notable aspect of this particular stock is that there is little in the way of competition at present.
With the massive overhaul of the healthcare system currently taking place, it is clear that HMS Holdings Corp. will play a much larger role in ensuring that mismanagement, malfeasance and fraud are kept to an absolute minimum. HMS Holdings is generally perceived by many investors to be undervalued, and as such it is currently ripe for the picking.
Industry News Related to HMS Holdings Corp.
One of the board members of HMS Holdings Incorporated was recently appointed as a board member of CorMedix (NYSEMKT:CRMD). This pharmaceutical company develops and sells therapeutic products for cardio-renal & infectious diseases. Cora M. Tellez is the President/CEO of Sterling HSA and she is currently a board member of HMS Holdings Corporation.
In other news, HMS Holdings Corp. recently announced that it had extended its third-party liability contract with the Commonwealth of Massachusetts EOHHS (Office of Health and Human Services). This is being done in an attempt to make enrollment decisions and ensure that benefit plans are implemented with regards to Obamacare.
Online trading interest in HMS Holdings Incorporated is beginning to gain momentum in light of these recent developments. Further, as the enrollment numbers with Obamacare continue to increase, so the healthcare exchanges will require greater oversight by companies such as this one. It stands to reason therefore - in the absence of strong competition - that HMS Holdings Incorporated certainly has lots of room for upward movement in 2014.
On February 28, 2014, the company released its annual financial reports detailing the economic performance of the company during the fourth quarter of 2013. While revenues decreased year on year by 8.6%, net income was $11.1 million. For the full year - 2013, revenues increased by 3.8% to $491.8 million. Net income remained at $40 million/$0.45 per diluted share. This was lower than the $50.5 million/$0.57 per diluted share in 2012.
The reasons cited for poor performance in the fourth quarter were increased costs. By exploring year-on-year data, it is evident that HMS Holdings Incorporated generated declining net incomes between 2012 and 2013 (in thousands of dollars): 47,785 (2011), 50,516 (2012) and 39,997 (2013). These figures are more significant when total revenues are taken into account: 363,826 (2011), 473,696 (2012) and 491,763 (2013). Last year's total revenue came at a cost of 345,883.
Millions of people are going to be signing up during the course of the year for healthcare plans and the sheer bureaucratic nightmare that is bound to ensue will require checks and balances. While there are many auditing firms out there, few have the expertise of this particular small-cap company. In the short term, it is likely that the stock will remain near its 52-week lows; however the upside potential is great as investors feel that the stock is presently undervalued.
Disclosure: I have no positions in any stocks mentioned, and no plans to initiate any positions within the next 72 hours. I wrote this article myself, and it expresses my own opinions. I am not receiving compensation for it (other than from Seeking Alpha). I have no business relationship with any company whose stock is mentioned in this article.