Prem Watsa of Fairfax and Ross Wilbur of WLR Funds have recently announced an investment in Eurobank Ergasias - fourth-largest Greek bank. This will likely mean an end to the free fall of the bank's share price following capital infusions and partial nationalization due to 6 year long recession in Greece.
Investors have a great opportunity to invest alongside value investment gurus in the recovery of Greece's financial sector. The situation is likely to be a replay of US and Irish banking sectors in the years, when those who realized franchise value of banks at question and invested at the bottom of the cycle generated spectacular returns.
Eurobank and oligopolistic nature of banking in Greece
Following the prolonged crisis and consolidation, Greek banking market became attractive from investment perspective due to its oligopolistic nature - 4 largest banks have 93% cumulative market share. Bank operating in so concentrated markets tend to generate superior returns as on average they are able to charge higher prices for their services and demand higher interest rates than banks operating in highly fragmented markets. Obviously that has not been the case for Greek banks over the few years due to prolonged recession. But as the economy recovers fortunes are likely to reverse.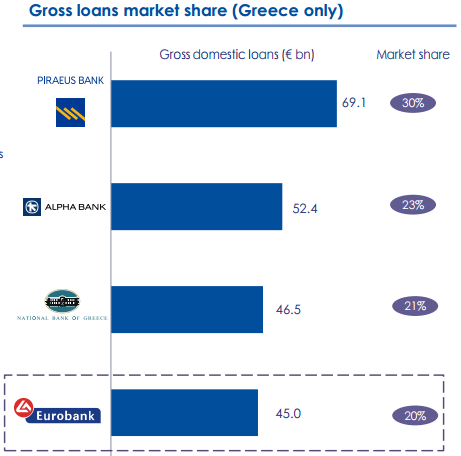 Source: Eurobank's presentation, Mar 2014
Eurobank is currently the 4th largest bank in Greece with total assets of eur80m. The bank has been almost fully (95%) nationalized by the government due to liquidity problems. Following a number of rounds of significant dilution, its share price has decreased thousand-fold from eur300 to eur0.39. The bank currently has eur80bn in assets is focused on retail banking and asset management. Its main operations are in Greece, but the bank is also no. 6 and no.7 player in Bulgaria and Romania respectively.
Eurobank is listed in Athens stock exchange under ticker EUROB. It also has an ADR listing in US with a ticker (OTCPK:EGFEY), however the ADR listing is rather illiquid.
Likely the last capital increase and Fairfax investment
Bank of Greece assessed a capital deficiency of eur2.9bn for Eurobank and thus the bank is pursuing a capital increase through private placement and public offering. This will strengthen bank's Core Tier 1 ratio to 19%. Prem Watsa (from Fairfax) and Ross Wilbur (from WLR Funds) clearly believe this equity raise should be the last one and will provide sufficient liquidity to absorb any upcoming loan book losses.
Fairfax is part of a consortium (the private placement part) that has pledged to invest eur1.3bn in the bank, equivalent to 46.5% of the Capital Increase at the price of Eur0.3 (c. 25% discount to the current price). Allocations for each member of consortium are listed in the table below:

Source: Bank press release, Apr 2014
Overall the capital increase will result in issuance of 9.5bn of additional shares compared to the current 5.5bn. This will result in significant equity dilution for both Hellenic Financial Stability Funds (95% owner) and current public shareholders. This dilution is already fully included in the share price as the capital deficiency was announced back in March 2014. The new shareholder structure will be the following:
| | | |
| --- | --- | --- |
|   | Old shareholder structure | New shareholder structure |
| HSFS | 95.2% | 35% |
| Old public investors | 4.8% | 2% |
| Consortium |   | 30% |
| New public investors |   | 34% |
| Total | 100% | 100% |
The share allocations listed above assume new equity will be issued at eur0.3/share, which is a 25% discount to the current price. The final purchase price will be determined by the end of April, but cannot be lower than eur0.3/share. As currently the stock is trading at eur0.39/share, the market seems to believe equity issue will be done at slightly higher levels.
Resemblance with Fairfax investment into Bank of Ireland
Both Prem Watsa and Ross Wilbur have already been in a similar territory before. Back in July 2011 Farifax together with some of the same consortium members made an investment in a struggling Bank of Ireland. At the time the consortium paid c. eur0.1 for each Bank of Ireland share. These shares currently trade around eur0.3 - thus consortium has tripled the money in less than 3 years (see chart below).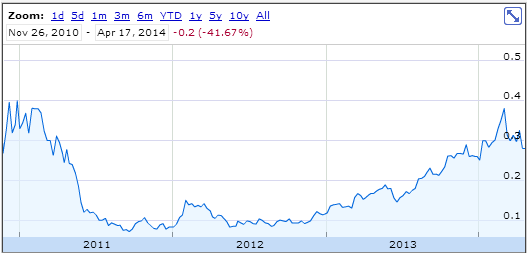 Source: Google finance, Bank of Ireland share price development
The investments in both banks look indeed very similar:
Both were made at a time when the banks were struggling and needed additional capital to finance ongoing loan book losses;
Both were partially owned by the government, albeit government's stake in the Bank of Ireland was lower at 36%;
Both investments resulted in similar ownership of the bank - around 30-40% of all equity;
Share prices of both banks were trading at the lowest levels historically;
In both cases consortium took an activist role to manage the turnaround of the bank.
In both cases competitive nature of the banking industry seems similarly oligopolistic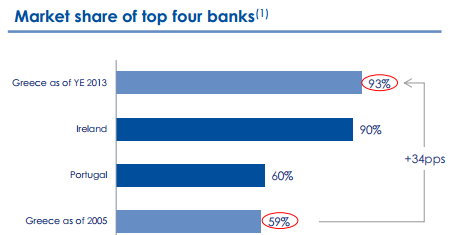 Source: Eurobank's presentation, Mar 2014
The bottom line is that due to similarity of both cases and involvement of the same people, Eurobank investment is likely to produce similar financial gains for investors. Prem Watsa (CEO of Fairfax) is generally quite conservative investor and for example has currently hedged his long equity exposure in the whole of portfolio due to presumed market overvaluation. Thus I view his investment in the bank as a sign that this is the last equity issue for the bank and that bank is likely to return to profitability shortly. The same goes for involvement of Wilbur Ross who is widely known for his track record in restructuring failed companies and successful turnarounds.
Conclusion
One can look at Eurobank situation with a hindsight of what happened to the banks and their share prices in US after the crisis. Most banks had to recapitalize and shareholders suffered significant equity dilution. Investors were scared and share prices fell to the levels that reflected hardly any upside from recovery. However, certain value investors (e.g. Warren Buffett or Bruce Berkowitz) realized that economy will recover and banks' performance will improve eventually. They invested close to the bottom of the cycle and saw spectacular returns.
Now a similar scenario can be replayed in Greece with Eurobank. The bank is trading at the lowest historical prices. Value orientated investors, who have already carried through an extremely profitable investment with Bank of Ireland, are putting their capital at stake. This makes any further equity dilution very unlikely. Bank's financial performance is already showing material improvements over the last few quarters and Greek recession is likely to end this year. Improving economy coupled with initiatives that are already undertaken by management will likely bring bank to profitability shortly and investors will see at least 75%-100% upside in share prices.
Also it is worth remembering that banking industry in Greece is much more concentrated than in US and thus when recovery kicks in Greek banks should also be much more profitable than their peers in US.
Disclosure: I am long EGFEY. I wrote this article myself, and it expresses my own opinions. I am not receiving compensation for it (other than from Seeking Alpha). I have no business relationship with any company whose stock is mentioned in this article.
Additional disclosure: I am long Eurobank in Athen's stock exchange
Editor's Note: This article covers one or more stocks trading at less than $1 per share and/or with less than a $100 million market cap. Please be aware of the risks associated with these stocks.