In January I wrote an article in which I suggested that investors should view Primero Mining's (NYSE:PPP) acquisition of Brigus Gold with some skepticism. While the deal would be accretive to Primero shareholders on a gold-produced-per-share basis there were issues with the deal.
The Black Fox mine is a relatively high cost producer when compared with Primero's San Dimas mine and its soon to be producing Cerro del Gallo project. Furthermore it only had about 7 years of high certainty production. Even if we extended this mine life to management's expectations (14 years) the DCF valuation of Black Fox didn't justify an acquisition at the (then) current gold price of $1,240/ounce.
One of the appeals of Primero Mining was its stellar balance sheet. By acquiring Brigus Gold the company assumed a great deal of debt. This would make it more difficult for the company to finance the development of Cerro del Gallo.
In short the company became riskier, and it's value was more highly leveraged to the gold price.
With gold prices rising since then, and with sentiment improving in the gold mining sector, the shares of Primero Mining have risen considerably. The shares are up more than 25%. But the value of the company has risen much more considering that the share count had risen due to the acquisition. At the time there were just 116 million shares outstanding, which meant that the company was worth about $557 million. Now there are 158 million shares outstanding, and the shares are valued at $6.05, giving the company a valuation of nearly $970 million with a gold price that is just 5% higher!
While the company added gold production we have to keep in mind that this production is higher cost production. Furthermore, this higher cost is worsened when we consider that Sandstorm Gold (NYSEMKT:SAND) owns a stream on the Black Fox mine that entitles it to buy 8% of the gold produced at $500/ounce. This doesn't sound like a big deal. But if we consider that the margins at Black Fox are thin enough without the streaming deal, and if we then consider that this stream reduces Primero's effective realized gold price--down to $1,236/ounce at $1,300/ounce gold--we see that, in fact, the Sandstorm stream is a big deal.
What's more, the company added Brigus Gold's poor balance sheet that was laden with debt. One of the appeals of Primero Mining prior to the deal was its strong balance sheet. At the end of December the company had $100 million in working capital and just $27 million in debt. Now the company has considerably more debt--$77 million according to the most recent presenation. Other liabilities such as deferred income tax jeopardize the company's financial position even further.
With Brigus acquisition behind us we are left with a company that isn't much more valuable than it was before the deal unless we assume either a much higher gold price or substantial resource expansion at Black Fox. Furthermore, the company is at a point where it has numerous expenses from a re-evaluation of the resources at the Black Fox mine to the $150 million construction and development of its next mine--Cerro Del Gallo. This doesn't mesh well with the company's more restricted capital position.
With this being the case the outperformance of Primero shares over the past few months makes no sense. This strong performance along with added supply coming from two sources--the Brigus deal which increased the float by 36%, and the Goldcorp (NYSE:GG) divestiture which added 30 million shares to the market--leaves Primero shares particularly vulnerable to the downside.
In what follows I go through the company's three properties and analyze the cash-flow potential from each of them. It will become clear that even when we double the lives of all three mines that Primero shares are significantly overvalued at $1,300/ounce gold. Depending on which discount rate is used in valuing Primero's future cash-flow I would argue that the stock has at least 40% downside, and possibly more.
San Dimas
The San Dimas mine is a relatively low cost underground gold and silver operation in Mexico. In 2014 the mine is expected to produce about 120,000 ounces of gold and 6.25 million ounces of silver, although Silver Wheaton (SLW) owns a streaming deal on the silver, which means that Primero has to sell about 3/4 of its silver production to Silver Wheaton at $3.90/ounce. Starting next year all of it up to 6 million ounces goes to Silver Wheaton with half of the remainder going to Silver Wheaton. This basically means that San Dimas is effectively a gold mine with the silver stream offsetting some of the cost of production.
In 2014 the mine is expected to have all in production costs of about $950/ounce - $1,050/ounce. However, cash costs are expected to be just under $400/ounce net of silver credits. There are two reasons for the large jump. The first is the mine expansion, which is taking place now. That, along with sustaining costs, will reach nearly $40 million.
Second, the company is spending nearly $16 million on exploration this year. That's well over $100/ounce, which is a lot, but I think the company has good reason for exploring so aggressively. San Dimas only has about a million ounces of measured and indicated resources. At current production levels that's only about 8 years of production. While the mine has another million ounces of inferred resources, inferred resources are inherently speculative, and in resource statements the assertion that there are inferred resources is often followed by a qualifying statement to the effect that there is no guarantee that these resources exist or that they can be mined profitably. I think that this is particularly true of the inferred resources at San Dimas, which are of a considerably lower grade than the measured and indicated resources. The million ounces of measured and indicated resources occur at 7.2 grams per tonne, while the million ounces of inferred resources occur at just 4.2 grams per tonne.
In short, while the San Dimas mine has a long history of gold and silver production, continuation of such production beyond 8 years will either require a higher gold price (which would make the lower grade inferred resources economical to mine), or additional higher grade resources. For this reason the $16 million in exploration makes sense.
So for this year a great deal of the effective cost of production at San Dimas is due to these extra costs, which are adding about $600/ounce to the total cost of operating the mine. While there are always costs beyond the actual mine operation potential investors will be pleased to learn that such costs will be considerably lower in the future.
While I think a lot of the value that investors are pricing into Primero shares comes from the assumption that management will be able to mine more than the 1 million measured and indicated resources we need to value the mine as if this weren't the case in order to determine a lower bound for the mine's DCF valuation.
Assuming that the mine will produce 125,000 ounces of gold for 8 years at $1,000/ounce in 2014 and at $750/ounce in subsequent years, we get the following DCF valuation. Taxes are included. Amounts are in millions of dollars.
| | | | |
| --- | --- | --- | --- |
| Discount Rate/Gold Price | $1,200 | $1,300 | $1,600 |
| 8% | $192 | $238 | $378 |
| 12% | $164 | $204 | $325 |
Since a great deal of the appeal of Primero Mining is management's history of growing resources it follows that we should build this expectation into a valuation of San Dimas. We should also take into consideration the mine's long history of production, as is outlined in the following chart.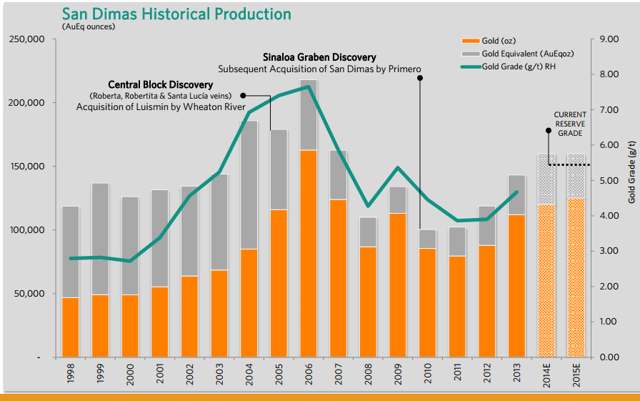 Source: Primero's presentation, p. 50
With that being the case let us assume that the company will produce for another 8 years at the same annual rate, albeit at a higher production cost of $825/ounce (10% higher).
| | | | |
| --- | --- | --- | --- |
| Discount Rate/Gold Price | $1,200 | $1,300 | $1,600 |
| 8% | $286 | $358 | $561 |
| 12% | $225 | $281 | $451 |
Black Fox
Primero acquired the Black Fox project when it acquired Brigus Gold. The project currently has an estimated 7 year mine life given the current resource base, however there is a lot of potential for resource expansion, and the acquisition doesn't really make sense without it.
As of the end of December the mine had an estimated 820,000 ounces of gold, which will allow for 2014's 70,000 - 80,000 ounces of production plus about 6 years of 120,000 ounces of annual production. 2014 production is so low because lower grade ore is being mined. This is also increasing production costs.
There are other contributing factors to the mine's higher production costs as well. For instance Primero is developing the underground complex at Black Fox, and it is also spending $8.5 million on exploration--a necessity given the rapidly depleting resource. As a result the company is forecasting $1,300 - $1,400/ounce production costs at Black Fox for 2014, which means that the mine will lose money at the current gold price. Going forward, however, the ore grade will increase, and other costs will come down. For instance the nearly $100/ounce cost of developing the underground mine will be a one time expense. Also, as is expected when a mining company acquires a new property, Primero is performing its own resource analysis, and this will add to 2014 expenses as well.
In all, Primero's capital expense at Black Fox for 2014 is $38 million, or over $500/ounce. This should be significantly lower in 2015 and beyond. Cash costs--which will be $850 - $900/ounce in 2014--should also come down in the future considering that the mine will process higher grade ore.
While it is difficult to know exactly what production costs will be, the fact that ore grades will rise 20% or so in the next year means that cash-costs will likely fall roughly $100/ounce, and sustaining and other costs will also fall considerably down from $500/ounce to $350/ounce, and possibly lower depending on what the new resource analysis implies (i.e. what additional mine development needs to take place in order to maximize value). While there are a lot of variables an all in cost estimate of $1,100/ounce seems reasonable for 2015 - 2020.
Investors should also note that Sandstorm Gold owns a stream on the Black Fox mine. In particular it owns an 8% stream on the current zone being mined for which it pays $500/ounce. It also owns a 6.3% stream on the area to the southeast of the current mine, but northwest of the Grey Fox exploration zone. The following map clarifies this.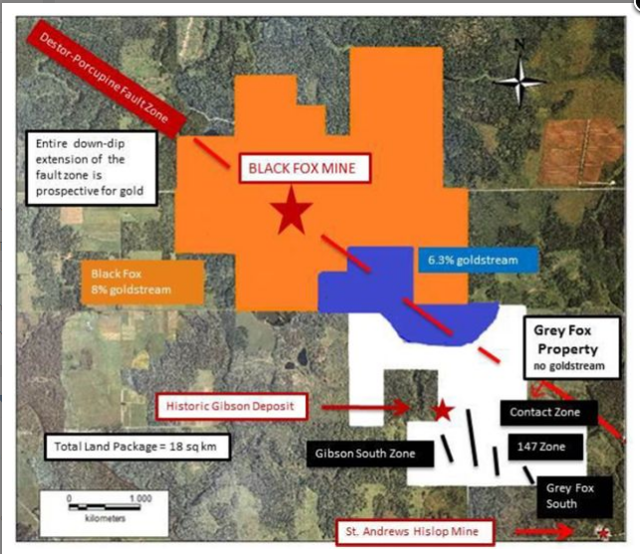 An 8% stream doesn't seem like a lot, but keep in mind that at $1,300/ounce gold Primero is losing out on $800/ounce for nearly 10,000 ounces of annual production, or $8 million per year.
The following table estimates the current mine's value at various gold prices. Note that I am assuming the low end of 2014 production costs of $1,300/ounce. Taxes are included and amounts are in millions of dollars.
| | | | |
| --- | --- | --- | --- |
| Discount Rate/Gold Price | $1,200 | $1,300 | $1,600 |
| 8% | $7 | $40 | $144 |
| 12% | $5 | $34 | $124 |
Given these figures we can assume that Primero would not have purchased Brigus Gold if 7 years of production were the extent of the mine's life. Brigus was confident that it could produce for twice as long. Furthermore, while the mine is on a very small piece of land--about 1,500 hectares--it has other promising areas with exploration potential, most notably the Grey Fox area and the area between the Grey Fox and the Black Fox areas.
Brigus' management was confident that it could produce for at least another 7 years. While this is speculation we will give Primero shareholders the benefit of the doubt. Assuming another 7 years of 120,000 ounces of production per year at $1,100/ounce, and assuming that Sandstorm Gold is entitled to 6.3% of the gold produced at $500/ounce, we get the following revisions to the above numbers.
| | | | |
| --- | --- | --- | --- |
| Discount Rate/Gold Price | $1,200 | $1,300 | $1,600 |
| 8% | $20 | $75 | $244 |
| 12% | $14 | $58 | $192 |
Cerro Del Gallo
(Note that the company released a feasibility study for Cerro Del Gallo in 2012 but it has since made estimates that show improvements to capital cost estimates. While these aren't official I will use them in order to give management the benefit of the doubt.)
The Cerro Del Gallo project is the company's primary development project. It currently has a short mine life estimate at just over 7 years, but it is going to be a low cost producer and it has the potential for resource expansion.
Once production commences at the end of 2015 it should average about 95,000 gold equivalent ounces, with equivalents being silver and copper. Actual gold production will be 65,000 ounces. Cash-costs will be low at $650 - $700/ounce, and sustaining capital should come to just $2 million per year, or about $25 per gold equivalent ounce.
Assuming 7 years of production at $725/ounce the following table estimates the mine's NPV at various gold prices. I am including $150 million in initial capital expenses as well as taxes. All amounts are in millions of dollars.
| | | | |
| --- | --- | --- | --- |
| Discount Rate/Gold Price | $1,200 | $1,300 | $1,600 |
| 8% | $29 | $67 | $158 |
| 12% | $3 | $36 | $114 |
Like with Primero's other properties it is worth considering what Cerro Del Gallo is worth assuming that the mine's life is longer than the 7 years outlined in the mine plan. An expansion of another 7 years would be consistent with the mine's measured and indicated resources. Assuming that production volume and costs remain consistent we get the following revised NPV matrix.
| | | | |
| --- | --- | --- | --- |
| Discount Rate/Gold Price | $1,200 | $1,300 | $1,600 |
| 8% | $111 | $167 | $310 |
| 12% | $57 | $101 | $214 |
Valuing Primero
In addition to these mining assets the company had about $24 million in net assets including working capital minus other liabilities as of the end of December. Brigus Gold's flat working capital along with its large debt load and deferred income tax unfortunately bring this figure down to ($70 million). Even if we assume that San Dimas produced about 30,000 ounces of gold at $1,000/ounce the net cash flow from that after taxes comes to just $6 million. Recall that Black Fox is not generating cash-flow at current prices due to low ore grades and other expenses. Chances are that Black Fox was actually cash-flow negative in Q1, as the $1,300/ounce AISC estimate is an average for 2014 which is higher in Q1 and lower in subsequent quarters as ore grades come back up. But we will give the company the benefit of the doubt and assume 0 cash flow at Black Fox. This still means that the company's assets aside from its 3 mines come to roughly ($64 million). Adding this figure to the sum of the three optimistic NPV matrixes for the companies three mines we get the following. All amounts are in millions of dollars.
| | | | |
| --- | --- | --- | --- |
| Discount Rate/ Gold Price | $1,200 | $1,300 | $1,600 |
| 8% | $353 | $536 | $1,051 |
| 12% | $232 | $376 | $857 |
Given these figures, and given the company's current $970 million valuation we can see that the shares are clearly overvalued on a DCF basis.
This fact in itself isn't a deterrent to investment. A company that has a proven track record of consistently generating shareholder value merits consideration even if it trades at a premium to the NPV of its assets. But keep in mind that this total assumes additional production at all of Primero's mines that may never occur. Also keep in mind that considering the high production costs at Black Fox, considering the lost value due to the Sandstorm stream, and considering Brigus' high debt load that there is solid evidence suggesting that Primero's management failed to generate shareholder value in acquiring Brigus shares. Therefore such a premium is not warranted.
Ultimately the qualities that made Primero Mining so appealing prior to the Brigus deal have largely dissipated. While I hinted at this in January we now have clearer guidance to evidence this point. But what's worse is that the market's egregiously positive reaction to the deal has substantially inflated the value of Primero shares to a point where they are vulnerable to a significant decline. With this being the case I think now is an excellent time for investors to get out of the stock and to look for opportunities elsewhere.
Disclosure: I am long SLW. I wrote this article myself, and it expresses my own opinions. I am not receiving compensation for it (other than from Seeking Alpha). I have no business relationship with any company whose stock is mentioned in this article.