Value investors aren't looking to make a quick buck by dipping in and out of stocks. They prefer long-term strategies that produce big results for many years. Trends come and go, but the best business is the one that will be needed day-in and day-out no matter what the economy does.
There's one industry that matches both definitions: a growth trend that could last decades. That industry is agriculture.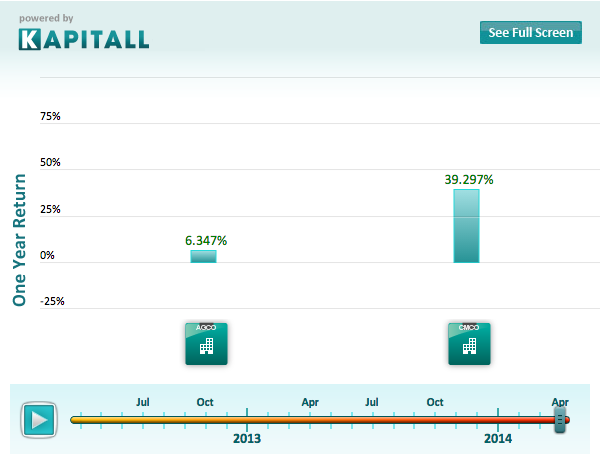 Click here to get more information on the companies under discussion.
Farmland is being eyed as the next big opportunity for investors, as global demand continues to rise. It's a sector that traditionally hasn't been touched by Wall Street, but recent numbers show a change in institutional ownership. In 2011, only 1% of U.S. farmland was owned by large investors - around $3 billion to $5 billion. Last year revealed that institutional ownership had jumped to $10 billion, however, suggesting that private interest in agriculture is accelerating rapidly.
Global demand for dairy products has driven up prices and stimulated growth in companies that provide feedstock like S&W Seed Company (NASDAQ:SANW), a major distributor of alfalfa hay. The average price for hay currently stands at around $194 and could easily reach over $230 by summer thanks to a combination of increasing demand and limited arable land.
Consumer trends like healthy living and organic products have also contributed to the growing interest in agriculture. Poultry food companies like Sanderson Farms (NASDAQ:SAFM) have been able to raise prices and drive up margins while adding total revenue to the bottom line. Tyson Foods' (NYSE:TSN) stock has climbed over 80% in the past year with the prices of other food products like beef and pork continuing to increase.
As agriculture and farming becomes more and more essential to the global economy, farms will need to expand in order to keep up with demand. The average size of a farm spans 80 acres of fields, which means specialized equipment is needed to plant seeds and harvest crops. Like the old saying goes, "when everyone is looking for gold, it's a good time to be in the pick and shovel business."
Stocks to Watch
Two small companies in the farm and construction machinery industry could provide both growth and value opportunities for investors. Both stocks trade under 10 times earnings, have a market caps of less than $1 billion, and a PEG ratio of less than 1.
AGCO Corporation (NYSE:AGCO) designs, manufactures, and distributes agriculture machinery with products in over 140 countries across the globe. The company's equipment includes tractors, sprayers, combines, hay tools, tillage, and many other farming machines.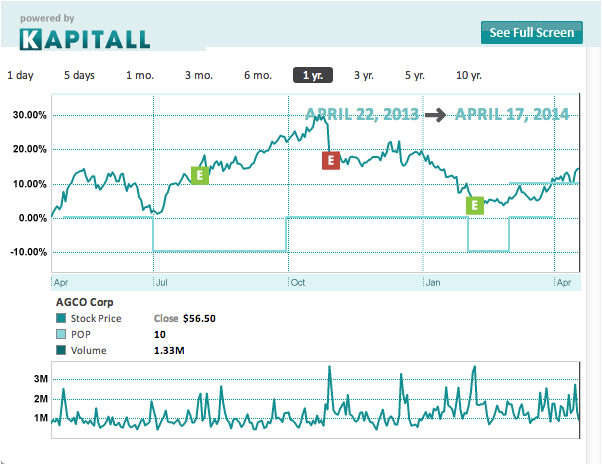 Click here to get the full, interactive chart on AGCO.
AGCO's stock trades at just 9 times earnings with a long-term EPS growth rate of 10%, giving it a PEG ratio of 0.94. Quarterly earnings growth year-over-year is over 34%, and the company's balance sheet gives it plenty of room to grow. AGCO's long-term debt is $938 thousand while cash and cash equivalents stand at just over $1 million. Investors get some downside protection with a dividend yield of 0.81% as well.
Columbus McKinnon Corporation (NASDAQ:CMCO) isn't a pure play on the farmland catalyst, but is a faster growing company. It engages in the manufacturing of equipment such as hoists, rigging, and cranes used in multiple industries from food processing to energy exploration.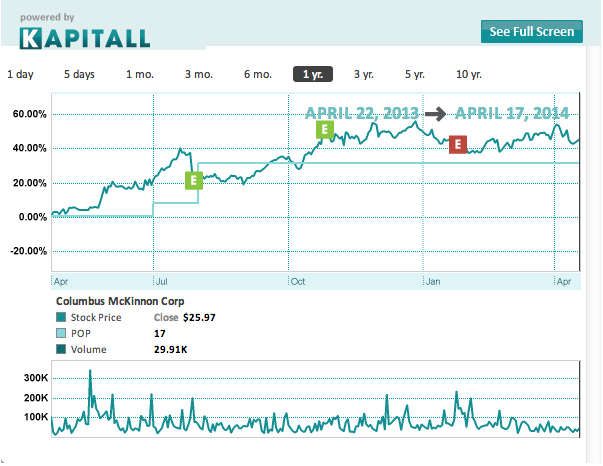 Click here to get the full, interactive chart for CMCO.
The stock trades very cheaply at 7 times earnings and has a long term EPS growth rate of 28%, giving it a PEG ratio of 0.50. EPS growth this year is 199%, and Columbus McKinnon has nearly enough cash on hand to equal long-term liabilities, giving it few barriers for growth. The stock carries a relatively small dividend of 0.61%, but provides some extra income and protection for shareholders.
Disclosure: I have no positions in any stocks mentioned, and no plans to initiate any positions within the next 72 hours.
Business relationship disclosure: Kapitall is a team of analysts. This article was written by Daniel Cross, one of our writers. We did not receive compensation for this article (other than from Seeking Alpha), and we have no business relationship with any company whose stock is mentioned in this article.