Coca-Cola (NYSE:KO) and International Business Machines (NYSE:IBM) are both highly profitable businesses with a long history of success. Coca-Cola was founded in 1892. IBM was founded in 1911. Finding businesses that have survived the creative destruction of capitalism for over 100 years is rare. Finding businesses that have not only survived but thrived is even rarer still. These businesses have built powerful brands over the last century that are recognizable by most Americans.
IBM is ranked the 10th most valuable brand in 2014. Coca-Cola ranks as the 12th most valuable brand in 2014.
Source: Brands Directory
Current State of Affairs
Coca-Cola is the largest beverage company in the world with 4 of the world's top 5 sparkling (carbonated) beverages: Coca-Cola, Diet Coke, Fanta, & Sprite. Coca-Cola is more than a soda company; it is a beverage company with several billion dollar water and juice brands.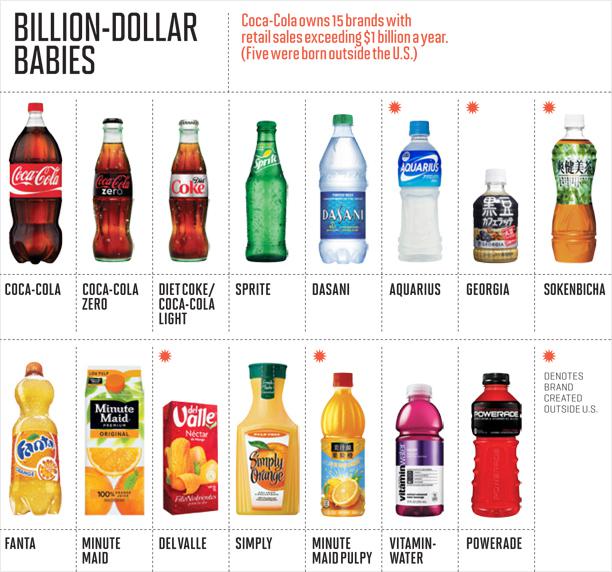 Source: Muhtar Kent's New Coke
Coca-Cola is facing headwinds from declining soda sales and possible regulatory pressure. The business is attempting to mitigate these headwinds by expanding their healthier non-soda offerings.
IBM is a diversified information technology business. The company operates in 5 divisions:
Global Technology Services: Provides IT infrastructure and business process services.

Global Business Services: Provides consulting and application management services.

Software: Creates and distributes middleware and operating system software.

Systems & Technology: Provides semiconductors, data storage devices, and storage devices.

Global Financing: Facilitates client acquisition of IBM systems, software, and services.
IBM faces continuous headwinds, as it must constantly reinvent itself to stay up-to-date with the fast moving technology industry. IBM is mitigating these headwinds by focusing the company on expected high growth areas: Big Data, Cloud Software, and Engagement through social, mobile, and security.
Comparison 1: Valuation
Coca-Cola appears to be fairly-valued based on its P/E ratio compared to peers.
| | | |
| --- | --- | --- |
| Company | Ticker | P/E |
| Coca-Cola | KO | 21.66 |
| Dr. Pepper Snapple | | 17.23 |
| National Beverage Group | | 21.20 |
| Monster | | 34.64 |
| Pepsi | | 19.36 |
IBM appears to be undervalued based on its P/E ratio compared to peers.
| | | |
| --- | --- | --- |
| Company | Ticker | P/E |
| IBM | IBM | 12.96 |
| Accenture | | 18.48 |
| Wipro | | 25.68 |
| Cognizant Technology | | 24.53 |
| Xerox | | 12.29 |
IBM's P/E ratio is significantly lower than the S&P500's P/E ratio of 18.59. Coca-Cola is slightly overpriced compared to the S&P500's P/E ratio. IBM handily beats Coca-Cola in the P/E valuation department.
Comparison 2: Dividends
| | | |
| --- | --- | --- |
| Category | Coca-Cola | IBM |
| Dividend Yield | 3.01% | 1.93% |
| Years of Increasing Dividends | 52 | 18 |
| Years in Business | 112 | 102 |
Coca-Cola has been in business longer, has increased its dividend for a significantly longer period of time, and has a higher dividend yield. IBM has been in business over 100 years (as has Coca-Cola), and has 18 years of dividend increases. Coca-Cola wins this category by having a higher dividend yield, and a longer history of dividend increases.
Why it Matters: Stocks with higher dividend yields have historically outperformed stocks with lower dividend yields. The highest yielding quintile of stocks outperformed the lowest yielding quintile by 1.76% from 1928 to 2013. (Source: Dividends: A Review of Historical Returns)
Comparison 3: Payout Ratio
Coca-Cola has a payout ratio of 58% versus just 20.70% for IBM. IBM's low payout ratio gives it significant room to ramp up dividends in future years. IBM has been increasing dividends by over 10% a year for the last decade.
Why it Matters: High yield low payout ratio stocks outperformed high yield high payout ratio stocks by 8.2% per year from 1990 to 2006.
(Source: High Yield, Low Payout by Barefoot, Patel, & Yao, page 3)
Comparison 4: Growth Rate
Coca-Cola has grown revenue per share over the last 10 years by 8.01% per year, versus 5.94% for IBM.
Why it Matters: Growing dividend stocks have outperformed stocks with unchanging dividends by 2.4% per year from 1972 to 2013. (Source: Rising Dividends Fund, Oppenheimer, page 4)
Comparison 5: Volatility
Coca-Cola's long-term price standard deviation is 18.71%, versus 21.58% for IBM. Both businesses are not very volatile (for individual stocks), but Coca-Cola is less volatile because it operates in a more stable industry (beverages vs. technology).
Why it Matters: The S&P Low Volatility index outperformed the S&P 500 by 2 points per year for the 20-year period ending September 30th, 2011. (Source: Low & Slow Could Win the Race, page 3)
Conclusion
Coca-Cola outranks IBM based on the 8 Rules of Dividend Investing, but not by much. Both of these businesses are excellent additions to the portfolio of the long-term dividend minded investor.
Shareholders of Coca-Cola can expect to earn a CAGR of around 7.5% to 8.5% through dividends (3%), share repurchases, (1.5%), and growth (3% to 4%).
Shareholders of IBM can expect to earn a CAGR of around 8% through dividends (2%), share repurchase (6%).
Disclosure: I have no positions in any stocks mentioned, and no plans to initiate any positions within the next 72 hours. I wrote this article myself, and it expresses my own opinions. I am not receiving compensation for it (other than from Seeking Alpha). I have no business relationship with any company whose stock is mentioned in this article.