Back in January, I made a resolution to take a different direction with some of my investment articles. Instead of merely following a traditional format, I wanted to create a web TV show on value investing. It's been a challenge and it's taken a few months to get things rolling, but you can see the fruits of my labors at the recently launched Huneycutt Financial TV.
Our first TV show is "Value Invasion", which not surprisingly focuses on investing from a value-oriented perspective. Our main segment is "The 60 Minute Analysis", where we take stock ideas from viewers, pick out a few of them every month, and then spend 60 minutes researching each idea. This article is a summary of our 2nd episode, which provides a 60-minute analysis of Krispy Kreme (KKD).
The Case for Krispy Kreme
Recently, I saw a tweet from an investment manager on Krispy Kreme. He pointed out that, in its 13 years as a publicly traded company, KKD had only generated $135 million in free cash flows. In spite of this, the company's market cap was around $1.3 billion. The obvious insinuation was that KKD might be overvalued. I decided to test this thesis out for the 2nd episode of Value Invasion.
A quick glance at Yahoo Finance could be said to further substantiate the case against KKD. The company's trailing P/E is currently around 37x; very high by most standards. Wall Street analysts expect a significant amount of growth in the upcoming year, but its forward P/E is still rich at 19x. Given this, it's simple enough to see why some might view KKD as pricey in the $17 - $18 range.
Yet in spite of those sobering financial metrics, there's a very strong case to be made for an investment in KKD. After a major accounting scandal around 2005, Krispy Kreme dumped its former management team and has initiated a major turnaround strategy that has been highly successful. Since then, it's been a high-growth company that continues to get better and better.
Krispy Kreme's turnaround has focused on three elements:
(1) Shifting into a retail-oriented model and away from the old wholesale-oriented model
(2) Emphasis on beverage sales, such as coffee (i.e. the Starbucks strategy)
(3) International expansion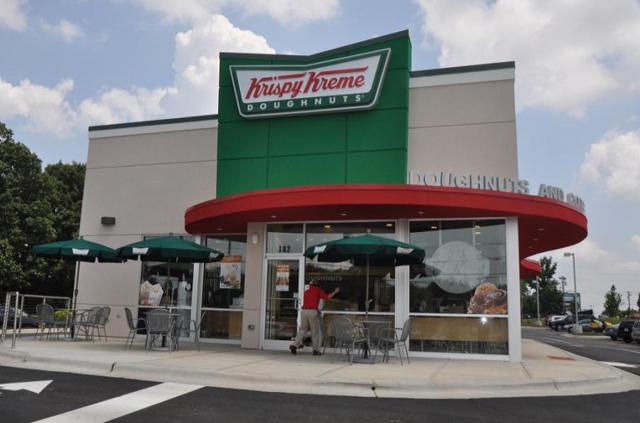 The turnaround has transformed KKD from a company with great insolvency risks into a cash flow machine. For this reason, KKD's cash flow struggles in the early part of the 00's may not be all that relevant now.
Krispy Kreme: High-Growth Juggernaut
To showcase how well the Krispy Kreme turnaround has gone, let's first take a look at operating income. In 2005, KKD was in the red by $140 million. The company has seen slow, steady improvement for the nine years following that, generating a positive operating income of $47 million for the most recent fiscal year.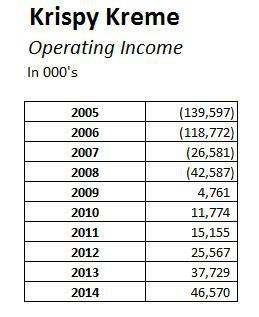 While some of the gains in OI have been a result of fewer write-downs, there's also been significant improvement on the both the cost front, with gross margins increasing from 11.5% in 2008 to around 19% in 2014. Normalized operating margins have likewise improved significantly from 1.1% in 2008, up to around 11.2% in 2014.


Cash Flow Machine
The cash flow growth picture has likewise been impressive at KKD. Examining operating cash flows excluding working capital changes, we can see that KKD has improved from $15 million in '08 to $53 million in 2013. At the time of my analysis, 4th quarter 2014 results were not available yet, but you can see that even for the first three quarters, KKD had brought in an impressive $44 million.
The free cash flow growth picture has been similar. Examining only "recurring FCFs" and excluding asset sales, KKD pulled in about $9.5 million FY 2008 and had improved that to $37 million by FY 2013.


The Deleveraging
KKD's improvement on income and cash flow related measures is extremely impressive. However, it's the balance sheet end of things that I have found most interesting. At the end of FY 2006, Krispy Kreme had $152 million in long-term debt and $332 in total liabilities. At the time, total liabilities were equal to 81% of KKD's total asset base.
Eight years later and we can see dramatic difference. Long-term debt has fallen all the way to $29 million and total liabilities now sit at $73 million. Liabilities as a percentage of total assets have fallen down to about 21.4%. In other words, KKD has gone from a high-debt company to a virtually no-debt company.

I've analyzed dozens of restaurant stocks in the past few years, and it's difficult for me to think of any that have been quite as impressive as KKD over the past 8 years. It's been turned from a scandal-ridden company, with high debt, significant insolvency risks, and a giant cash drain, into a high-growth, cash-cow.
Valuation
I prefer simple valuation models even when doing more detailed research, but it's especially vital for the 60 minute analysis. Instead of trying to nail down a precise number, my goal is to look at a range of possible valuations. In this case, I'll do a "conservative", "aggressive" and "moderate" scenario, focusing mostly on different initial cash flows and growth rates. After running these three scenarios, I'll create a "most probable valuation."
The first scenario is our conservative model. For this one, I estimate Year 0 free cash flows to be around $40 million and assume FCFs will grow at 6% for five years, before falling to a terminal growth rate of 5%. This scenario seems conservative given that KKD improved FCFs by 46% in FY 2013 and 74% in FY 2012. While that high level of growth is not sustainable indefinitely, certainly it's not out of the question that KKD could achieve annualized cash flow growth in the 12% - 20% range over the next five years.
The result of my "conservative scenario" is a valuation of about $11. This is about a 40% downside from the current stock price.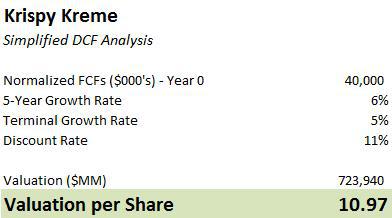 Next comes the "moderate growth" scenario. Here we up the ante with a 12% growth rate for the first five years, while also increasing "Year 0" free cash flows up to $50 million. The result is a higher valuation at $17.66. This is very close to the current stock price, which is around $17.50, which might suggest that the market's expectations are somewhat similar to this scenario.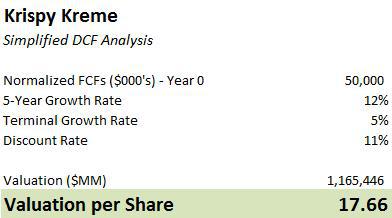 Finally, we'll do an "aggressive growth scenario" with 20% free cash flow growth in the first five years, before leveling off to a terminal growth rate of 5%. The result is a valuation of about $24, about 40% higher than the current stock price.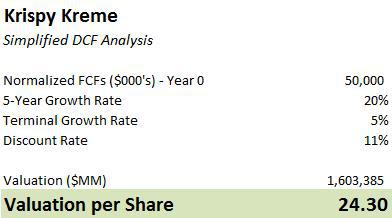 What's most noteworthy to me about looking at these three scenarios is that the valuation isn't that terribly sensitive. There's a HUGE difference between a 6% growth rate and a 20% growth rate, yet it doesn't alter the stock price nearly as radically as is typical. The main reason for this, in this case, is KKD's financial deleveraging.
We'll run one more scenario, which I'll call the "most probable valuation" given my own research. In this scenario, I split the difference on the initial cash flow projections (starting with $45 million), I assume 20% free cash flow growth in Years 1 through 3, and 10% FCF growth in Years 4 through 5. With these modifications, I come up with a valuation of $19. This is about 7.5% above the current stock price.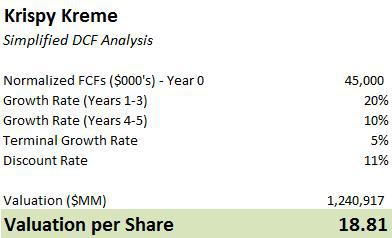 Based solely on this, KKD would appear to be fairly valued or perhaps slightly undervalued.
Wild Card: Potential for LBO
With all this said, there is one big wild card here. We showed that KKD significantly reduced its financial leverage over the past decade. This used to be a high-debt company and now it's close to a no-debt company. This could actually make KKD attractive to private equity firms looking to make leverage buyout ("LBO") offers.
While I didn't have time to create an LBO valuation model for my 60 minute analysis, it's likely that it could boost the valuation over $25 or $30. For this reason, there is more potential for upside with KKD than perhaps meets the eye. However, it's still worthwhile to note that an LBO offer may be a low-probability event.
Conclusions
Krispy Kreme is a high-growth company with strong management that has turned into a cash flow machine. Its turnaround strategy has been highly successful and there's no reason to believe that it can't continue to expand both in the US and internationally.
Our one concern with the stock is that we feel it lacks a significant "margin of safety." If the economy was to turn, more competition was to move in, or international expansion was to stall, it's simple enough to envision a scenario where KKD fails to meet the high growth expectations of the market.
Nevertheless, it's difficult to ignore how strong management has been, and that's often the most vital ingredient to success at a restaurant. Highly successful restaurant / food service chains also can grow cash flows very rapidly with low capital expenditures. This is a very attractive formula. Couple this with the outside potential for an LBO and we view KKD as being somewhere between "fairly valued" and "slightly undervalued."
Overall, given the reasonable valuation, spectacular turnaround, strong management, and rapid cash flow growth, we think KKD is a justifiable buy. However, our bias towards "margin of safety" investing pushes us away from a stronger recommendation.
Disclosure: I have no positions in any stocks mentioned, and no plans to initiate any positions within the next 72 hours. I wrote this article myself, and it expresses my own opinions. I am not receiving compensation for it. I have no business relationship with any company whose stock is mentioned in this article.